Basketball hopes for strong finish as season winds down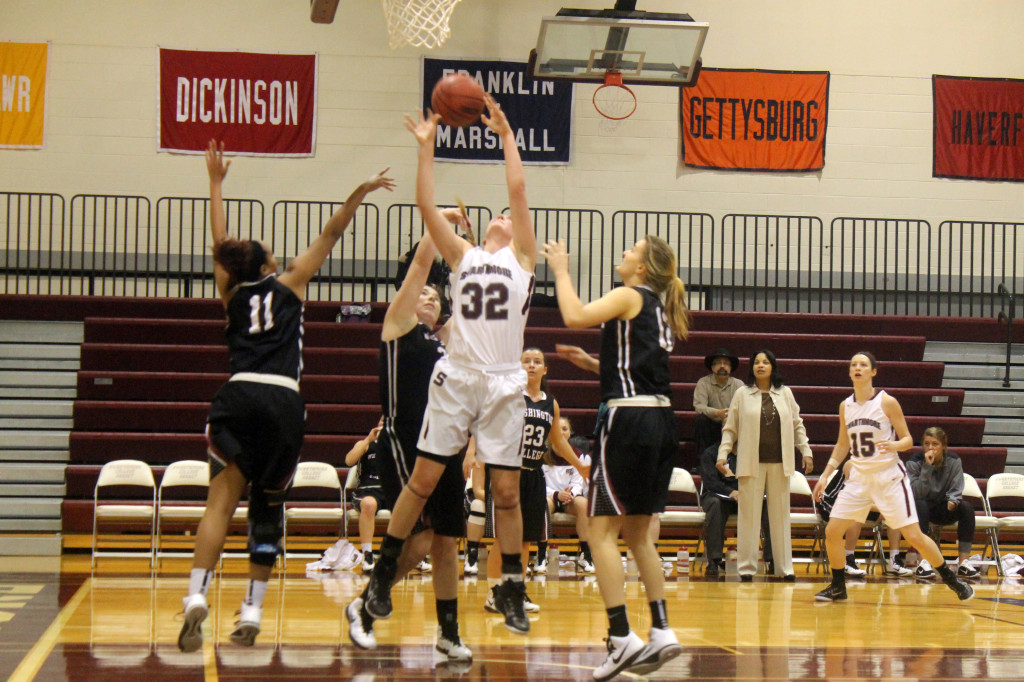 The season is gradually coming to a close, but the Swarthmore women's basketball team still hopes to finish forcefully. This year, the Garnet (6-13 CC 3-10) have produced some key wins, most notably a season sweep of Franklin and Marshall and a 69-66 nailbiter over talented Gettysburg College.
The Garnet's most recent victory was Saturday against Franklin and Marshall College. The first half proved difficult as Franklin and Marshall took a lead heading into halftime. Nonetheless, Swarthmore came out in the second half ready to put up big numbers and they secured the win over the Diplomats with a score of 66-55. The team felt that its ability to play well together and make good passes contributed to their second half performance.
Senior Elle Larsen '15 put up her seventh double-double of the season with 27 points and 11 rebounds. Larsen, who has put up huge numbers in her Swarthmore career and is leading the Centennial Conference in points per game this season, will leave large shoes to fill next season. Captain Jessica Jowdy '16 said, "She is a dominant presence in the paint."
The team admires Larsen as a role model for consistency, energy, and work ethic as well as for her ability to score in high pressure situations and to dominate in the paint.
One reason for the Garnet's win over Franklin and Marshall came from a team combined 38 points in the paint. The Diplomats came nowhere close to matching that number with only 16 points in the paint. Much of those 36 points came from second chance opportunities. Jowdy and Larsen both received double digit numbers of rebounds and Jowdy fell just shy of her own double-double.
This season has not been the most successful in conference for the Garnet, but the team still desires to finish on an upswing. "It is sad to know that the end of the season is approaching," commented Jowdy, "But there are still so many games left to worry about that." The team's goal is to finish the season with a dominating win over Haverford to go into next season on a positive note.
Although some key players will be graduating this year, the upperclassmen are confident that this year's freshmen will fill those roles. "We have had a lot of underclassmen step up this year and provide huge sparks of energy," said Jowdy. The team commented, "Our large freshman class has stepped up and played some big minutes."
The Garnet, unfortunately, fell short to Washington College Monday night, recording a 52-50 loss to the Shorewomen. However, Larsen and Jowdy again put up big numbers. Jowdy recorded a double-double with 11 points and 14 rebounds, while Larson scored 17 points with 9 rebounds.
The Garnet's next game will be hosting Johns Hopkins on Saturday at Tarble Pavilion. Tipoff is scheduled for 1 p.m.