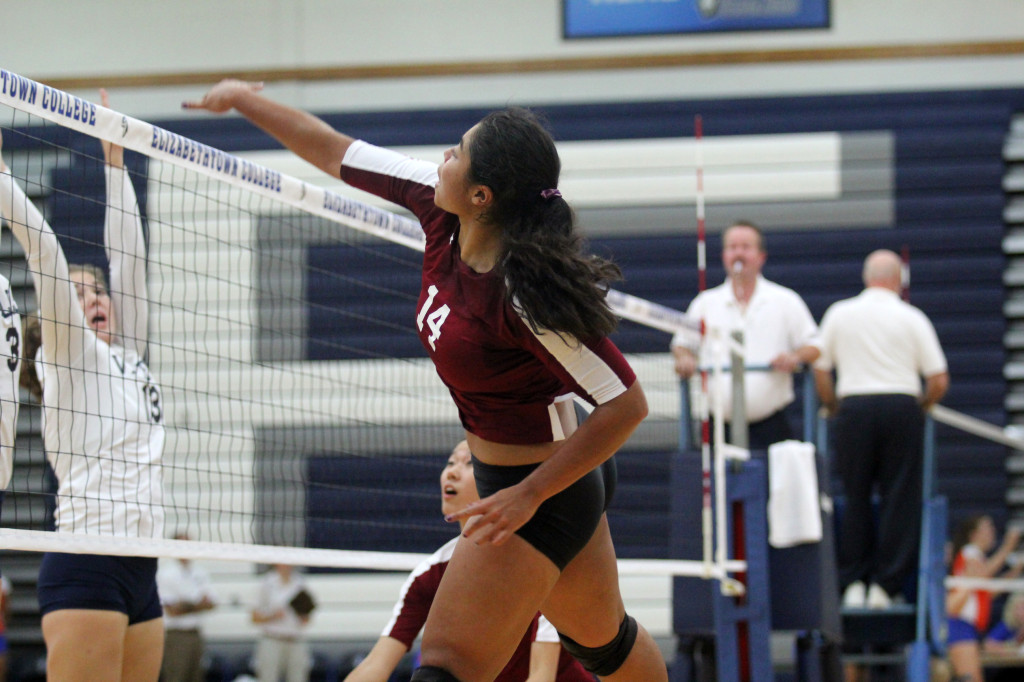 Freshman Sarah Wallace's performance this season for the women's volleyball team has been incredible, to say the least. Her debut this past fall shattered three of the program's records and earned her a total of eight awards, one of which was the prestigious title of American Volleyball Coaches Association (AVCA) Division III All-American Honorable Mention.
But shattering records and winning awards is nothing new for the talented student-athlete. During her high school years, Wallace was a four-year letter-winner at The Branson School in San Francisco, CA. Upon completing her high school career, Wallace racked up over 1,000 kills and digs, over 200 blocks and over 130 aces. Among numerous other accolades, one of her most impressive feats was leading her team to win the California Division V State Championship for three out of her four pre-collegiate years.
"My high school coach was really intense," Wallace reflected. "She was an amazing coach in that she expected a lot from us and we knew what she expected. We always knew when we were reaching her expectations or not."
With high expectations met, Wallace continued on to collegiate volleyball and remained a dominant force on the court. This season alone, Wallace broke three program records for single-season record kills (450), kills per set (4.02) and attack attempts (1,222).
However, Wallace claims that these record-breaking scores, along with her other awards, were completely unexpected. In regards to earning the title of AVCA All-Region Rookie of the Year, Wallace commented, "It feels pretty awesome. Especially as a freshman, I didn't expect any of this. I didn't even know about all-region so it feels pretty great!"
Head coach Harleigh Chwastyk commented, "I knew that Sarah would have an immediate impact in her first season based on her talent and experience playing in high school and club volleyball. Sarah earned every accolade through her hard work and commitment to our team's vision of competing for a conference championship."
Chwastyk was named Centennial Coach of the Year by her peers and Wallace didn't hesitate to return Chwastyk's praises. "I love Coach Chwastyk. She's a lot more relaxed than my high school coach but I really like that because I think it helps us learn how to help ourselves individually. When you're on the court during a match she can't tell you what to do during every single point."
In addition to an incredibly supportive and talented coach, Wallace worked with a team of dedicated women who made Wallace's first season an unforgettable one. "We have such a great team, personality and skill-wise," Wallace explained. "We established a great team chemistry early on in the season which made playing together a lot easier and we all worked together as a really cohesive group," she said.
Wallace had a chance to meet some of her teammates two years early, during the summer after her junior year at Branson. She attended the Swarthmore women's volleyball summer camp with Olivia Leventhal '18, who would eventually become her fellow teammate. The camp was led by counselors and current teammates Kate Amodei '15 and Chastity Hopkins '15.
"We talked about how nice [Amodei and Hopkins] were and how welcome they made us feel. They were a big part of the reason why I wanted to come to Swarthmore. It was awesome to be able to play with them because I didn't realize that they would still be here while I was here," Wallace said.
After meeting at the camp and continuing on to become teammates, Leventhal and Wallace quickly became close friends as pre-season began.  Leventhal commented on Wallace's importance to the team and what she's learned from becoming one of her teammates.
"She has helped our team immensely by remaining a player we can always rely on," Leventhal began. "Playing with her has taught me how to read other hitters better because she is extremely hard to read, meaning it's hard to know where she is going to hit the ball until she actually hits it."
One might think that constant accolades, praises from coaches and teammates, as well as an article in the Phoenix, might overly inflate a freshman's ego. However, Leventhal was sure to emphasise how humble Wallace remains despite the glory.
"Sarah is extremely talented and consistent, but remains modest, which I truly admire. She plays such an important role on the team and has been a main reason why we have succeeded this season, but she doesn't let her successes get to her head," she said.
Chwastyk echoed Leventhal's sentiments and emphasized that, "Wallace is truly a team player and views each of her honors as a team accomplishment."
A friend off the court and a hallmate, Joaquin Delmar Perez '18, summed up both Chwastyk's and Leventhal's thoughts nicely. "Sarah has an incredible personality," he said. "She's bubbly, always in a great mood, jokes around with everyone on the hall and is always positive. She's an incredible person outside the volleyball court."
Keep in mind that Wallace's career at Swarthmore is just beginning. Chwastyk commented on her hope for Wallace to continue to learn and grow as a player as she continues her career at Swarthmore. "She is a great athlete to coach because her expectations are sometimes even higher than mine, so playing loose, having fun and making smart choices were our focus this season for her. I am excited to see her evolve as a leader in our program and see her growth as a go-to player on our team."
Again, Perez summed it up nicely. "She is an inspiration: Sarah's freshman year drives me to want to succeed and perform as well as she did for Swarthmore," he said.