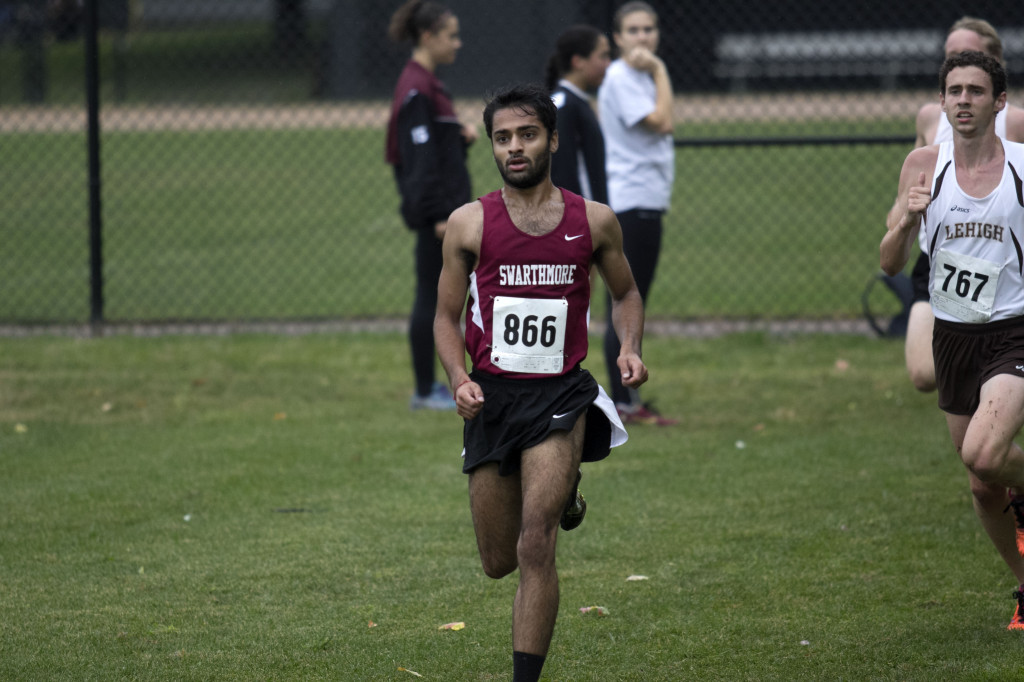 Sid Kakkar '17 recently competed in the NCAA cross-country championships held in Mason, Ohio. The journey did not come without struggle, as he worked day after day to represent Swarthmore in the biggest Division III race in the country. Kakkar has an enthusiastic personality that has helped him maintain his love for running through balancing both long grueling runs and the coursework of a potential economics major.
His journey began at conferences where he immediately (metaphorically) ran into a brick wall. The Centennial Conference Championships were held at Haverford College. The conditions that day were rainy, cold, and wet, but runners continue through almost all weather conditions.
The runners had to deal with scattered puddles and muddy ground. Kakkar noted that the adverse conditions considerably picked up as they lined up to run. Many runners had arm sleeves, hats, and gloves on, but he found that these slowed him down and chose to run in only his uniform.
"The atmosphere at conferences is particularly high," he noted. The intensity at a conference meet is often greater than at regionals, because it's a championship race as opposed to a qualifying race.
About half way through the race Kakkar lost his footing in the slush-filled mud track and fell. "It was just really instinctual where I was putting out my hand to brace the blow. It was all of a sudden that it just popped," he commented. "I put my hand on my left shoulder and was thinking to myself 'Oh no. This is not good.'"
Kakkar had to leave the race with a dislocated shoulder and missed days of training after to recover from the unfortunate injury. "I never felt like I had the chance to race because of the fall," he expressed. After days of resting and working his way back, Kakkar was able to race in regionals.
The regional race held at Dickinson College was a success. The team finished sixth overall, and Kakkar was Swarthmore's top finisher, finishing 19th overall out of 343 runners.
The NCAA considers various factors when choosing schools from each region to qualify for the championships. They look at regional races, races between schools of different regions, and races during regular seasons. "The NCAA committee decides who qualifies and it differs every year," Kakkar said. "Two teams automatically qualify from each region and then the NCAA has the option of picking additional teams from different regions."
The Swarthmore team was selected to compete in the championship race in Mason. Kakkar was the runner selected to compete and flew with his coach, Pete Caroll, to race against the top Division III runners in the country. He commented, "In that sense I felt very lucky. It gave me a chance to continue with the season and to get exposure of the competition that is out there across the country."
To prepare for the race, Kakkar said, "My coach told me to keep an eye on the guys who you have been racing against all season and use them as a benchmark to pace your own race." This is a strategy the entire team uses, because it allows each player to work together to improve as a unit.
Kakkar noted that as he lined up to start the race that Dickinson was the first team he saw two boxes over. Each team lined up in their own box. Kakkar paced himself for the first part of the race. "I wanted to be within distance but not feel like I was going out too hard," he noted. Although he also remarked, "The first mile was fast. I ran it in 4:05". It was natural because the field was so deep."
After the first mile Kakkar was near the back, staying close behind a few runners from Dickinson College. From there he started passing numerous runners. "There were kids I did not expect to pass. They were in the top of the Mideast region," he remarked.
The most difficult section of a race is the last stretch. Everyone pushes and shoves to pass and runners need to find an extra push to make it through exhaustion and fatigue. When asked how he managed to find the strength to surge as the finish line approached, Kakkar said it was very subconscious. "I noticed my coach on the sidelines. He would say, 'Go catch the kid in red!'"
The last mile brought fatigue for Kakkar, but he kept going and willed his way to pass even more runners and finish 63rd out of 280 runners with a time of 25:03. Kakkar was satisfied with his finish. After all the setbacks and training he felt content to end the season on that note. He said, "The feeling of that finish was amazing."
The cross-country season has concluded this year, but Kakkar has set a benchmark that will hopefully inspire other runners to reach that feat.