Women's basketball season underway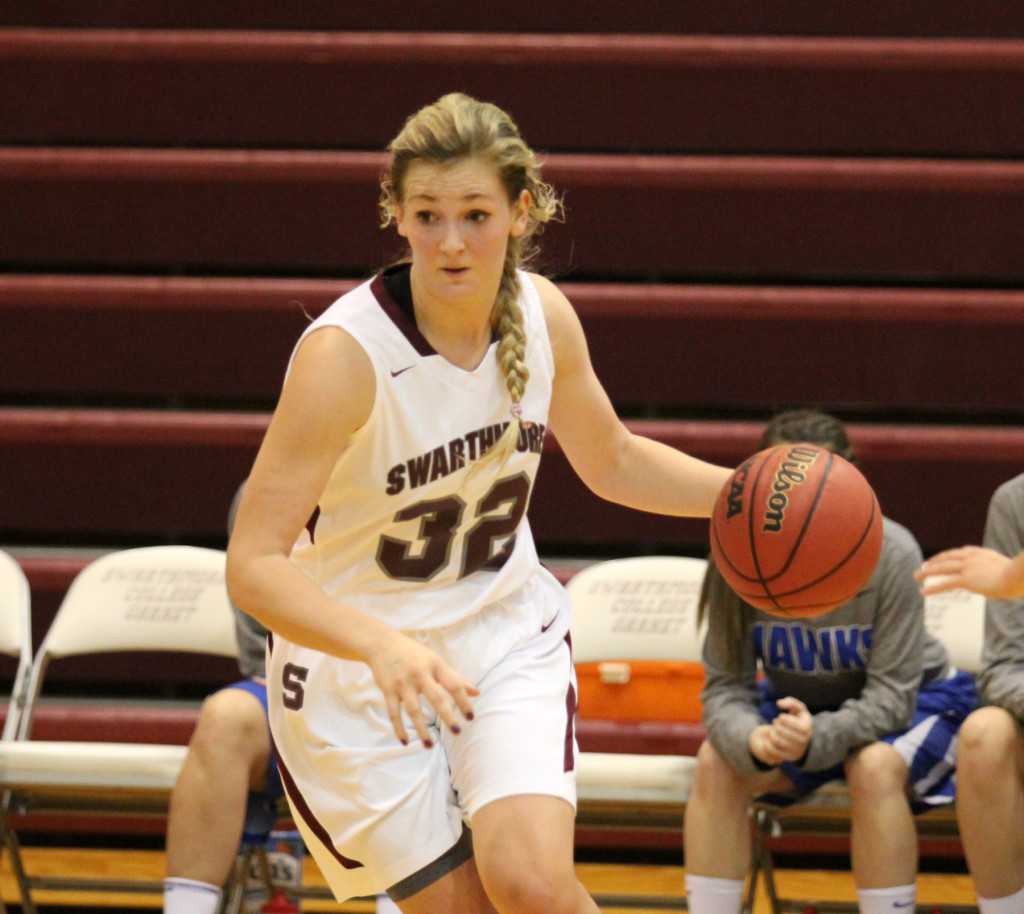 It is that time of the year again. Derrick Rose tears his ACL, Kobe doesn't pass, Chris Paul assists Cliff Paul and the Swarthmore Women's basketball team amps up their soon-to-be dominant season.
The Garnet initiated their season in the annual Tipoff Classic Tournament held here at Swarthmore College this past weekend. The team finished 1-1 with a loss to Johnson & Wales on Saturday by a score of 64-71. The loss did not slow down the young Garnet squad because the very next day, they played lights out against Hartwick College and beat them by a score of 73-47.
The first game was not an all-out loss. Most notably, it was the first real game that the freshmen of the team had played together. They were able to put on instances of strong play. Haley Raymond '18 commented, "There were definitely stretches where we played well and we were in the flow of things."
With a team that consists of half new players, it can be difficult to immediately shove momentum in full force. More than anything, the tournament gave the freshmen a chance to see collegiate basketball for the first time and to adjust to the high level of intensity and speed that it requires.
The Garnet played a strong 40 minutes on Sunday with a win to even their record at 1-1.  Raymond remarked, "On Sunday we did a much better job of putting together the full 40 minutes."
Head Coach Renee DeVarney put a strong emphasis on weight-lifting, speed and agility this preseason to prepare players for the high level of play that the Centennial Conference has to offer. Complete team presence can significantly affect players improving each other's games and learning to trust and support one another. During this preseason a few players had commitments to other sports and were unable to attend workouts. Full team chemistry could not be established early in the school year, but the team was able to come out this weekend with a strong start to the season.
The emerging team has a freshman class consisting of players who possess very different skill sets. One thing that may make this team so effective this year is their element of surprise; other teams do not understand how many of the players exhibit their game. Many freshmen will likely see much playing time, as 5 of the total 12 players on the team are in the freshman class. Chastity Hopkins '15 commented, "It was nice to see that they all had different styles of play that worked well together."
Much of the responsibility falls on younger players this season to step up and fill in gaps from last year's graduated seniors. Jessica Jowdy '16 said, "We need them to play a lot of minutes, because they make up such a big part of this team."
The players have proven their ability to play with one another and should not have any difficulty integrating with the rest of the team. "I think they have done a really good job coming into their own and meshing well with each other," Jowdy remarked.
Integrating skill sets and abilities, but also personalities, is always uncertain for a coach with a whole new selection of players. Raymond commented, "I felt like they accepted me right away. That was one of the main reasons I chose to come [to Swarthmore]."
 The team has a regular activity that they call "teamshare." After practice, each player has a minute to tell a basketball or family related story. This activity is similar to the women's volleyball team's "dump," in which players take a moment before practice to tell a personal story. More than anything, team chemistry remarkably improves, and for the women's basketball team, players can get to know one another on a much deeper level. Hopkins noted, "Our team is full of a lot of really unique and intense personalities. It can be intimidating to some at first, but everyone puts their full heart into everything, and everyone is surrounded by girls who have the same fire and passion as they do, which is key to having a great team."
Despite a 25 point effort from Elle Larsen '15, Swarthmore dropped its Centennial Conference opener to Muhlenberg on Wednesday night at Tarble Pavilion. The team hopes to rebound on Saturday, when they travel to Gettysburg. Swarthmore's next home game will be played on Saturday, December 6 against Dickinson.