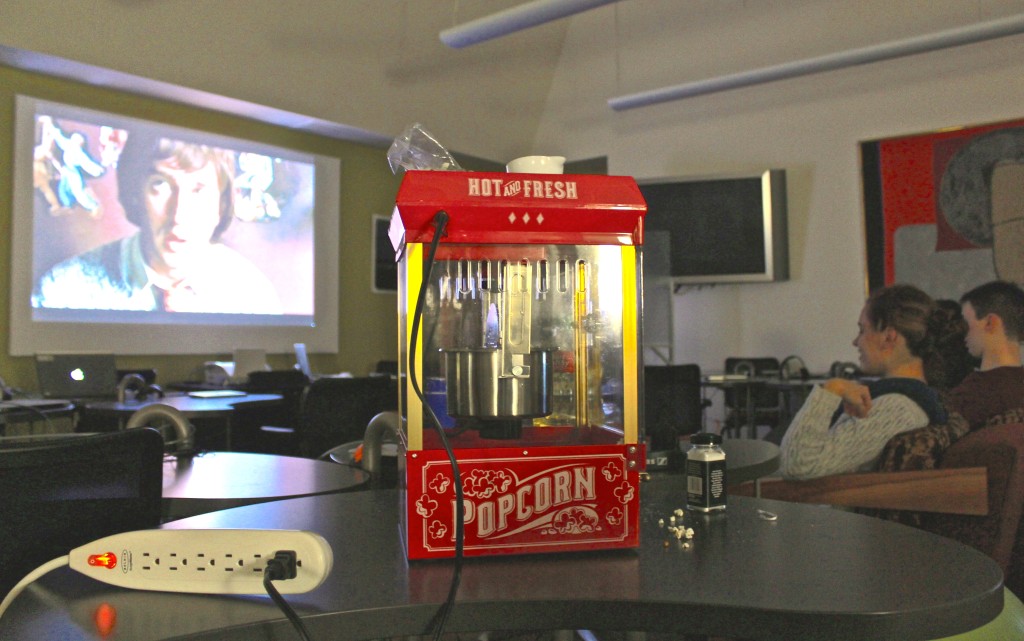 Last Saturday, in honor of Día de los Muertos and Halloween, constituents of the college's department of modern languages and literatures teamed up to bring a wide selection of international horror films to the Language Resource Center. The French department kicked off the series with "Diabolique" (Henri Clouzot, 1955), a tense thriller. It was followed by "Hausu" (Nobuhiko Ôbayashi, 1977), a surreal horror classic from Japan. Then came "Soul" (Chung Mong-Hong, 2013), a Taiwanese film regarding demonic possession, followed by legendary Mexican horror master Guillermo Del Toro's first film, the modern vampire classic "Cronos" (1993). Following this, students watched the Russian fantasy thriller film "Night Watch" (Timur Bekmambetov, 2004). The day was topped off by the quintessential German vampire classic, Friedrich Wilhelm Murnau's 1922 silent masterpiece "Nosferatu." Complete with rainy weather and plenty of popcorn, this lineup embodied the contributions of very different cultures to cinema and exposed students to beloved horror classics as well as more recent cinematic gems.
With films in Japanese, French, Mandarin, Russian, Italian and Spanish, the lineup offered a wide variety of horror cinema. This allowed it, in many ways, to also encompass the great variety of themes, aesthetics and periods that are found within the genre of horror itself. For example, "Nosferatu," the oldest film shown, is a groundbreaking example of silent German Expressionist cinema, which was instrumental in defining the aesthetic of everything from American film noir in the '40s to the French New Wave, yet it was placed alongside "Soul," which came out last year and draws influence from a whole genealogy of horror cinema.
One of the most unique aspects of this selection is that most of the films draw influence from the mythology, issues or history of their own country while still working (more or less) within the generic codes set in place by the preexisting genealogy of horror films. For example, the German film "Nosferatu" is an early iteration of Bram Stoker's "Dracula" (1897), which itself draws from the lengthy myth of the vampire, whose earliest roots trace back to 15th-century Central Europe. "Hausu" explores and challenges the social pressures on young women to marry and live a meek domestic life in Japan and also owes its surreal — even psychedelic — visual style to a long history of Japanese animation. "Diabolique" draws upon the history of French drama in that it features a tense, personal relationship, but sets it against a thriller framework in the vein of Alfred Hitchcock, who had a very strong influence on the French filmmakers of the '50s (unsurprisingly, the rights to this film were bought from the "Master of Suspense" himself). Although the subject matter of "Cronos" did not rely explicitly on Mexican mythos (as much of Guillermo del Toro's later work does), the diverse cast brought together actors from Mexico, Argentina and the United States.
A benefit to placing these diverse films in dialogue with one another is that it will hopefully help to dispel the myth that the genre of horror is primarily white-centric and misogynist, although this could be said of much commercial, big-budget horror with its macho white heroes and scantily-dressed, underdeveloped female characters. However, this series should help to increase awareness as to how one can work within generic frameworks to tell international stories regarding myth, race and gender.
At the end of an e-mail about the horror festival, Professor of French Carina Yervasi, the organizer of this event, added, "And remember … we all scream in the same language!" Cheesy? Absolutely. But there is something to be said for the universality of a good scary story. Not everyone has a strong penchant for international cinema, but we can all gather around a popcorn machine and a screen and be frightened together. Perhaps this is a small but meaningful step in the direction of multicultural appreciation.