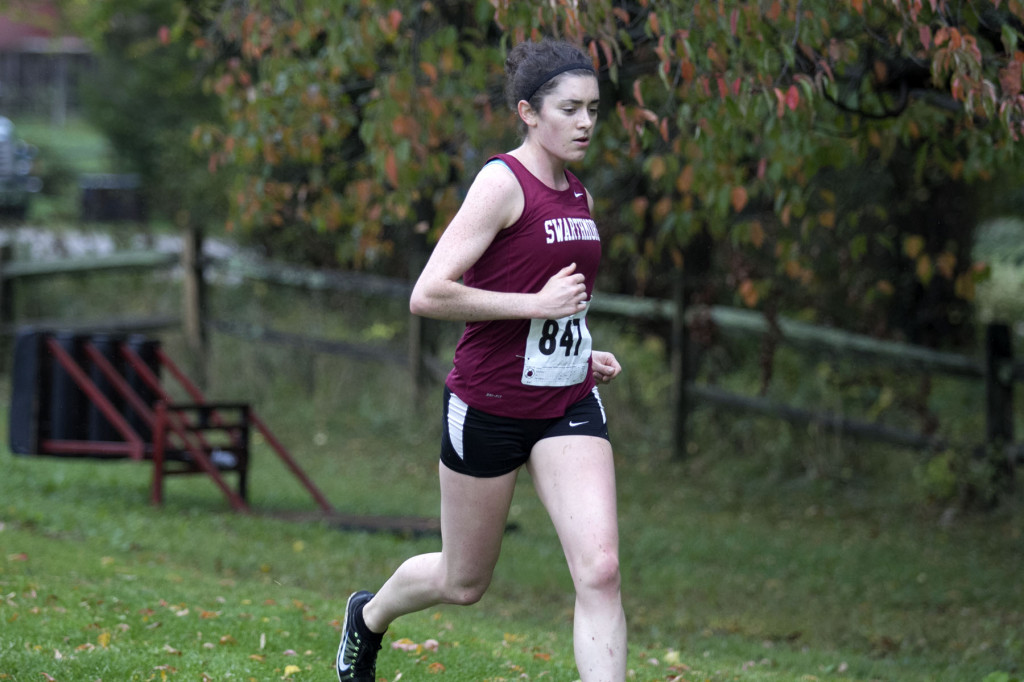 The season is coming to a close for the Swarthmore men's and women's cross country teams. This past weekend, both the men's and women's teams finished their regular seasons at Princeton. Upcoming races include conferences, which will be held at Haverford College, while regionals will be held at Dickinson College. Gavi Mallory '17 commented, "I am excited. It is a course which we have raced before, which always reduces my stress level going in."
However, this past weekend at Princeton brought bad luck for both the men's and women's teams because one key runner from each team suffered season-ending injuries. Nevertheless, Indy Reid-Shaw '17 continues to look out for her teammates and still feels optimistic going into conferences and regionals. She remarked, "It is most important that they heal and get ready for track. I think we still have strong teams coming into big meets." John Gagnon '17 has a similar mentality. He commented, "This part of the season is really about getting to the peak of our fitness for the season, trying to have everyone healthy, and keeping a positive attitude about the upcoming races."
In order to mentally and physically prepare for races, runners go through drills during practice and push themselves to be in shape by race day. At the start of practice, both the men's and women's teams gather in a circle and go through a stretching routine. After the group stretches, they gather into groups and decide upon the runs and drills for that day. The runners disperse into groups, go through their respective drills, and talk about each other's day. Twice a week the teams do group workouts and either run in the Crum Woods or around the Swarthmore neighborhood. Generally, different groups will end at different times, but the team makes sure to end practice by sitting around the track stretching, rolling out tight muscles, or just conversing with one another.
Many people would likely argue that acquiring the mental and physical capacity to run long distances is not an easy task. Three different runners commented in a unique way on the strategies they use during long runs. When someone asks how a runner has the mental capacity to keep pushing during lengthy distances, it is safe to say that it depends on the individual.
Reid-Shaw uses a strategy where she focuses her thoughts on the period after a race. She said, "It helps to feel that long runs are making you stronger, and you feel a sense of accomplishment afterwards." More specifically, Reid-Shaw thinks about smoothies and brunch that the team will eat later that day.
Mallory has a different approach. She uses long runs as a meditative practice away from the stress of school and daily life. She commented, "On a good day, I reach a place where it does not feel like a push anymore. It becomes almost meditative and I can think about other things and appreciate being outside." With that being said, Mallory still encounters difficult periods while running. "I usually try to relax into it as much as possible and concentrate on one thing at a time." Rather than focusing on the future events after the race, Mallory incorporates a meditative approach of putting her attention on the present moment and being aware of her surroundings.
Gagnon uses his time to converse with teammates, engage in fascinating conversations, and just ponder whatever comes to his mind.
Although runners use different mental strategies, all of them have a mental toughness, which plays a crucial role in shaping a successful runner. Mallory agrees that most of racing involves a solidified mental toughness that allows for someone to keep moving forward. Mallory rarely pushes herself to her physical capacity because many times the mind gives up before the body.
Running long distances involves a strong mind, but helps fuel that mental capacity by relieving stressors. As numerous studies show, exercise of any kind has been proven to relieve stress in some form. Reid-Shaw comments on the necessity to run as a break from the rigid flow of a Swarthmore student's life. She said, "[running] is a needed recharge time to split up the day by exercising, exploring the Crum and nearby towns, and hanging out with friends." Mallory also uses her time during a run to talk with friends. She commented, "It is always fun when someone has a really interesting discussion in class that we can talk about, and equally fun to just goof around and talk about silly things."
Conversing with friends can prove to be an enormous stress relief, but Mallory also uses the time for self-reflection and on occasion during solo runs has solved difficult chemistry problems. Running may be challenging, but for the men's and women's cross country teams, it is way to relieve stress, appreciate the surrounding environment, and engage in interesting conversations.