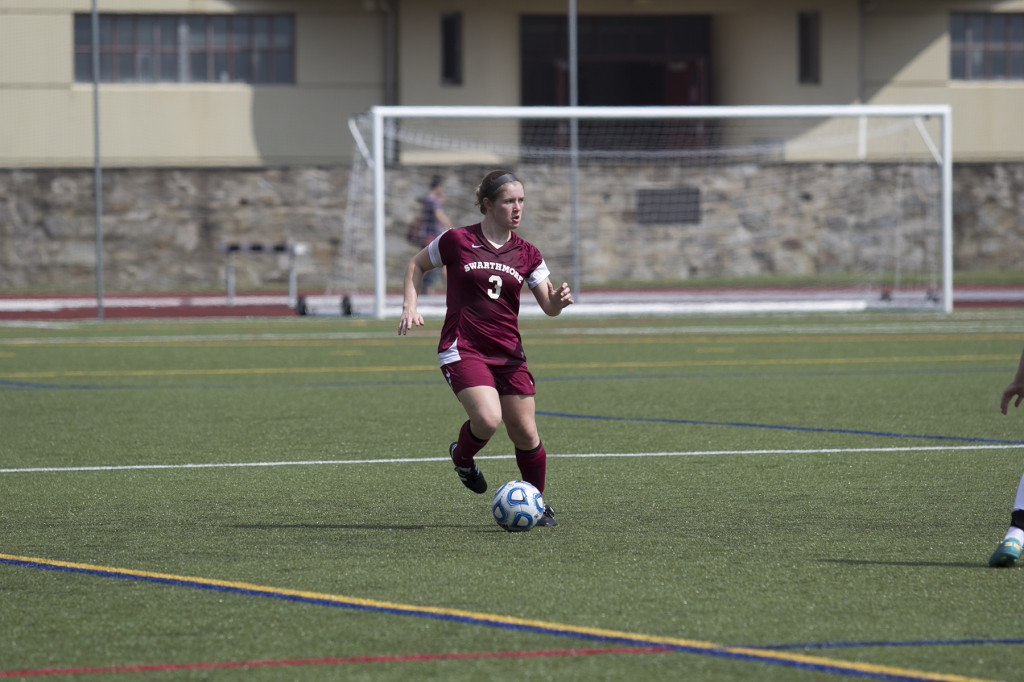 At Nelson Mandela's funeral, President Obama spoke about ubuntu.  According to Obama, the Ngumi Bantu term means that, "We are all bound together in ways that are invisible to the eye. That there's a oneness to humanity. That we achieve ourselves by sharing ourselves with others and caring for those around us."
Women's soccer midfielder/forward Mele Johnson '17 explained the word ubuntu in a sharper, more precise way:f "Togetherness."
After adopting the word ubuntu as one of their mottos, the 2014 women's soccer team has done more than enough on the field to ensure that the meaning of ubuntu does not become lost in translation.
Coming off of a disappointing 2013 campaign where the Garnet finished seventh in conference, many of the players knew that changes had to be made. Defender Elyse Tierney '15 said,  "I think last year we had a lot of really good skills on the team, but this year I think… we feel so much closer than [we did] last year." Tierney went on to add, "The team dynamic of being able to work together is what's helping us succeed this year and it's what is going to help us continue to succeed."
The women do know how to succeed. They started off their season 6-1, including two big conference wins where they outscored their opponents a total of 5-0. Their hot streak, however, came to an end as they dropped two straight one-goal matches to ranked opponents Dickinson and Johns Hopkins. In both of those games, they had ample opportunities to score. The Hopkins game was especially heartbreaking since Swarthmore scored the first goal and gave up a goal with less than one minute to go in the game.
However, the team has nothing to be discouraged about in those games. In a way, they actually did succeed. In all sports, the best teams are the ones who are able to overcome defeat. Now they have something Dickinson and Johns Hopkins don't: a chip on their shoulder. With their strong team chemistry, it looks as if the Garnet will not be discouraged by the defeats, but instead will take positives and be motivated by them. Commenting on the Hopkins game, Tierney said, "As much as that loss really did hurt… we're taking it and using it as a way of moving forward. [We're using it] to really motivate us even more to just kill it in conference this season and to take everyone down."
Just two days after the loss, the women faced an away game against Penn State Abington (8-3). They were at a crossroads and they had two choices: keep their focus and intensity or be overwhelmed by the onslaught of adversity that had been flung at them. It didn't take long before the road this team chose became clear. Just two minutes into the game, defender Ellen Bachmannhuff '15 scored on a header. Then in the 7th minute, Johnson scored. In the 21st, she scored again. In the 23rd, she netted another. By halftime, at 4-0, the game was all but in hand. Their message had been sent loud and clear.
Swarthmore did not back down. The Garnet came into the game ready to play, and how they played was what was particularly encouraging for the team. Different players stepped up and emerged out of certain roles. Bachmannhuff, for example, scored her first goal of the year.
On top of that, Johnson was the first Swarthmore player to score three goals in a row — a natural hat trick — since 2011. She said, "It's kind of weird because I've never been the kind of player that scores that many goals … I mean, it's cool. I'm excited. We need goals. I'm happy to score them." Johnson's unselfishness speaks volumes about the team. She, like many of the other players, knows her role on the team. Her play epitomizes another motto the soccer team uses, "I am because we are." This year, the Garnet are not playing as individuals; they are playing as a unit.
Swarthmore travels to Gettysburg this Saturday for a tough conference match. But after keeping it close with teams like Hopkins and Dickinson, the Garnet know that they can hang with and out-work any team in the league. Down the road, the women know what lies ahead if they make the playoffs. "If we come back from [the Hopkins] game and get to conferences," said Tierney, "we will have a rematch against Hopkins again and we can get that back."