Warmothers and Earthworms go full tilt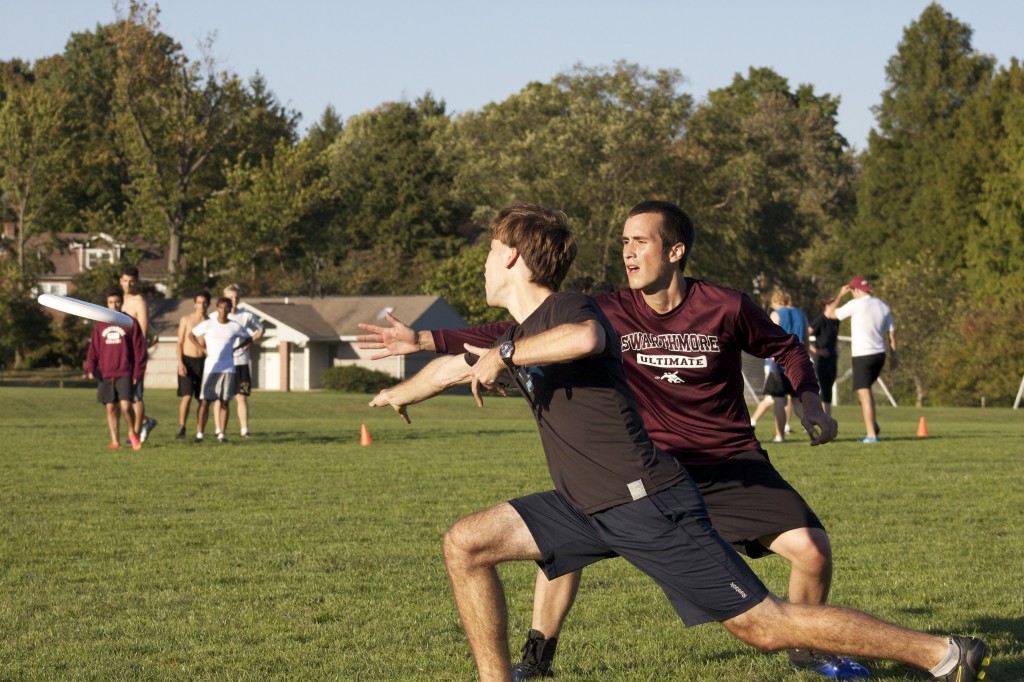 "Earthworms" and "Warmothers" are not only anagrams of the word "Swarthmore," but they are also the names of the two Ultimate Frisbee teams on campus.  While it is deemed a non-traditional sport, those who play are just as dedicated to their sport as any other athlete.
Players on these teams come from a multitude of backgrounds and experiences, which creates an opportunity to develop unique relationships. These teams are as much a social entity as they are a competitive one. You may run into an Ultimate Frisbee-hosted party or a fun board game or movie night. And there is definitely a good chance of finding some of their members at Pub Nite.
Many players are former high school varsity athletes, looking to continue competing. Others have little athletic experience. Still others played competitive frisbee in high school and are continuing their careers.
But while they may be relatively new to the campus, mainly due to the timing of the invention of the sport, the two teams already have a lot of tradition.
Several of the team's members couldn't pin down the exact founding of the teams, but according to co-captain Ned Weitzman '15, they have been around since the early 1980s. He knows this to be true because his father actually played for the team.
Since this time the size of the team hasn't grown much, but the competitive spirit has.
"We have roughly 25 members now, which is probably roughly the size it's been since the beginning of its days of serious competition, which date back to the early 1990s," said Weitzman.
And the serious competition part is no joke either. The Earthworms hold three two-hour practices throughout the week with a three-hour practice on Saturday. Additionally, the team plays in both the fall and spring seasons. The team travels to play other colleges three to four times in the fall and four to five times in the spring, with the spring season being the true competitive season.
According to other co-captain Evan Rosenberg '15, "This semester we have a tournament near Princeton, one at Westchester University, and one at Haverford. Tournaments generally consist of 6 to 7 games over two days."
For the Warmothers, the schedule is very similar. The team has two-hour practices three times a week and an additional three-hour practice on Saturdays. They play about three tournaments in the fall season, each with six to seven teams.
For the Earthworms, "An average practice day starts with a warm-up lap around Cunningham, and then plyometrics (e.g. high-knees, butt-kickers and side shuffles, etc). We then do a few drills that focus on a specific concept. We always scrimmage towards the end of practice to try to apply the drills to game situations," said Rosenberg.
Unfortunately for both teams, even though they hold similar schedules and practice types, they don't get to practice together as much as they'd like.
Amy Jin '15 explains, "We don't practice with the Worms as much as we'd like to, because the flow of the game is pretty different between men's and women's ultimate. As people familiarize themselves with the game and teams, we like to have co-ed pick-up whenever people are free."
Another perk to joining either one of these teams is that they both count towards the PE requirement that the college mandates. No matter the experience level, anyone can join to fulfill their PE requirement and have a great time doing it.
Several members of the team did not come into Swarthmore knowing they were going to play Ultimate Frisbee.
Ian Grant '16 said, "I joined because I hadn't played any sports in high school and it seemed fun. Also my CA was on the [Warmothers] and convinced me. At the beginning I didn't know how to throw a frisbee and now my job is to throw the frisbee, so I've improved over the years."
Jin came to Swarthmore with a different background but echoed some similar sentiments, saying, "I played varsity sports throughout my life, and was looking for something that wasn't as intense but would still keep me in shape. I wasn't completely sold on the sport at first, but I was really drawn to the ultimate community and with them, slowly fell in love with the sport."
But for these teams, it is more than just the game itself. Even the players that came to Swarthmore with ultimate experience love playing here for all the reasons that come with it.
Rosenberg loves the team dynamic and sees how well everyone gets along each day at practice.
"Everyone on the team seems to get along, and conversation is always flowing during dinner or in between drills. Most of our conversations center around inane topics or mundane stories, such as the weight of a cloud or bland morning routines," he says.
There are other great experiences that the teams share together as well. For example, every year over spring break, both teams head down to the Carolinas, rent a house, practice and enjoy each other's company. For many of the team members, this proves to be their favorite time of year and builds team chemistry.
These teams have been each others' better half since they were founded, both literally and figuratively. It is rumored that the captain of the first Earthworms team married the first captain of the Warmothers. While it is still too soon to determine whether any members of the current teams will end up tying the knot, it is clear that all involved love the camaraderie and competitiveness the sport provides.