Colgate students occupy admissions building, present action plans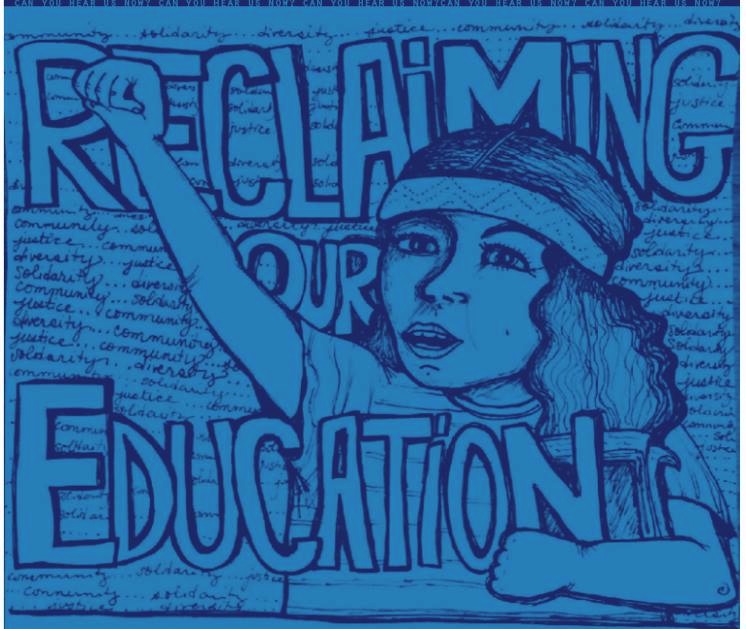 At 7:30 this Monday morning, close to 300 students occupied Colgate University's admissions office in response to instances of racial intolerance in the first three weeks of classes. Immediate catalysts to action included racist remarks made to students on the campus shuttle, a slew of anonymous slurs posted on the social media app YikYak and the publicizing of hate speech towards students of color.
Led by the Colgate Association for Critical Collegians, a student coalition that formed last Wednesday to address Colgate's commitment to diversity and inclusion, the sit-in will continue until the administration proposes a plan for addressing issues of marginalization and cultural insensitivity on campus. Although hopeful on Tuesday night, students were ultimately disappointed on Wednesday afternoon after the promised proposal fell short of meeting their demands. On Wednesday evening, they continued to evaluate the administration's concessions to determine which, if any, addressed their needs.
The ACC circulated a list of recommended actions to the student body via a campus-wide email on Monday morning. Longer than the list prepared by Swarthmore students during the spring of 2013 following incidents of intolerance here, Colgate's action plans nevertheless share many of the core goals. Both documents recommend making the academic curriculum more inclusive by incorporating non-Western traditions and paradigms, increasing the number of faculty of color, female faculty and LGBT, and providing clarified procedures for seeking support and filing complaints within existing institutional channels.
Current Colgate students also share concerns with alumni who graduated from the university over a decade ago. Racial tensions at the small liberal arts school in upstate New York aren't without precedent; in 1991, 70 students occupied the admissions building following the publicization of an email in which a professor stated that minority students tended to take easier, "exotic" courses to secure "undeservedly" higher grades. Among other demands, the incident prompted students to call for faculty workshops in cultural sensitivity — the same sort of educational initiative that students are demanding now.
Despite the university's history with racial insensitivity, this week's sit-in was "shocking" to the campus community, according to Colgate student and ACC Outreach and Communications chair Charity Whyte. While four of the leaders of ACC had secured a slot at a Saturday meeting of Colgate's Board of Managers, no mention of direct action had been made. With student efforts conducted entirely by word of mouth, even sit-in participants were unsure as to how many students would join the movement in its first hours.
On Monday morning, students occupied the admissions building and proceeded outside to hold signs and chant "Can you hear us now?" as faculty and staff arrived up the University's main drive. That afternoon, approximately 70 of the students held a seven-hour meeting with Colgate's president Jeffrey Herbst, Provost and Dean of Faculty Douglas Hicks, and Dean of the College Suzy Nelson inside the admissions office, during which they shared personal encounters with intolerance and discrimination on campus. According to Whyte, all three administrators were brought to tears by student testimonies.
"There were 70 plus people telling their own stories of being discriminated against, being marginalized, being segregated, all the things they had to go through because of race, sexual orientation, gender — all things they didn't choose," said Haeun Kim, a student participating in the sit-in. "It was really incredible to listen to the stories. We stand in solidarity because we could hear that what other people were going through were the same things I'd been going through, and then we realized 'Oh, this isn't just my problem, this is our problem, and this might be Colgate's problem or an institutional problem and not only about me not being able to fit into the stereotypical Colgate mold.'"
Following the Monday meeting, Herbst, Hicks and Nelson publicly expressed their support for student activists in a news bulletin on the college's website.
"As recently as this weekend, a community member witnessed Colgate students yelling racial and homophobic slurs," the post read. "We are also aware of appalling anonymous social media posts from members of our community that disparage persons of color, and students have reported having to endure offensive remarks."
The administrators additionally pledged "to join with the entire community to create positive change on our campus," and encouraged reporting of all instances of racial discrimination. Herbst, Hicks and Nelson are expected to present ACC with a plan of action this morning.
ACC's "demands" were presented as "a list of concerns and action plans as a means to remedy the shared experiences of the ways that both our larger institution and our personal interactions prevent us from fulfilling our mission to becoming [an] inclusive institution." The list of suggested reforms includes altering the image of the college presented during the admissions and recruitment processes, providing more services in recognition of the diverse socioeconomic backgrounds of students, actively recruiting a more diverse faculty, creating multicultural fraternities and sororities to address inequities in national networking, conducting a campus climate survey that explicitly looks at questions of race, and preparing students more candidly for study abroad experiences. Clarifying the college's internal procedures for reporting acts of discrimination and providing oversight of budgeting allocations to ensure equitable distributions also appeared on the students' list of concerns.
Additionally, the proposed action plans called for a reevaluation of Colgate's required CORE curriculum. Suggestions include mandating sustained education in diversity training for all faculty, staff and administrators to insure that themes of difference are integrated across the curriculum, financially backing efforts to establish an Intergroup Relations Program as an academic discipline, and ensuring that CORE courses include non-Western perspectives and traditions.
The action plans were voted on by approximately 200 students invited to attend a meeting on September 17, five days prior to the sit-in. From 7 p.m. to 9 p.m. on Tuesday evening, students occupying the admissions office held an open forum to discuss the demands and collect suggestions for clarification and improvement.
"I think that every moment we've been together as a coalition has been us learning and practicing democracy," said Whyte in a Skype interview on Tuesday night. "And I don't know if it's democracy that will work everywhere, but so far, in the admissions building at Colgate University, it's been working for us. And that is so refreshing – to know that something is working, and that there are people somewhere in this world who are working together and finding a form of democracy that matters and that encompasses everyone's feelings and discontent."
The campaign, inspired in part by the social media movement "I, Too, Am Harvard" from this past spring, is using the slogan #CanYouHearUsNow to spread awareness of their campus movement to other colleges and universities via Twitter, Instagram, Facebook and YouTube, in the hopes to offer foundational support for other students facing similar issues on their campuses and within society at large.
"'I, Too, Am Harvard' is something that other universities started doing, and that spoke so much to my life," said Whyte. "I thought, 'Wow, if this is a social media campaign, what can I do?' And now that I'm part of a coalition at Colgate University, I realize how important it is to get the word out about what we're doing, because I don't know if there's a first-year in high school right now who'll see this on the news and think, 'wow, if Colgate University does this, what can I do, or how can I be an agent for change?'"
And other colleges are watching. On Wednesday, students from nearby Syracuse University came to campus to sit in solidarity with Colgate activists In the ACC's Facebook group, students from Hobart and William Smith College and the University of Massachussets-Amherst have also declared their support.
"Learning from the 'I, Too, Am Harvard' movement, I've learned there's power in community and connectivity and a coalition of people who are outside of their own bubbles," Whyte said. "The things we're asking for are at our school, but the agency we're practicing is everywhere."
An earlier version of this article appeared online on September 24, 2014. This piece was updated and published in the print edition of The Phoenix on September 25.