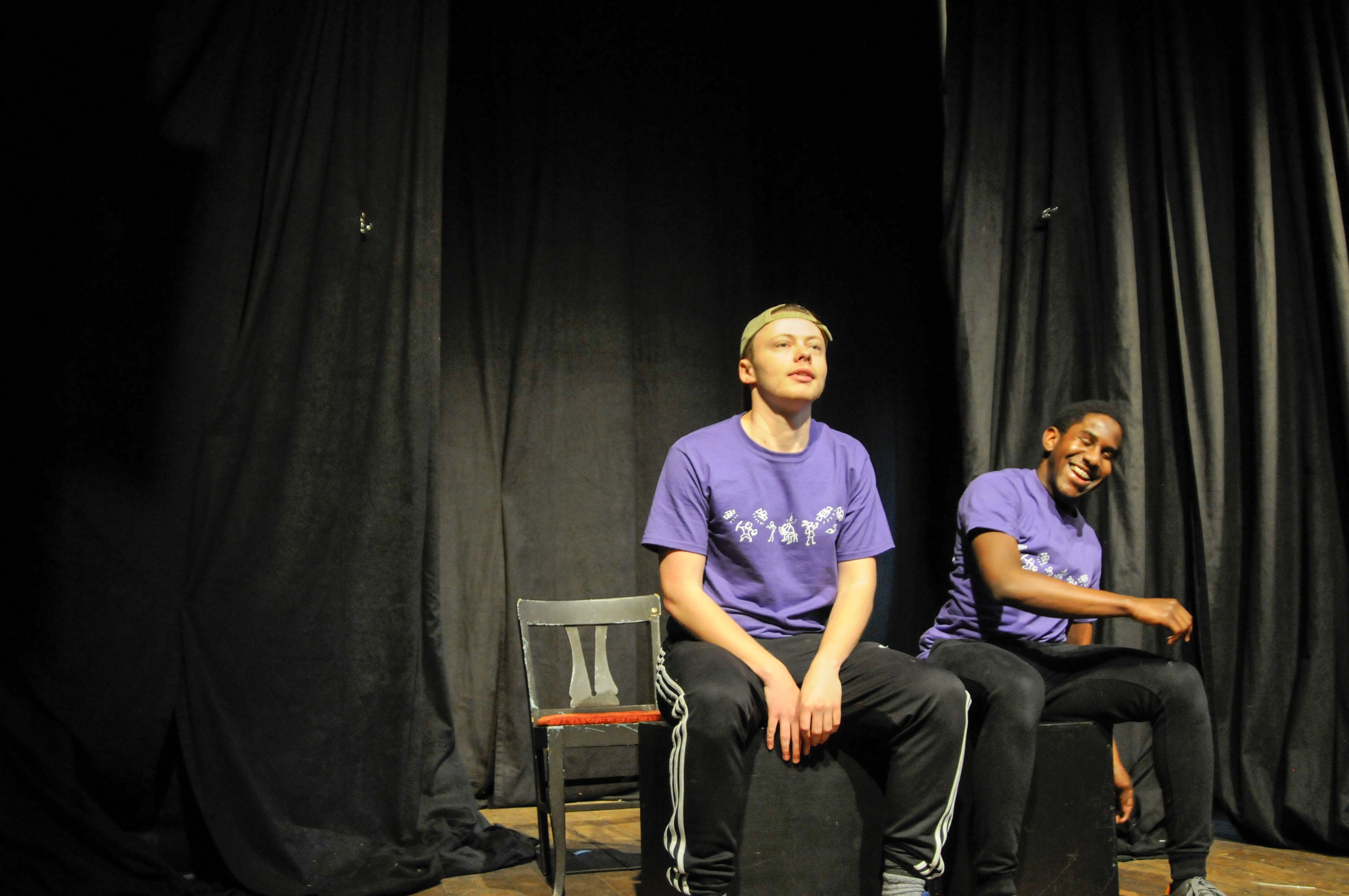 Last weekend Swarthmore's Drama Board put on a Playwrights festival in Olde Club. This event featured five plays and writers, six directors, 22 different actors, and also the help of many other students. Walking into Olde Club, one could notice the cozy and packed space and feel excited by the murmurs of anticipation. A completely student-run and  produced event, everyone in the audience was eagerly waiting to see a friend, a hallmate, or maybe a sibling.
The first play Revisionism, was a sweet and hilarious twist on excuses for not turning in your homework. Dynamic and full of the classic Swattie spirit that is slightly strange, quirky, and creative, this play by Rebecca Rosenthal left audience members chuckling and relating. The next play Cohra, by Nader Helmy, was a play about being a black sheep, the cult of FIFA, immigrant masculinity; it was a play about outsiders. It opened with a touching scene between an immigrant father and son watching a football match that struck a chord with many audience members.
The third play New Year's Spirits was a hilarious play about a ghost who was damned to a home with a quirky old-fashioned couple, a younger frustrated brother, and the curse that the ghost needs them to break. Next was the play Bees by Emma Pernudi-Moon, a haunting play about how swarms of bees constantly seek help with no one– not a bartender, nurse, or psychiatrist– responding to help. Finally The Mortality Play, written by Alex Kingsley '20 is about how two angels accidentally kill God, and how they try to cover it up. It was both wonderfully poignant and hilariously rich.
Overall, the plays blew up Olde Club. People were laughing and so impressed by the work that everyone put in.
"It was amazing," said Mariko Kamiya '19, "I didn't even realize that there was so much talent in all these students."
The process too, of creating these productions was one of true bonding and giving. Every play seemed to have a great dynamic, that enjoyed themselves.  
"I felt like I have a new family. We worked so hard and had so much fun doing it," said Dakota Gibbs '19 who played God in The Mortality Play, "I couldn't help but be proud of my fellow Swatties and their amazing talents."
Madeleine Feldman '17, one of the leaders of Drama Board who helped put the Playwrights Festival together also felt both awed and satisfied with the two day festival.
"I feel really really happy and satisfied after our two days of performances – after about a month and a half of meeting writers and directors, pairing them, holding auditions, and having rehearsals, the performances each went phenomenally," said Feldman.
Feldman also expressed that she thought that this was a great sign for theater at the college.
"It makes me feel really hopeful for the future of Swarthmore's art scene, and theater scene especially, to see how many people were willing to dedicate their time to making a brand-new piece of theater come to life," said Feldman.
This is extremely exciting since the Drama Board hasn't been as present in recent years. Feldman expressed that she and the board realized that much of the student body did not know of the Drama Board and its resources. She and her fellow board members dug into Drama Board's history and found that years ago Drama Board held up to eight shows per year versus the three or four that have been happening in recent years. The birth of the Playwright's Festival came from the motivation to change that, and push forward the theater scene at Swarthmore.
"We wanted to change that–- see if anyone new was interested in making theater with us," said Feldman, "The vision was that we could have a low-key, fun learning experience for those interested in getting involved in theater or just trying it out: writers could write a short script, first-time directors would direct them, and along the way we would offer short workshops to introduce those folks to how to make theater at Swarthmore – how to work with actors, schedule them, stage a scene, get props for the show, etc. And for anyone interested in trying acting, this could be a perfect first experience!"
It was a surprise to many that many of these students were first-time performers, and the hope from the Drama Board is that this will inspire other students.
"It was such a beautiful experience," said Tristan Cates '20, "and very courageous for the first-time performers, I couldn't tell at all."
This type of humorous and playful energy was resonant and one could tell that the festival brought a lot of joy and inspiration to the community.
"The Swat community not only got great performances, lines and laughs, but an example of what we can do when we put our talents together," said Gibbs, "And what did I get? I got to be God. It doesn't get better than that right?"
The Playwright's Festival truly brought people together in a creative, playful and beautifully executed way. Everyone left the event replenished.
"From this experience I personally gained a new love for & faith in Swatties – again, the amount of people who came through and trusted in this idea was amazing, and we were so lucky that they made it happen – and it reaffirmed my love for theater. My best memories of Swarthmore are the times where I've connected with other students and collaborated to make something I couldn't have dreamed of without the other – and this was definitely a time to remember," said Feldman, "I believe that theater is a necessary and powerful medium here at Swat – for escape into a different world, for meeting new friends, for collaborating and building trust with others."