Growing up and attending an art-focused school in France, Lydia Churchill '22 has always found art meaningful. Lydia is a dance minor and political science major, in the a capella group Grapevine, and is involved in theatre. She is also in Senior Company this semester, one of the capstone project courses for theatre majors.
Lydia reflects on her childhood dance and musical theatre experiences fondly. Her parents fostered a love of art for her and her two brothers. She and her little brother were in an amateur performing arts company together, and all three siblings regularly had guitar jam sessions. Art was not only a way for her to connect with her brothers, but also a way for her to connect with French culture. Growing up as a ballerina in France was a way for Lydia to engage in French communities, as she made many French-speaking friends through dance.
"[Dancing in France] was a special space where I felt really bonded to my peers as well as so much gratification because dance — it's great."
Because dance and art were emphasized so much more for Lydia growing up, coming to Swarthmore–where art is not at the forefront of extracurricular activities, but is more balanced with athletics–was a culture shock. Although Swarthmore is not known for being an athlete-type school, there is still a greater emphasis on sports here than in the town or even the schools Lydia attended in France. Culturally, sports do not play the same role in France. Coming to the U.S. and seeing how students dedicate so much of their time to sports was new to Lydia.
"Culturally they didn't play the same role" Lydia said of sports in France compared to the U.S., "where you wake up really early, go to sports practice before school, then do more sports after school. And I feel like art for me played that role instead."
Although her parents encouraged Lydia and her brothers to be active, her parents prioritized arts education over sports, and each sibling learned an instrument.
"I liked dance as my sport," Lydia said.
During her freshman spring at Swarthmore, Lydia was taking three dance courses when she got tendinitis in her hips from dancing, which made her rethink her relationship with both her body and dance. After this injury, Lydia realized she needed to be healthier in terms of how she danced.
"Mastering it [a healthy relationship with dance] was a wake up call of my relationship with ballet because that is an art form that specifically pushes your body in ways that are very unnatural" and notes that a lot of strength conditioning is needed in order to safely do ballet.
Getting injured was a wakeup call for Lydia. She decided to be more mindful when dancing and to not push herself too much in any form of dance. Before her injury, ballet was her favorite; however, she notes that ballet comes with a lot of pressure, as it is taught very traditionally. During her recovery, she took a step away from ballet. This semester Lydia is taking Taiko and is enjoying it very much.
"It was really refreshing to immerse myself in a new art form," Lydia said. "[Taking Taiko] is so liberating and not taking ballet this semester has been really liberating, too."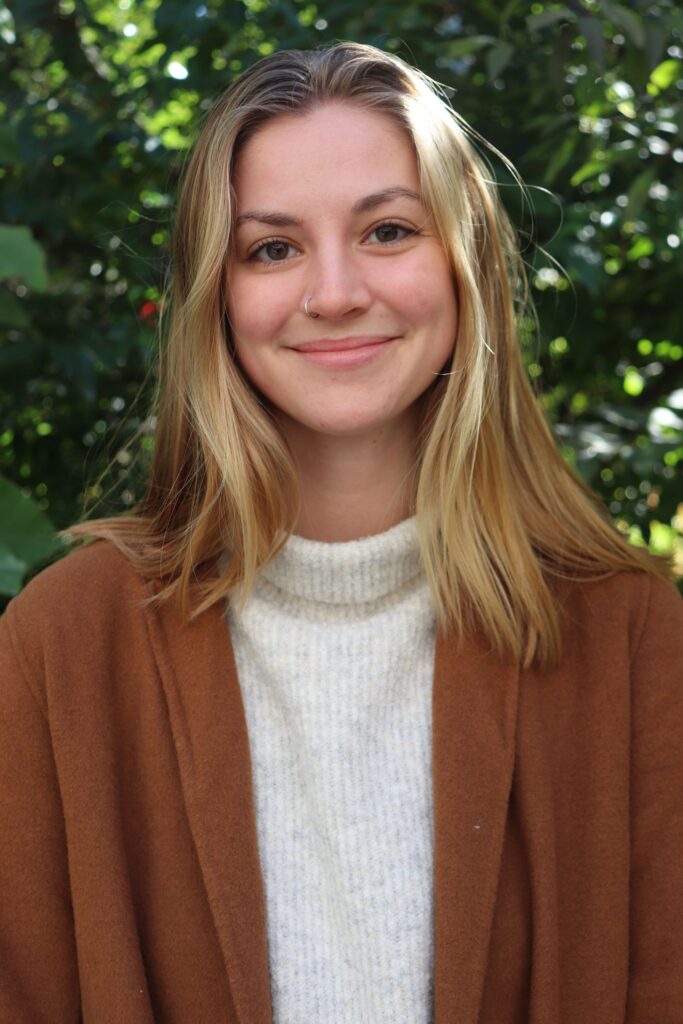 Dance is both an escape and a complement to Lydia's academic studies. Last semester, under the advisory of Shaundra Barnstorm, Lydia led an Inclusive Excellence Fellowship with Sarah Burns-Eve '23 called Powering the Narrative Through Art. Through co-leading this project-based program, she learned about marginalized identities and social justice within art and dance.
"I think sort of backing up and seeing the big picture of art as a discipline, dance as a discipline, through a very critical lens was a really big part of my art journey."
She observed an abundance of dance styles that broadened her view of dance.
"There's so many other dance forms [besides ballet, which until then had been her primary mode of dance]. Art forms out there that are just as technically challenging, impressive, and amazing."
Lydia infused dance into her studies by taking a history of western dance course and a class called Arts and Action with Pallavi Chakraborty, and she now views dance differently.
"I think being a Swattie, you're given tools to look at things more critically and with an eye for equity…[she has been] looking at art more critically and [focusing on] whose voices are being heard and whose art is prioritized, which identities are marginalized from art, and how art is such an important form to vocalize a lot of injustices."
Along with dance, Lydia notes that interacting with theatre connects deeply with her personal life. Lydia describes theatre as a way that makes her reflect on her own interactions with others, as a lot of questions in a character analysis are questions that actors can also ask themselves, such as questions regarding a character's relationship with others and their intentions.
Lydia reflects on a specific rehearsal of "The Night of Themes" in 2019 that impacted her relationships at that time:
"I was going through some stuff [regarding] personal relationships, and specifically that rehearsal was such a great escape for me … I felt myself identifying with my character in a lot of ways, and that led me to reflect on a lot of my decisions or my interactions with others in a way that was really meaningful."
Through experiencing art at Swarthmore, Lydia is now more mindful with her relationship with her body, has a broader view of the myriad forms of dance and how it interacts with society, and uses it as a way to work through anything occurring in her life.