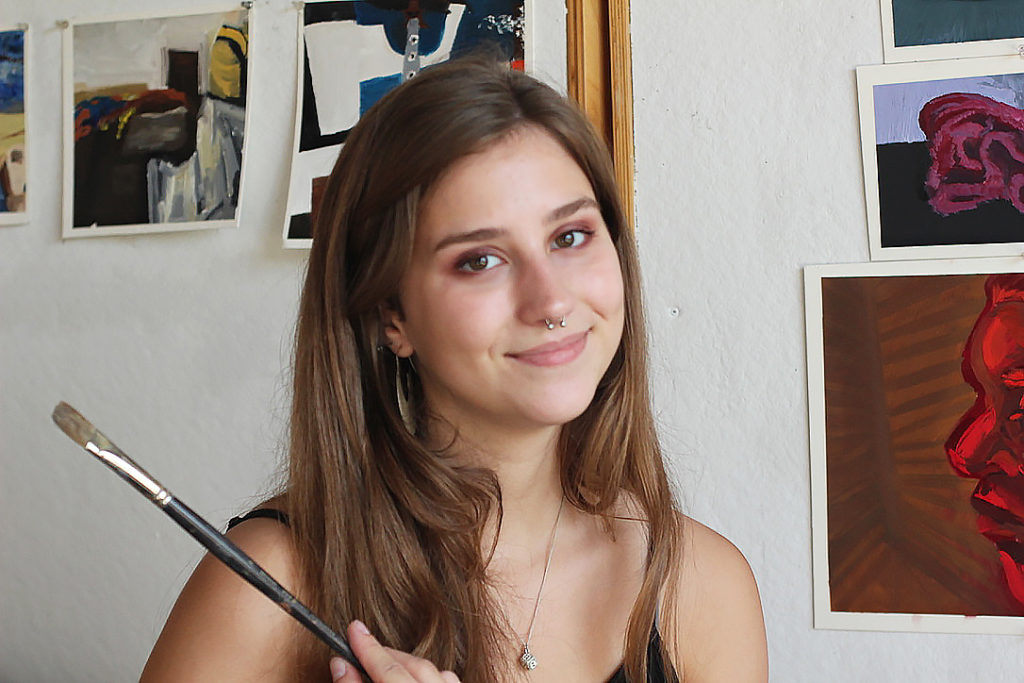 As I sit down with Art major Inna Kimbrough '21 in her new Beardsley studio, she sets up her easel just in time for it to crash down to the floor. "Dude, this is so chaotic," she says, laughing. Kimbrough's large expressionist work seems to tremble much like her laughter. Her choppy, anxious brushwork recalls van Gogh, one of her main inspirations.
"I really wanted to be able to convey my emotions as strongly and viscerally in my painting the same way [van Gogh] did," she says. "Those colors … people don't realize how powerful an effect colors have on your mood or the mood of a painting."
Most people might not, but Kimbrough keenly does. A signature Kimbrough feature is her unusual use of color.
"Colors have such a wonderful way of expressing things that can't just be conveyed by seeing a face. I could paint a face any day. That's fine. But if I paint a blue face, you're like, "Oh she's sad." If I paint a green face, you're like, "Oh, something's really wrong," Kimbrough laughs. "I love painting green people."
On her phone, she pulls up a self-portrait partly inspired by Picasso's Girl Before a Mirror. Her choppy brush strokes are at their finest here.
"The part of my face in the light was pretty normal — pinks and tans and other flesh tones — I put in a ton of greens and blues and other creepy colors for the part of my face that was in the darkness, and I was really happy with that."
Kimbrough's favorite color? "Red," she says almost immediately. "I really do love red. Let me show you one of my favorite paintings ever," she says, excitedly typing something into the Safari search bar on her computer.
"It's in the Belarussian National Museum. Mai Dantsig did this painting, and I love the red in it."

Kimbrough, half-Belarussian, spent a significant part of her childhood in Minsk, exploring museums and visiting extended family.
"There are a lot of red things in my house and in my grandparents' apartment. You know those old red Russian carpets? Maybe an appreciation of the color came from there. But red is just such a strong color, it's so passionate, and vibrant, and it can be used for so many different emotions. I really like that."
Kimbrough's passion for red isn't difficult to notice on in her oil paintings. Bright, juicy crimsons abound.
One particularly striking oil painting of Kimbrough's depicts a pair of clasped hands resting on a creased, scarlet fabric. The creases of the almost tangibly soft blanket are tenderly shaded in. The cozy warmth of the hands' embrace, the fabric's color carefully rendered texture perfectly balance the ruggedness of the hands, chapped and bleeding.

Hands are Kimbrough's favorite subject.
"I really love drawing hands. I think hands are the most expressive part of the body besides the face. There's so much … if I paint a hand like this" — she tightens her fingers as if gripping an imaginary fruit — "There's so much implied in that, you know?"
"They're so utilitarian, which I also like, and if they're grasping something — there's just so much that can be done with them. An arm is an arm, a leg is a leg, but a hand? They can interact with the world way more than just the things they're attached to."

Kimbrough's fascination with hands is personal, too. She says she has enjoyed "think[ing] with [her] hands" for most of her life, and as we talk, she moves her hands in theatrical gesticulations.
"When I was little, I especially liked doing things with my hands. I was always just at home finding random bits of junk, and doing stuff with them, " she remembers. "There was a pothole near the lake near my house, and they filled it up with Georgia red clay and I would go and steal some clay every few days, sculpt some stuff out of it, and then set it out to dry for a few days in that Georgia heat."
She describes her some of her favorite memories sculpting later on her own in high school. "My hands did everything and my brain was quiet — I was really happy."
"That's the goal now," she adds. "To always be able to do that when I'm making art, and to get out of my head. When my head's quiet, it's when I'm happiest."