Renée Elise Goldsberry, Tony award-winner and former "Hamilton" star, energized Lang Music Concert Hall during her discussion panel on Thursday, September 20, and "An Evening with Renée Elise Goldsberry" on Friday, September 21. When she entered onto the stage of the concert hall for both events, Goldsberry immediately changed the atmosphere with her infectious optimism and exuberant love for life. Her tireless ardency and warmth enveloped the room for the entirety of her appearances. When she danced during breaks in her music, her movements came to her so easily and freely that she left her audience thinking, "I wish I could dance the way that she dances."
On Thursday afternoon, a burst of applause shattered the relative silence in Lang Concert Hall as Goldberry entered the room for her discussion panel. She then proceeded to answer a series of questions about her own experience as an artist, the impact of "Hamilton" on her life, and the lengthy series of challenges that has led her to her current accomplishments.
"I felt for the first couple of months that I was the weak link," Goldsberry said of her own performance in her now canonized role as Angelica Schuyler in the original Broadway cast of "Hamilton." With a profound frankness, she said that if someone had told her during those first couple of months that she would go on to win a Tony award for her performance, she would have laughed at them. Goldsberry went on to describe fame as being "confusing," because of the inconsistent and unpredictable balance of public attention. To illustrate her point, she recounted an occasion when an employee at a shoe store racially profiled her and treated her as inferior because she is Black, while children at the same shoe store were excited beyond belief to see Angelica Schuyler walking among them.
As for the impact of "Hamilton" on musical theater as a whole, she believes that the sung-through hip-hop musical has "definitely uplifted American musical theater," and rebranded the genre as "sexy, not corny." She attributes the success of "Hamilton" to the fact that it is "addictive like crack" — it appeals to viewers by presenting Alexander Hamilton's story through contemporary popular music, and while it has undeniable value as entertainment, it also nourishes the brain with its depth of information. Furthermore, she sees Hamilton's overarching strength as being its ability to bring people together regardless of their race, age, and other social distinctions.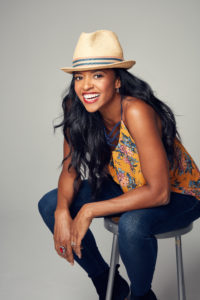 On September 21 at 8:30 p.m., the completely packed rows of seats in Lang Concert Hall once again applauded profusely as Goldsberry walked onto stage and immediately began to sing a bright rendition of Johnny Nash's "I Can See Clearly Now," accompanied by a band of four jazz musicians. As she sang and danced on stage, her rich voice and robust stage presence seemed to fill the dark room with radiant waves of optimism and kindness. It was difficult to imagine that Goldsberry had performed this same show, with the same energy, passion, and commitment, earlier that evening.
"We just want to be together right now," she said into her microphone once the audience finished applauding. "You're making me happy right now."
Two themes that prevailed during the performance were the importance of representation in media and the impact of motherhood on Goldsberry's life and career.
Immediately following her introduction, Goldsberry began to describe the inspiration that she takes from the poetry and life of Maya Angelou. Goldsberry recalled watching Angelou deliver a talk at the University of Houston when she was a young woman, and being "inspired, elevated, and amazed," as she listened to the poet, memoirist, and activist speak. Goldsberry stated that she didn't know if she would even be on stage if not for the inspiration that she derived from Angelou. In honor of Angelou's legacy, Goldsberry decided to "breathe life," into Angelou's poetry and sang the words to "The Human Family," as the band accompanied her voice with a velvety background of jazz.
Goldsberry then sang "It's Quiet Uptown," a song from "Hamilton," that portrays the Hamiltons' reaction to the loss of their oldest son, and Bob Dylan's "Lord Protect My Child." She introduced "It's Quiet Uptown" merely by saying that it was written about the loss of a child by a man (Lin-Manuel Miranda, as we later learned) whose "dog was probably the closest thing he had to a child." She stated that she often wondered how a childless man had been able to so perfectly capture the intensity of parenthood. "Lord Protect My Child," immediately followed "It's Quiet Uptown." Before she began to sing the slow, soulful ballad, Goldsberry openly expressed her concerns for her son. She described him as sweet and caring, but she admitted to sometimes worrying about his future because of the frequent and systematic mistreatment of Black people — and especially young Black boys — in the United States.
The strength and power of Goldsberry's performance came not only from her immense skill as a performer, but also because of the messages that she shared with her audience through the intimately personal medium of song. Goldsberry is simultaneously profound, funny, sassy, and, above all, thoughtful when it comes to her words and their conscious impact on those around her. Between her discussion panel and her performance, the closing line of "Human Family" ties together her thoughts on "Hamilton," on fame, on diversity, and on motherhood:
"We are more alike, my friends, than we are unalike."
Images courtesy of Justin Bettman for the Lang Music Concert Hall