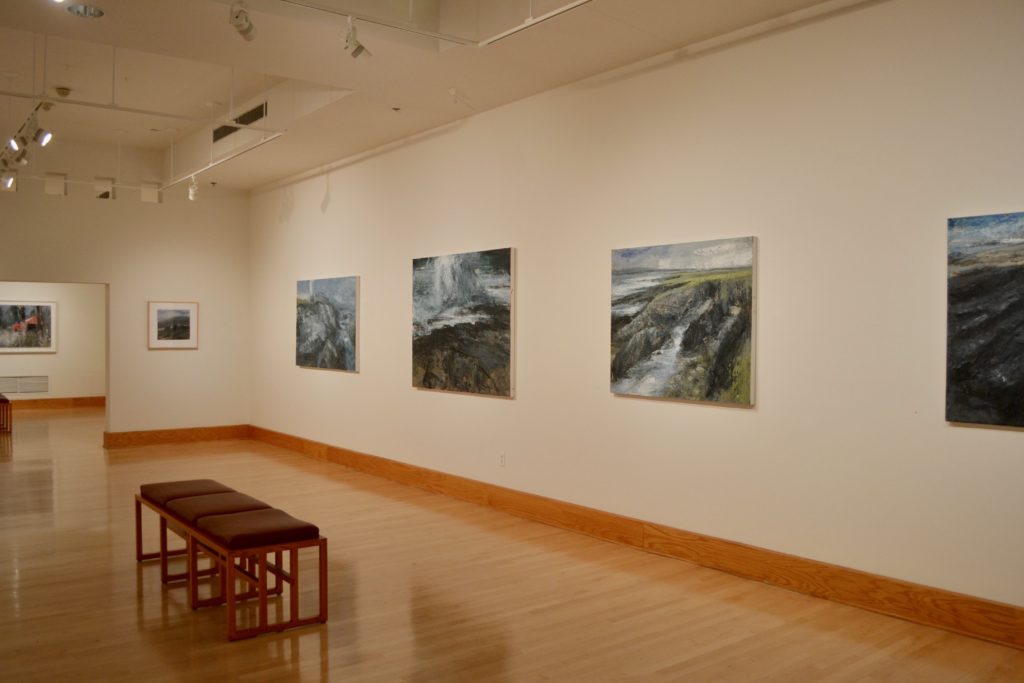 This summer, Max Barry '19, Simona Dwass '19 and Masie Yixuan Luo '19 traveled with Professor Randall Exon to Ballycastle, a small town on the northern coast of Ireland. During their six-week stay, the students worked with professor Exon and the Ballinglen Arts Foundation to compose a series of paintings.
"I got to experience being a full-time artist, having a studio, managing my own time, and finding inspirations, without worrying about other things," said Luo.
Uninterested in the Irish postcard-like landscapes, Luo painted several complete works that experimented with perspective. By meshing several paintings of the same subject into an almost-patchwork piece, Luo asks us to reconsider the scope of a painting. Her paintings are not defined by any clear edge. Their subjects grow and change, moving through the aesthetic space of the painting.
"I realized the perspective shifts every time I turn my head or naturally move my eyes when looking. And I also realize that I should not be limited by the edges of one frame when I paint, so I started adding planes as I looked around and painted different perspectives … I start from one panel and let it grow as I look around. I change the perspective in each panel, so it is closer to the way we look at things," Luo said.
Breaking out of the rectangular confines of a single canvas painting meant Luo could better capture, for example, the interior of a library, a street or a tree in Ballycastle, by painting a different perspective onto each canvas. Luo's experimental technique allows her to capture the mutability of her subjects in her paintings and to metaphysically approach her three dimensional subjects in a two dimensional space. While the trip to Ballycastle inspired Luo to experiment with her art, for Dwass, the trip marked her first time painting.
"Being forced to spend all my time surrounded by other artists and artwork made me start looking at everything in terms of how I could portray it on paper," Dwass said.
Several of Dwass's first painting were based off her fascination with chairs. Each was painted using a combination of two contrasting colors. Her paintings ask us to consider what the experience of a chair is in two-dimensional and two color space. Her paintings force us to look again at the simple object we spend all our lives sitting on. The paintings seem to acknowledge the ubiquity and weight of chairs in our lives.
"Because many of my paintings are more exploratory than full-sized paintings, I did actually work on several at once. I tended to take pictures of things that I saw and liked around the Foundation, at the houses of other artists, and around the Irish countryside. Then, I worked on six or eight pieces at once, sketching each composition out first, then adding one color, and then adding the other color," said Dwass, describing her artistic process.
Dwass also painted a collection of small pieces, displayed in the structure of a grid. According to Dwass, these painting-explored the positive and negative spaces she encountered around the Ballinglen Art Foundation. The subjects of paintings seemed beautiful yet eerie, solid yet ephemeral.
"The first thing I noticed upon my arrival was the lack of activity … When you take away the hectic chatter that is integral to life here at Swarthmore, you start to appreciate the details that didn't manage to hold your attention before. The works featured here are a reflection of the average moment that might not seem like anything special until you look a little closer," wrote Barry in a description of his works.
Barry's work, entitled "Bull at Sunset", portrays an astonishing white bull painted in oil. The painting seems at once real and surreal. From afar, the bull seems commonplace, its gaze looking outward. When approached, the painting begins to move, blur and focus again. The brushstrokes become noticeable, highlighting a detailed lack of detail and an almost material texture. The white bull seems somehow dark and unapproachable in the soft light of the sunset. The setting and intense focus of their trip pushed Barry, Dwass, and Luo to explore new forms and techniques in their artistry.
"It is also very rewarding to show students how experienced and established artists manage their efforts and time focusing exclusively on the creative process. Inspiration is important — and in County Mayo one is surrounded by inspiration — but practice and daily practice with few interruptions is key," said professor Exon, who has led the annual trip to Ballycastle for the past five years.
Upon returning to Swarthmore this fall, the students decided to display their paintings in the Kitao Gallery, the college's only student-run gallery space. On Thursday, Nov. 9, the students opened their exhibition "Made in Ireland," hosting a reception for students to talk to the artists and check out their paintings. The show will be on display until Nov. 25 and is well worth the walk.