In Case You Missed it: Ta-Nehisi Coates came to UPenn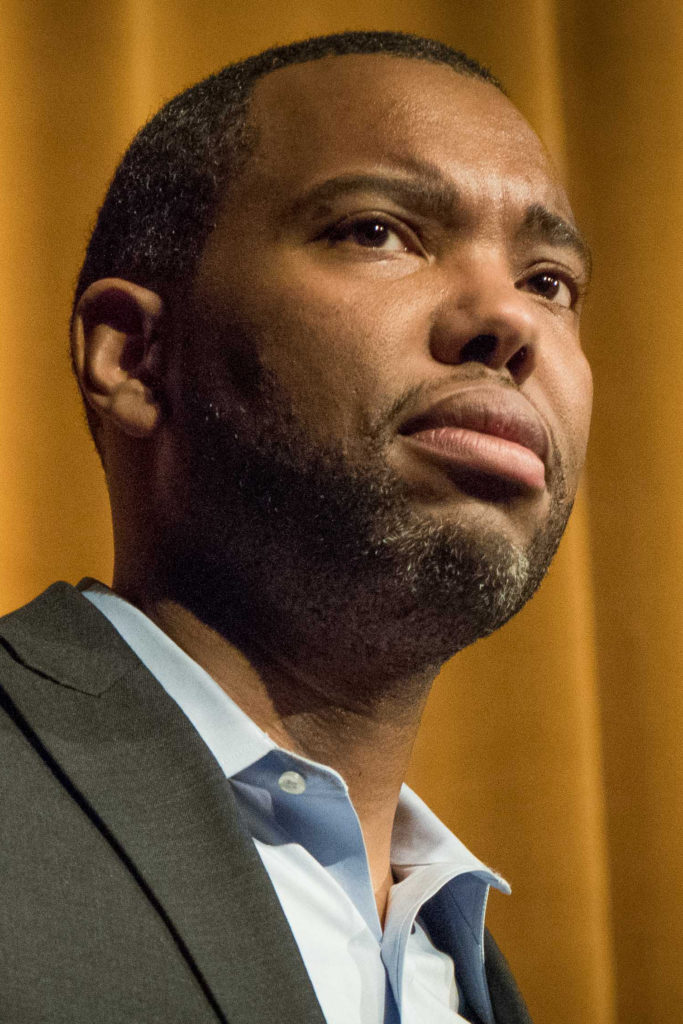 On Nov. 1, the University of Pennsylvania's Irvine Auditorium hosted writer Ta-Nehisi Coates and hundreds of audience members who, at one point or another, have found themselves lost in his work. Myself and many other Swarthmore community members were included in this bunch, making the trek to Penn to catch Coates on this stop of his tour for his forthcoming non-fiction book, "We Were Eight Years in Power: An American Tragedy." As the first half of the title suggests, Coates chronicles the Obama years. As the second half of the title may suggest (depending on your sociopolitical identity), Coates also chronicles the rise of Trump.
For the past 10 years, Coates has been at The Atlantic as a national correspondent, stirring conversations on race and identity with pieces like "The Case for Reparations," in addition to his internationally acclaimed book "Between the World and Me" and his Marvel comic series "Black Panther." His work landed him a MacArthur Fellowship in 2015, more commonly referred to as the "Genius Grant." The award, in conjunction with constant acclaim, makes Coates feel "…uncomfortable" But not in an edgy, I-don't-need-your-praise-way, exactly.
"It obscures the pain […] [that is] the experience of writing," he explained to the audience.
Coates doesn't believe that his work is the product of mere intelligence, as the Genius Grant might connote. Instead, his writing comes from a place of deep emotional pain and aims to pay homage to the greats of Black literature, which he refers to as a "long line of dreambreakers" — challengers of the notion of the American Dream. Like many writers, he acknowledges the cliché that writing really is about rewriting. And rewriting. And rewriting until something "okay" becomes something publishable. His new project began as a "Best Of" series of his Atlantic pieces, but he soon realized that that didn't excite or inspire him. "We Were Eight Years in Power" was born of his need to create and challenge the White supremacist dreams marketed to voters in this past election and current presidential administration.  
The day before the lecture, Coates was circulating the Twittersphere with a message directed at White House Chief of Staff John Kelly. Director of Penn's Center for Africana Studies Camille Charles, who sat down with Coates for the 40-minute conversation at the University of Pennsylvania, pressed him to expand on what led to this impassioned 32-tweet thread.
"There are some wars in history… that are kind of hard to understand," Coates began, referencing the killing of the Archduke of "where or whatever". "It's not hard to figure out what the Civil War was about," he laughed. "It's very clear."
In case you missed it, John Kelly — who, to reiterate, occupies one of the highest offices in the land — publicly commented that the Civil War was the result of the "lack of an ability to compromise." He also called Robert E. Lee "an honorable man." Coates didn't hesitate to call out Kelly's creationist theorizing on the Internet (with screenshots of historical documents referencing the fight over slavery as the cause), nor did he hold back his thoughts at this lecture.
Coates deplored the fact that those who occupy the highest positions of power in America, are unable to identify the cause of the most significant internal war in America's history.
"When you are in power, you can 're-write' history," Coates says, adding — more than once — to laughs and snaps from the audience, "Trump is professionally stupid."
"I'm going to talk to you like the world talks to me," the author says about why "professionally stupid" is his go-to phrase on the president, as well as other phrases like "White people are crazy."
"You cannot convince me that someone who was Black and that politically unqualified would even make it as governor," he continues. "If Donald Trump was Black, he wouldn't have made it off the block."
Charles moved on to ask him a question about the Obamas, but that didn't mean that the conversation on White supremacy stopped. In fact, it was amplified.
"White supremacy has been in denial of bourgeois values," Coates explained. To him, the Obamas as a family fit the mold of those values. Their education, their social mobility, their family structure etc.
"They have a dog named Bo!" he lamented humorously. "This could be a TV show!"
Though a vocal critic of President Obama's policies, the respect that Coates has for Obama as a person (and in turn, the respect Obama has for Coates) is evident. However, Coates pokes fun at the "picture-perfect" lives of the Obamas to do one thing: expose the rank hypocrisy of conservatives who blame "Black culture" for racial hierarchy.
"[They] hate you. Not because of your standards, but because of who you are. There's nothing you can do about it. They hate you," Coates says to us, as if Obama were in the audience too. He also referenced a study that found White people view Bo, the dog, as a "less nice dog" when they find out he is the Obama family dog. I Googled it. It's a real study.
"Everything that people claim is wrong with Black people has nothing to do with Black people. It has to do with taking from them," Coates explained with the laugh that only comes along with a deep frustration with ignorance. If aliens came to earth and saw our history, he said, the truth about how we got to where we are today would be evident.
Charles brought the conversation back to his new book, which he is grateful to have had the opportunity to write. However, as much pride as he has in his work, Coates is still somewhat melancholy about it.
"The period before a piece comes out is when it belongs to you. Then it becomes property of the public," Coates explained. With his rise in "fame", another term that makes him uncomfortable, Coates detailed how he has had to adjust greatly throughout his career.
"[Fame] kills something inside you. That openness and curiosity and willingness to engage," he laughed as he remembered logging onto Facebook and being baffled to see friends criticize him, as if they weren't friends and he was a distant celebrity.
His position as a writer is constantly changing, but what stays consistent is his need to offer the truth about America's history of White supremacy and continuous profiting off the backs of Black bodies.
"Why do White people like what I write?" Coates rephrased a question Charles asked him from her neat pile of notecards. "People think they want absolution. 'Why won't he give me hope?' But then they keep reading. Because deep down, they don't want to be lied to. They want the truth."
The lecture ended with time for four audience questions. For all of the questions, askers basically did that long-winded thing where they try to share their life stories and don't really ask a question. One of the people (after telling her life story) asked which chapter she should assign her students to read of his new book. Another asked if Coates is critical of Obama at all in the book.
"I would suggest you read my book," Coates responded coyly.