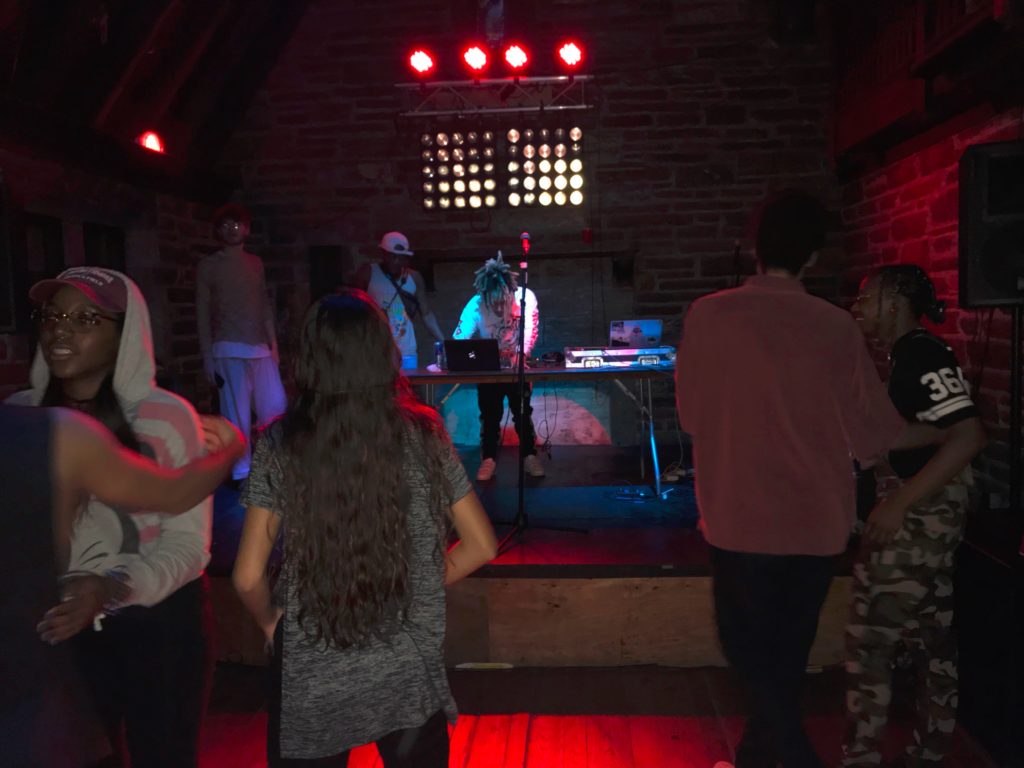 On Friday night, the reverberating hip-hop bass and flurry of freestyling bars escaping from the southeast side of campus called to everyone looking to have a good time. About an hour into the DJ Show at the Olde Club, no one would have speculated that a chill night for Swat students looking to drink and dance the stress of midterms away with friends, would have gone awry. Working my first shift as part of the school's Swat Team, I was one of the "bouncers" for the night, vigilantly scanning IDs at the front entrance and later on guarding the back entrance in my neon yellow T-shirt. It was the type of event that should've gone off without a hitch, blaring bass consuming those present in a frenzy of adrenaline. The hype built gradually but persistently thanks Swarthmore performers Azikiwea Green '18 and Tiyé Pulley '19.
As my second time attending an event at the Olde Club (the first being the electrifying performance by Diet Cig), my expectations for this next event were set decently high. Having arrived early for my shift, I witnessed the slow trickle of students enter the space. Azikiwea Green held down the front during this time with his signature mumble rapping, stepping into his own element despite the small crowd. However, it wasn't until half an hour into the event that the energy really began gaining momentum. Tiyé  Pulley's great song curations had the crowd letting loose and jumping for more. As intimate of a space as Olde Club can be, there was so much going in the moment.
Elsher Abraham '18 who was featured in an impromptu rendition of "25&8", a campus favorite amongst his friends who were well represented in the crowd described the reasons for his own fondness for Olde Club.
"It was a lot of fun. Good to see the student body enjoying themselves in an alternate setting, enjoying music and all that," said Abraham.
Throughout the night many students were gathered outside olde club dancing in the grass and making each other laugh. Once such student, Sahir Nambiar '18 explained the appeal of the outdoors part of Olde Club to students attending shows.
"I spent most of the night in the courtyard rather than indoors. That's what ends up happening a lot of the time when I go to Olde Club. I think the outdoor area is a particular strength of the venue. You can take a break from the heat and crowd inside, but you can still hear the music, and the atmosphere is social and well-populated without feeling overly sweaty," said Nambiar.
The main performer for the night, Quay Dash, a transgender rapper from New York City, had not arrived at the venue by her call time, 11:00 p.m. I was informed that I should keep a lookout and let Quay Dash and her musical group into the balcony to set up as soon as they arrived. Those on the dance floor were feeling the music, but after about half an hour, there was still no new artist on stage and lots of students had begun to lose interest. Finally, 45 minutes after her initial call time, I heard a knock behind me. After opening the back door entrance, the main organizer led Quay Dash and a companion, possibly her manager, up the balcony to prepare for her set. By then, about half of the crowd, if not more, had had their fair share of partying and had left elsewhere on campus. When Quay Dash appeared on stage, it seemed as if everyone but her was ready to get started.
After announcing that she didn't really want to be at the venue, she went straight into her performance. Dash accompanied the lively, eccentric beats booming through the speakers behind her with her aggressive, no-BS flow and delivery re-energizing the crowd. Nonetheless, in between songs, she would suddenly rant, declaring the place as "dry as f***" and adamantly demanding some hard booze like vodka. At some point during her performance, she was handed a beer and she still seemed unsatisfied. By the end of the fourth song, she declared that she "wasn't really feeling it" and would end her set early. Then, in the middle of this song, the sound accidentally cut off. Quay Dash announced "That's it" and walked off the stage and out of the front entrance. She did not re-entered the building.
The behavior that was exhibited throughout the entire performance was not only downright shocking, but made me lose just a little respect for her as an artist. To publicly trash her audience and the institution we have all worked tremendously hard to attend was humiliating and clearly marked her priorities as someone who performs for her own monetary gain, not for the enjoyment of her audience. The fact that she couldn't acknowledge that someone in the crowd very well may have been looking forward to her performance was disappointing on all accounts.
Jesediah, another co-headliner for the show, was ready to perform just a couple minutes behind schedule, given Quay Dash's short set. Nonetheless, his appreciation for the few that had remained despite the spoiled mood reflected humility that deserved much more than the crowd he had listening to his sweet, mellow auto-tuned voice that night. Exhausted, I chose to wait outside with a couple other Swat team members after the events that had unfolded. The evening was complete and over a hundred students had attended the DJ show. At 1:00 a.m. I was ready to head back to my dorm, having had a good time considering I was getting paid but there was simply no shaking Quay Dash's performance from my mind.
Dina Ginzburg, a student musician on campus, stated with brevity and lucidity the contradictions that lay at the heart of my ambiguous feelings.
"The music was good! And quay dash was a little mean," Ginzberg said.
Perhaps we can remember in this busy midterm week that even professional artists have off-days.