Strolling through the Ville: The Fifteenth Annual Fine Arts and Crafts Festival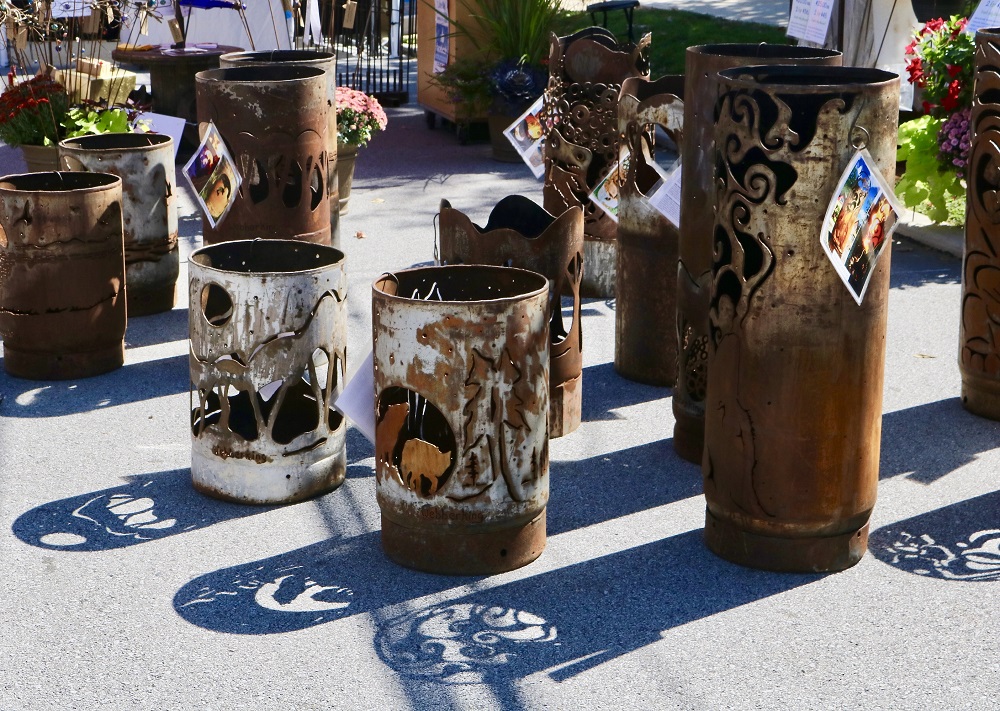 The Swarthmore Community Arts Center hosted The Fifteenth Annual Fine Arts and Crafts Festival in the Ville this past Saturday. Focusing on the handiwork of dozens of artists from Delaware County, the festival exhibited the mesmerizing savvy of their work for the greater Swarthmore community to see. Including a variety of artistic styles ranging from woodwork to photography, there was no shortage of craftsmanship in this small, family-friendly gathering. With plenty of hands-on demonstrations, activities for children, and, of course, musical performances, the town center was the scene of an exuberant, warm crowd gathered to celebrate the artistic work of others.
Sprawled throughout the heart of the town, exhibitions of careful design and intimate creation attracted people of all ages. Sweltering underneath the beaming sun, local residents sought refuge underneath the expanse of white tents covering Park Avenue. Not a single cloud in the cerulean sky above, children and adults strolled through and enjoyed the blessings of a beautiful day, taking their time soaking in the street life.
In each tent, throngs of residents gathered around each individual artist, sometimes inquiring about their work, other times simply admiring from a distance. In one of these tents, passerby witnessed the incredible pumpkin carving of monster faces. A howling guitar with its tongue sticking out grabbed my attention, growling for life as the autumnal terror of Halloween approaches. Elsewhere, children knelt above a table full of clay and enjoyed themselves squeezing the soft, rich clay and shaping in their hands. Just in front of the Swarthmore Public Library, an entire installation had been set up for the creative pleasures of the children, offering such activities as making tie dye t-shirts, button bracelets, zany hats, and pumpkin wind catchers. In the very center of the Ville, musical demonstrations took place, and while I observed, a girl in her early teenage years was quietly playing her guitar, humming a serene tune to the crowd. Beyond the center, there were even more showcases of art, including jewelry, quilt, and ceramic stands attended by several women. Absorbed by such exquisite work, I was tempted to capture them with my camera until an old man displaying his own photography reprimanded me for it.
I spoke to one of the artists demonstrating their work at one of the tents. Marie Simons, a Swarthmore resident of 16 years, was one of the artists featured at the festival. Working as a mindfulness meditation teacher, she was searching for a new form of meditation when she came across a technique known as Zentangle. After taking a class in Providence, R.I., she was instantly hooked.
"I do this for fun. I adore this, and it's just taken off. People keep asking me to do it," said Simons.
After other members of the community saw her dedication to this form of meditation, they invited her to hold her own classes at the Community Arts Center. Now, she has ultimately fallen in love with the work that she and her students create.
"Everybody that's done my classes are local people that are in the neighborhood that never drew before," said Simons.
The key is the simplicity and ease with which these artistic expressions are made. According to her, all that is ultimately required is the ability to draw a straight line and a curly line – nothing more. Many of the pieces on display were abstract black and white tiles with curvy lines, but other designs were as unique and creative as a 3D checkered landscape magnified underneath a stenciled frame. However, when Marie works with others on their art, her focus is the relaxation process.
"Nobody's Picasso when they walk into my class, nobody. And you're leaving with proof that you meditated, not artwork," said Simons.
Other artists at the festival offered more traditional forms of drawing that demonstrated the rich development of their talents. Rinal Parikh's husband was attending to her exquisite watercolor paintings, adorned with immaculate detail that must have taken at least several months to finish. A few sporting four-figure price tags, they depicted abstract scenes in nature, such as lily pads and blooming flowers. Her open art studio will be held in a couple of weeks.
In addition, several craftsmen at the festival had purposes that went beyond the scope of their art itself. Karen Heenan, owner of a business called Useful & Beautiful, was selling oddly patched stuffed animals, such as bears and dolphins, made entirely out of recycled fabric. When asked about how these were made, she said that most of the animals were sewn out of wool taken from old sweaters. These would be placed in the dryer, shrinking and compressing so that when they were cut, they would not unravel. Although her prices, ranging from $20 to $45 per doll, were exorbitant, Ms. Heenan's dolls were almost worth purchasing, given the clear passion behind them and the fascination little kids had with them.
It is an impossible task to spotlight each and every artist's work in a single article. Nonetheless, those pieces of art that I had the opportunity to see for myself demonstrated the astonishing capacity that the local Swarthmore community holds. After an hour or two of inquiries and curious observation, I realized that the liberal arts creativity Swarthmore is famous for leaks far beyond the college. The Fine Arts and Crafts Festival delivered a relaxing atmosphere and coupled it with stimulating exhibitions. It is this collaborative effort between all members of the community that made the event such a joy to experience.