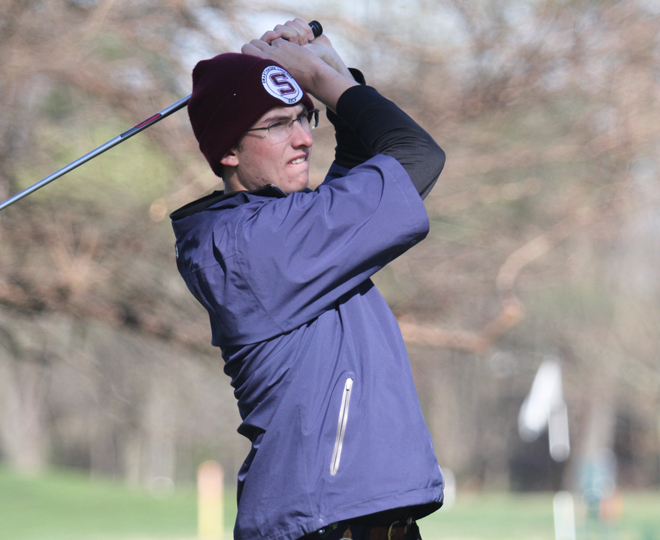 With a trio of star freshmen and pair of reliable juniors, the golf team has re-established itself as one of the most dangerous squads in the league. The Garnet won five of their eleven tournaments and constantly boasted stellar individual performances. Dan Altieri '19 won three tournaments, Nick DiMaio '19 captured one victory and the duo of Michael Chen '17 and Drew Langan '17 each finished as high as third place.
Last Saturday, the Garnet traveled to Abbotsford, PA for the conference tournament. Heading into the match, the team was confident that if they continued to play their game, they had a good chance to challenge two-time defending champion and league powerhouse, Franklin & Marshall.
The Garnet came out of the gate firing on all cylinders. On the first day, Chen led the Garnet, shooting a +2 (74), followed by Vamsi Damerla '19 (75), DiMaio (76), Langan (76) and Altieri (81). These scores, which tallied to +13 (301), were good enough to put the Garnet in first place – two strokes ahead of F&M.
Langan said, "After the first day we knew we had an opportunity to go out and win the tournament. I think we also knew we'd have to elevate our games in expectation of better play from the other teams in the field."
Unfortunately for the Garnet, on the second day they were not able to build on the positives of the first day. They shot a +24, eleven strokes worse than their day one score and five strokes worse than F&M's day two score – placing them three strokes behind F&M entering day three.  
"I don't think it was nerves," Altieri said, referring to the team's disappointing day. "I just think some holes we got more unlucky than we did on the first day. I think we were all pretty focused throughout the day. It's just, sometimes, shots don't fall the way you want them to."
Though the team as a whole regressed, Altieri actually improved his score by three strokes. That being said, over the course of the season Altieri was the team's best and most consistent player, so he was still not satisfied with a 78.
For the Garnet, the final day was similar to the second day. They finished with a +23 while F&M finished with a +12. Gettysburg (+5) and McDaniel (+14) also leapt over Swarthmore, pushing Swarthmore to fourth place. Though the result was disappointing for the Garnet, there were many positives to come out of this season. Most notably, the Garnet's final score in the 2016 conference tournament was +60 – significantly better than their +79 finish in the 2015 conference tournament.
On an individual level, the team also has a lot to be proud of. Damerla finished second overall and was named Conference rookie of the year and his freshmen counterparts DiMaio and Altieri finished 14th and 20th respectively. Chen and Langan also finished well, finishing 12th and 23rd.
Looking ahead to next season, Swarthmore has put itself in a great position to succeed. The team will not graduate any of its top five players and each player will likely continue to improve. Specifically, the freshmen, having made the transition from high school to college, should come into next season acclimated and primed to make significant strides.
"One of the toughest adjustments to college golf is that we really don't get to practice our short game – putting and chipping – a lot," DiMaio said. "So, you're really going out to the course and going with how you feel. I think that as we get older we'll get more used to it, but for me it was a tough adjustment."
Langan recalled the difficulty he had transitioning to college golf and noted how well the current freshmen have handled it.
"I remember I really struggled [my freshman year]," he said. "Our three guys this year did a fantastic job. So, they can only go up from here."
With a strong core of young players and rising seniors, it seems like the Garnet will certainly rise up next season.