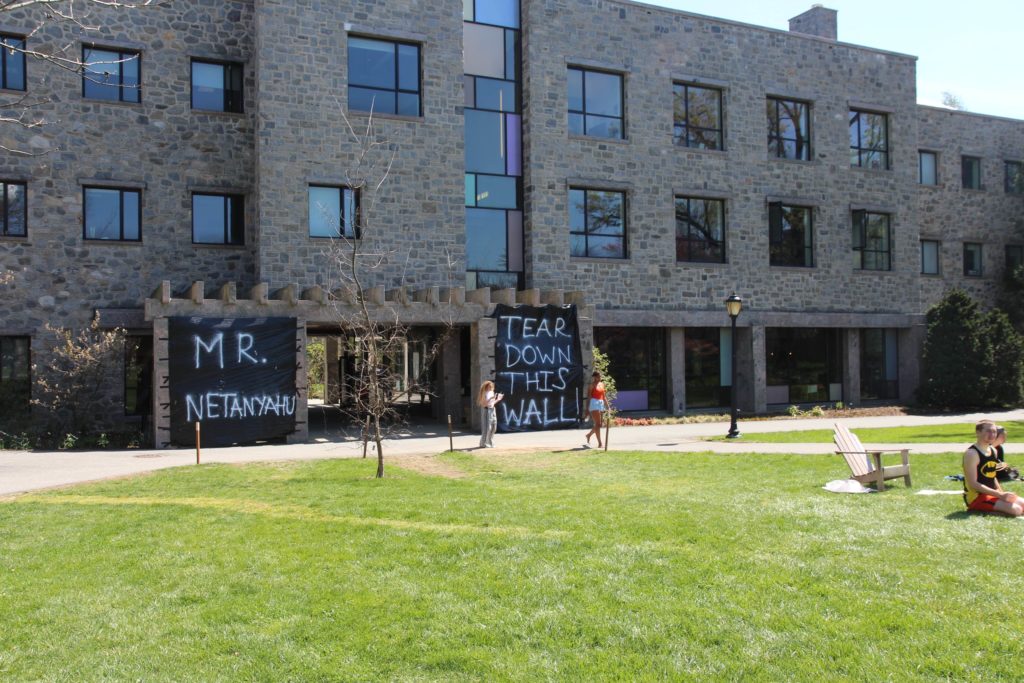 Swarthmore Students for Peace and Justice (SPJP) recently constructed a model wall near the Kohlberg tunnel in an attempt to start a discussion and send a message about human rights violations in Palestine.
In 2002, Israel built a wall that separated the Palestinian West Bank from Israel proper. At the time, the wall was explained as an attempt to increase security in Israel, but was mostly constructed on Palestinian territory. The wall has been controversial due to the restrictions it imposes on the mobility of Palestinians in the region.
"There are limits to how far you can go for security," commented SPJP member Timmy Hirschel-Burns '17.
The group originally planned to repeat a similar project from three years ago, which was meant to represent a mock checkpoint and members of SPJP would act as soldiers at the checkpoint. The wall was going to be built along Parrish, but the group was limited by administrative concerns and resources.
"We had to rethink our project in terms of space and manpower but still getting the same message across," explained SPJP member Joelle Hageboutros '16. They used the same materials, but instead constructed a mock wall with graffiti messages that could potentially be on the real wall.
The mock wall was meant to raise awareness about the situation in Palestine and how Palestinian communities are impacted.
"We had an outline of wall construction and how it was deemed illegal by the International Court of Justice and how construction still continues to this day," said Hageboutros.
The project challenged viewers by asking them to think about the idea of having checkpoints on campus.
"We chose to put a message, have you ever gone through a checkpoint on your way to class? Trying to get people to put themselves in other people's shoes," Hageboutros commented.
As might be expected, this mock wall was not met with full support among the community. Some students did not agree with the message, but still supported the act and respected the right to free speech on campus.
"The initial reaction was to ask those who had put up the demonstration to remove it, but we pretty quickly decided that this was not an appropriate course of action," remarked Swarthmore Students for Israel member Jessica Seigel '16, "They have every right to speak their minds and have a presence on this campus, just as we do."
Seigel did not speak for the group as a whole, but noted that even within the group many members had different opinions about the wall.
"I think the diversity of thought even within those who support Israel shows how difficult and contentious the issue of this wall remains," Seigel commented.
Because the project was met with opposition, there was a desire by some members of the Swarthmore Students for Israel to engage in a dialogue and have their voices heard as well.
"Some people in the group hoped that we could try and start a dialogue regarding how such a demonstration could make some individuals feel unsafe" said Seigel.
Students from around campus had different reactions to the piece. Connor Keane '19 noted that the project effectively communicated the intended message and helped to facilitate thoughts on the issue.
"I think that they succeeded in expressing their message. By making me aware of new dimensions of these issues in a fairly objective manner, the walls caused me to question the 'standard narratives' of these conflicts and want to inform myself further, which is perhaps the most important consequence such signs can have," he said.
Hopefully the wall continues to spark informed discussion about the issue and serves to help students better understand the situation itself.