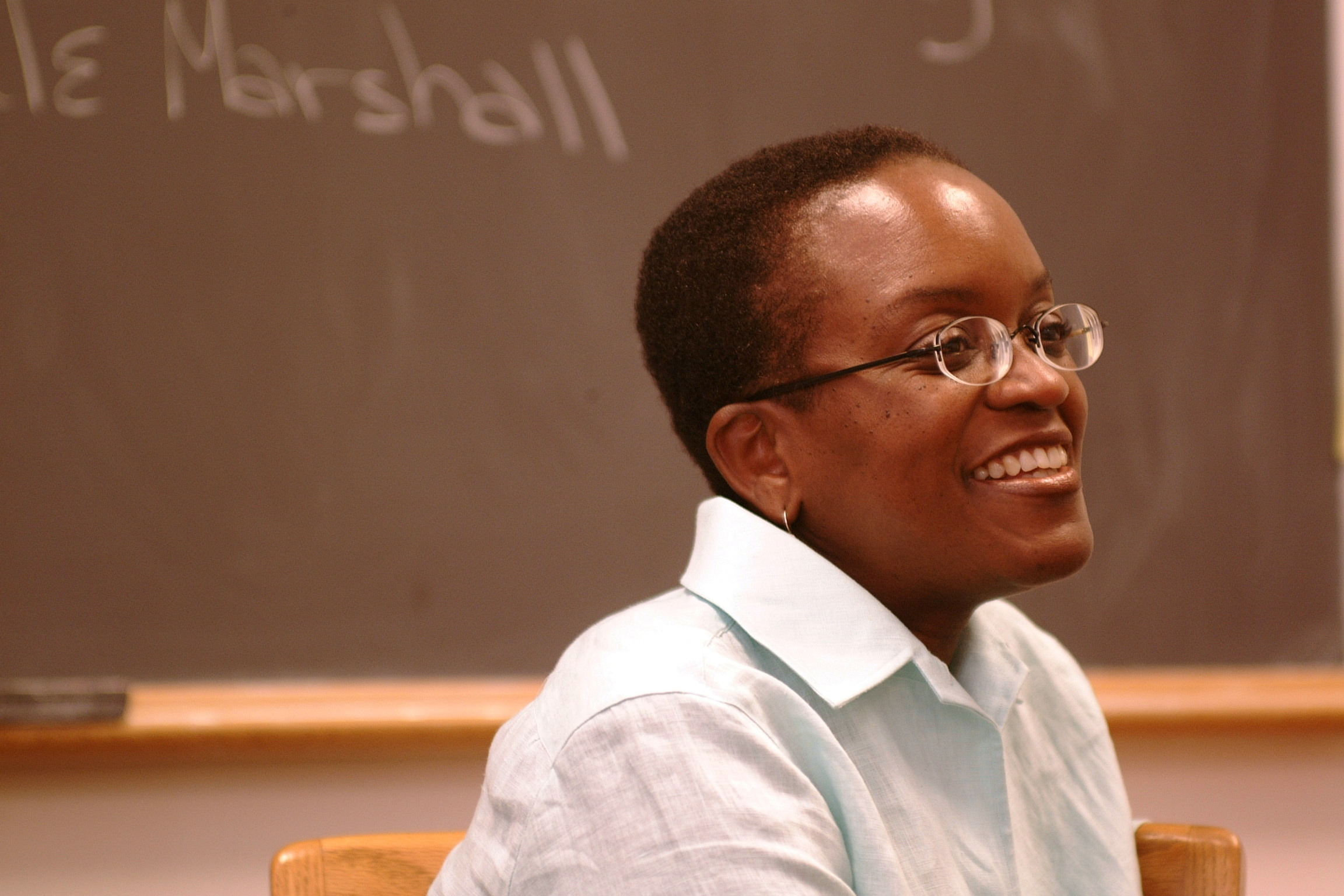 President Smith announces plans for access, excellence, engagement
Last night, President Valerie Smith held a community meeting in which she outlined her priorities and vision for the next phase in the evolution of the college.
Isabel Baskin '17 expressed appreciation at President Smith's willingness to interface with students as the college.
"I'm very excited that she's taking the opportunity to talk to students and make an effort to connect with the community," Baskin said.
In an effort to contextualize this vision, President Smith opened the meeting by summarizing previous initiatives for strategic development, such as former President Chopp's "Strategic Directions for Swarthmore College." This document, released in December of 2011, traced the principle fundraising and programming goals for the college, including the recruitment of a diverse student body, improving facilities for academic programs, maintaining excellence in the faculty, and a commitment to academic rigor and community-building.
President Smith positioned this report as the starting point for her own plans for the college, which have evolved since the time of its initial release. "Even in the time since [the Strategic Decisions report], we've learned more about ourselves and the world. As we plan for the next stage of the college, we have to be able to adapt to the changing trends and needs of the community."
President Smith offered three "emerging priorities" for the coming years, all of which are encompassed in an overarching aim to "educate the whole person."
The first of these priorities is "access and inclusion," which Smith described as a commitment to a generous financial aid program, effective diversity outreach programming, and an increased investment in student support programs which offset the hidden costs of college, such as books, travel, and health insurance.
Dean Liz Braun added that resources for combating these hidden costs are becoming increasingly accessible to students.
"We were recently able to find an alumnus to give a donation specifically to cover those hidden costs, like emergency medical bills, emergency trips home, and the costs of travel for job interviews and the like. We are currently trying to grow those funds," she said.
Dean Braun also indicated that her office is currently working on efforts to pull these resources together into a single online location to make them easier for students to navigate.
Another element of this priority involves the construction and creation of new spaces that encourage spontaneous interactions among students and faculty, Smith said.
"I'm going to ask for student input as we seek to create campus spaces that align with your needs, interests, and desires. But we need to think about addressing those needs in a more cohesive manner. I want us to be thinking about the function that these facilities serve and how they will serve us in the future before we think about renovations and replacing those facilities."
The second of these priorities is upholding the college's position as "one of the world's leading institutions of the liberal arts," Smith said. This involves strengthening the college's ability to recruit and maintain excellent and diverse faculty members, fostering innovative curriculums and responding to the changing needs of traditional departments, and providing support for student academic research and opportunities.
The final priority that Smith presented was an invigorated commitment to educating towards the public good. "We must continue to create opportunities for faculty and students to engage with the surrounding community, working with institutions of all kinds in Delaware County and the greater Philadelphia area to enhance our local and global impact," Smith said.
President Smith recognized that these priorities entail a formidable undertaking on the part of her administration.
"I realize that this is an ambitious agenda. It will cost money and we can't do everything at once. To accomplish this, we are going to have to think about how we can make decisions in fresh ways," she said.
Throughout the meeting, President Smith stressed that this gathering was only the first step in what she hopes is a continuing spirit of collaboration between different facets of the college community as her administration moves forward with new plans and initiatives.
"These ideas at this time are still deliberately general, precisely because I want students to give feedback and input. Students need to participate in these visioning exercises because there might be limits to what we know about how students will use new spaces for example, or what they will want to do in these spaces," she elaborated.
Indeed, despite the relatively low turnout at the Community Meeting, many of the students in attendance vocalized their responses and concerns during a lengthy question and answer period.
Kelly Hernandez '18, expressed appreciation at President Smith's mention of increased professional development for staff and faculty at the college: "We talk a lot about microaggressions on campus and professors not having the necessary skill sets to deal with the increasingly diverse students at the school. I wanted to emphasize the investment in that development because it's so crucial to our experience here at Swat."
Hernandez was among several students who emphasized their enthusiasm for efforts to support students of diverse backgrounds once they arrive on campus, an issue that will only become increasingly salient as diversity outreach programs are expanded.
Jim Bock, Vice President and Dean of Admissions, noted that 58% of the 963 admitted students for the class of 2020 have been granted need-based financial aid, compared to 52% in the previous year, and that more first generation students have been admitted this year than ever before. He also pointed to new initiatives such as Swatlight, an event for admitted students from low-income, minority, or first generation backgrounds, and the new Director of Access position at the college as further evidence of an institutional commitment to diversity outreach.
Ben Schreiber '16 asked President Smith what might be done about the declining number of students taking part in the Honors Program. President Smith responded that Professor Craig Williamson, Honors Program Coordinator chaired a committee on the honors program, inviting faculty from every department to envision how they might attract more students to their programs".
Rachel Flaherman '16, raised concerns about Student Health and Wellness, citing the fact that Worth Health Center, unlike its counterparts at many peer institutions, is not accredited by any national health associations. Liz Braun, Dean of Students, spoke to this issue specifically "We are not currently accredited, but as a first step, last year we worked with an organization to go through an external review process to figure out what we would need to do to get accredited."
Dean Braun also commended Alice Holland, Director of Health and Wellness Services, with spearheading several important policy changes at Worth. These changes included moving towards a 90-10 college insurance coverage plan, in which families only have to cover 10% of remaining medical costs (a shift from the current 80-20 plan), as well as instituting a system of electronic medical records. Holland also successfully added hormone therapy to the college's insurance coverage, and lowered the costs of several other prescription medications. She appealed to the student body to get involved with the Student Health Advisory Committee to continue to give input on how wellness services can be improved.
President Smith also fielded questions about declining financial aid for rising students, global outreach to draw international students to Swarthmore, and support for students of faith on campus.
As the meeting drew to a close, she reiterated that she will continue to seek input from a variety of sources as her plans become more concrete.
"We're thinking about ways of including students more in decision-making and experimenting with multiple ways of communicating. Please keep in mind that this is just the beginning and that these initiatives will become more specific over time."