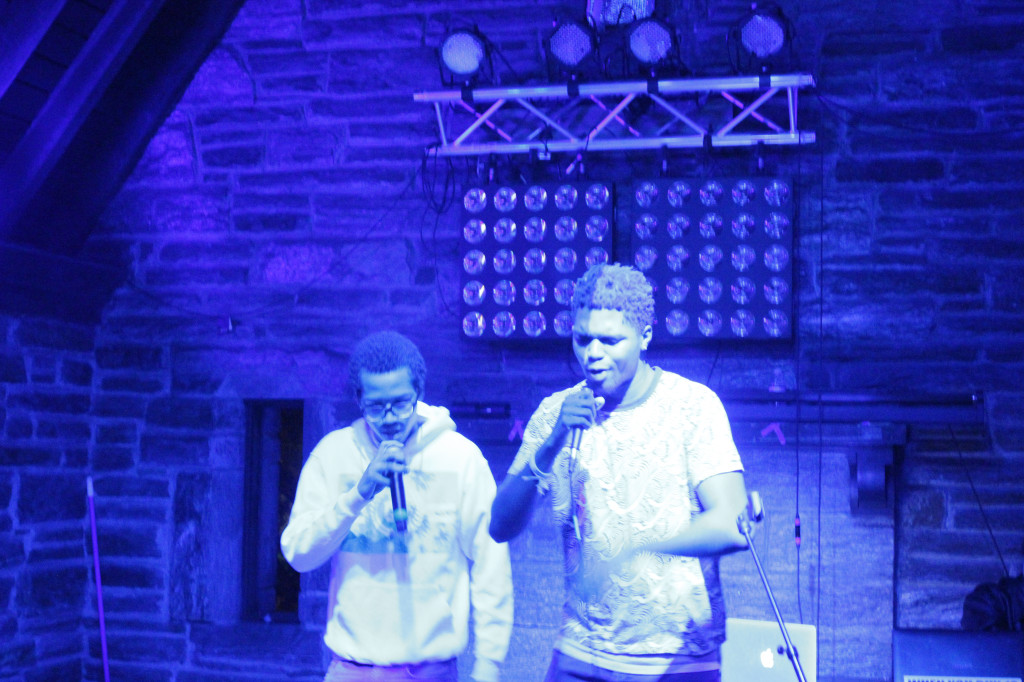 Last Friday night, the college radio station, WSRN, hosted a Hip Hop Showcase in Olde Club. The event featured performances from Harsha Sen '19, Thomas Poley '18, Thomas Stanton '18, and Tiyé Pulley '19. The event also featured Perry Nguyen '16 and Elsher Abraham '18 as DJs, with Abraham also fulfilling the role of host/MC.
Abraham explained the origin of the event.
"I had pitched the idea a few months ago and Perry Nguyen, the station manager, was very receptive to the whole thing," Abraham said. "I noticed quickly at the start of the semester that there was a lot of talent on campus and this was kind of my way of trying to show the Swarthmore community that there's a lot going on with hip-hop here."
He also noted that the event was only made possible by the joint efforts of many at WSRN, including Aaron Jackson '16 who videotaped it.
Stanton, Poley, and Abraham all agreed that this event was representative of a larger emergence of hip hop within the Swarthmore student music scene.
"The hip-hop scene at Swarthmore is definitely on the come-up. Don't quote me on this, but I think there's always been people on campus involved in hip hop. Right now, it just seems like it's happening all at once and people are really supporting each other, " said Abraham.
Several of the involved individuals connected the emergence of this hip hop scene to the increasingly popular radio show called "Freestyle Fridays".
"There's incredible talent every week at Freestyle Fridays and that's part of what pushed me towards this event. The Showcase and Freestyle Fridays worked to get these people who love hip-hop together. This is just the start, I'm sure." said Abraham.
Poley also noted that Freestyle Fridays had grown significantly over the course of the semester.
"The first day we had about 7-10 people in there, and last Freestyle Friday we had over 20 people in there. We're definitely seeing the growth of hip hop at the college," he said.
Everyone involved reported that they thought the event was a great success.
"Overall I think it went great. This was the first time some of the performers had ever actually performed on stage. This was my first time trying to MC/DJ an event. Even so, things went pretty smoothly and I'm happy with the outcome. There was a good turnout and the crowd seemed very engaged with the performances," said Abraham.
Stanton gave a similar impression of the event, emphasizing the positive atmosphere.
"I loved the energy, it was very positive. There was a good number of people there, I don't know how much more we can really expect."
Poley pointed out that the success of the night was remarkable, given their relative inexperience.
"I thought it was dope, everyone had so much hype. There was an amazing turnout considering the fact that this is our first showcase, and the first time for both Stanton and me performing on stage. It was an extremely fun experience."
The showcase was a more casual form of performance, which is reflected in the nature of the sets performed. Sen opened the showcase rapping over several beats, including a verse in Bengali.
"I didn't have set verses and beats picked out ahead of time. But I was impressed that I got on stage and stayed freestyling for 15 minutes, weaving writtens in and out," he said. "Before Swarthmore I wouldn't have ever been able to do that. The crowd was very supportive." He was also appreciative of performing in front of an audience which was able to enjoy his rapping in Bengali.
Poley followed this up with several introspective songs, spanning topics such as racial injustice, personal relationships, and issues relating to his own racial identity as a mixed race individual. Stanton described Poley's set. "That shit was crazy. His performance was crazy."
"I actually didn't have all of my rhymes memorized yet, I said that before I started performing because I had some shit to say and I wanted to make sure I got all of that conveyed during my performance," Poley said, describing the nature of his performance. "I was reading off of my phone most of the time but the amount of hype at the words I was saying was incredible."
Poley's musical style followed in the artistic path of up and coming rapper; he named artists such as Chance the Rapper and Vince Staples as influences.
"It's highly emotional, but also extremely energetic. I try to incorporate different rhyme schemes into each of my songs, and also occasional rapid-fire raps popularized by artists such as Tech N9ne," he said.
Stanton, who performs under the name "Tom Lotus", performed after Poley, incorporating more singing and R&B influence into his songs, a style popularized in recent years by artist such as Drake and Kid Cudi.
"It's hard not to say Drake, I don't want to say Drake, I know you have to say Drake, though, he's so influential, he shapes the culture. But I don't want to be Cudi, I don't want to be Drake, I want to be Lotus," Stanton said.
Stanton reportedly not only enjoyed performing at the Hip Hop Showcase, but the entirety of the event.
"It was new, I'm not really used to trying to have a stage presence, so a couple times I forgot my lyrics and had to improvise," he said. "I thought it came together really well. I had a really good time onstage and then in the crowd, after, with my friends, watching other people perform."
After Stanton, Pulley took the stage, performing a variety of songs, including one which was influenced by the recently popular rapper, Young Thug. Poley praised Pulley for his "amount of stage presence."
After the sets, the showcase transitioned to an open mic. One student played guitar and others took to the microphone. Aziz Anderson '17 was one student who participated in the open mic and, according to Sen, "he was probably the best freestyler I saw all night."
Poley and Stanton both expressed an interest in participating in such an event again at a later date. Abraham foreshadowed its possible recurrence. "Well, I definitely want to keep pushing hip-hop at Swarthmore. Definitely expect more events from WSRN-FM." Stanton and Poley both teased solo projects, as well as a collaborative Swarthmore mixtape.