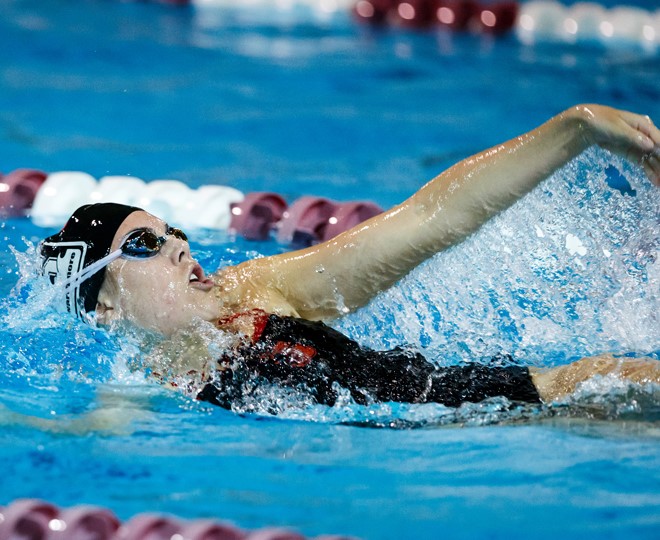 Although the Swarthmore swim team's season has only just begun officially, both the men's and women's swim teams have spent the past month of the fall semester training hard. Members of the team have noted that their new head coach Karin Colby has picked up the intensity of training with 7 a.m. practices twice a week, mandatory lifting, and workouts specifically tailored towards different swimmers' specialties.
"Practices are oriented to whether you're a sprinter, mid-distance, or distance swimmer, and the most important thing about that is that all the sets make sense," Alejandro Hernandez '18 said. "There is always a reason behind what we do, that way no lap is ever wasted."
This past Saturday, the team travelled to McDaniel in Westminster, Maryland to compete in their first meet of the year. Members of the team expressed that both the men's and women's teams performed better at this meet than anyone had anticipated. Despite tough practices leading up to the meet and a less than ideal pool at McDaniel, Maggie Eberts '19 shared, "Both teams had awesome meets. The boys pulled out a decisive win along with several pool records, and the girls fought until the last relay to just edge out McDaniel." Hernandez elaborated on this statement when he said, "People were swimming their lifetime-best times left and right, and five of McDaniel's pool records were broken."
Liam Fitzstevens '17, Andrew Steele '17, and Jeff Tse '19 all set new pool records. Fitzstevens swam the 200-meter backstroke in a time of 1:55.51, Steele swam the 50-meter freestyle in a time of 21.50 and the 100-meter butterfly in a time of 52.37, and Tse swam the 100-meter backstroke in a time of 51.75 and the 200-meter breaststroke in a time of 2:11.66. Additionally, Liz Staton '19, Jillian Haywood '18, Amelia Tomei '19, and Sophie Moody '19 were tough competition for McDaniel, narrowly winning their race by a fingertip's length, Michael Phelps style. "Everyone on deck was screaming," Fitzstevens shared.
Although many upperclassmen swim members are studying abroad this semester, the freshman class consists of notably fast swimmers and the team is feeling good. "The men's team is looking extremely strong this year with a lot of fast freshmen who are adding speed and depth," Eva Winter '16 said. "The women's team is missing five juniors abroad, but we have a large and fast freshman class that adds a lot."
With wins from both the men's and women's teams at McDaniel this past Saturday, it is clear that their intense training is paying off. Colby, who most recently coached at MIT, joined Swarthmore's swim program this year. Coach Frank Keefe, who was the head coach for the Yale Men's swim team for 32 years, joined the swim coaching staff as well. Additionally, Charlie Kennedy, who previously coached Brendan Hansen, a world record holder for the 100- and 200-meter breaststroke, has continued to help the team members optimize their stroke techniques. "We have an outstanding set of coaches this year," Eva Winter '16 said. "And our head coach has been amazing since the very first day."
Regarding how the team has handled themselves this season, Coach Colby said, "The team has done an exceptional job adapting to all of the changes that come with a new coach. I am impressed every day by their dedication and commitment to their individual training and how each person is identifying their role within the team.
One might expect that the many changes that have been made to the program could have a negative effect, but Hernandez dismissed this possibility when he said, "I am really impressed with how people have adapted and made the best of the changes so quickly. I think that is our biggest strength, and it will lead to a very successful season." Fitzstevens expressed similar sentiments, saying, "All these things have changed the team dramatically, and they're setting us up to accomplish huge things."
Another one of the team's strengths that fuels their success is their undeniable team chemistry. "We are a very close-knit team and have a lot of fun together," Jillian Haywood '18 said. "It's one of the reasons why I swim, and I think that's true for many others on the team."
Ultimately, the team hopes to drop their times and bolster their competitive presence. When asked about specific goals for the team, Winter shared that for the men, "Trying to win as many dual meets as possible is a big goal." As for the women, "Trying to drop times and be competitive at dual meets is huge."
Fitzstevens shared that the team's short-term goals include beating F&M and Ursinus in their upcoming dual meets. He also stated the team's long term goal of elevating its conference and national presence.
Hernandez shared that becoming the Centennial Conference champs is an exciting, and realistically attainable, team goal. "I really do believe that we can make that goal become a reality," he said. "We just have to keep working hard, and I think that's what we all plan on doing."
As exciting as it is to hear about the many positive changes that have been made to the swim program, it is perhaps even more exciting looking forward to seeing the swimmers' hard work pay off. With huge program changes, positive attitudes, and definitively strong team chemistry, the team looks forward to what it might accomplish this year and its many meets to come.