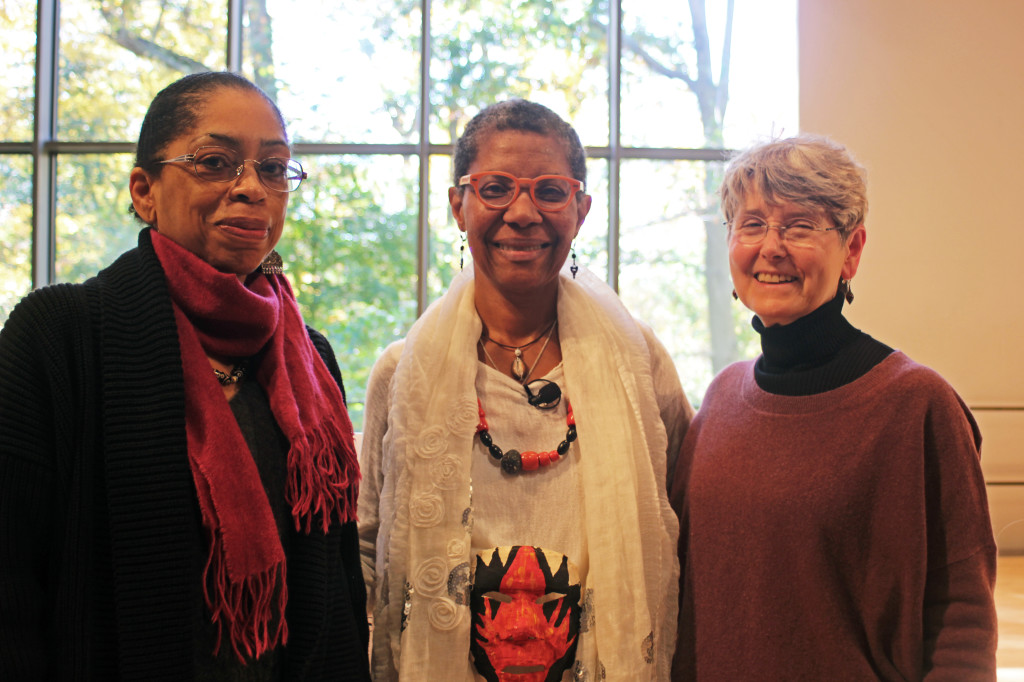 M. NourbeSe Philip held a reading of her book of poetry, Zong!, at the college on Friday, October 30. Through the use of dramatic reading, impassioned verse, and audience participation, Philip brought her work to life for the students of Swarthmore.
The background and inspiration behind Zong! were explained by Professor Deborah Doherty in her advertisement of this event to the student body. "In November 1781, the captain of the slave ship Zong ordered that some 150 Africans be thrown overboard.  When he returned to England, he was prosecuted not for murder but for insurance fraud:  the ship's insurers would offer recompense only for slaves 'lost at sea.' To write this haunting book, Philip 'excavates the legal text' of the court's decision, making it 'an anti-narrative lament.'"
The construction of Zong!, photocopied pages and portions of pages of which were waiting on our seats as we entered the auditorium, was indeed an excavation. Or, rather, as Philip herself put it, a homicide. In the course of her introduction of the author, Professor Nathalie Anderson contextualized the book and Philip's writing process. She quoted the notanda of Zong! describing Philip's process, "I murder the text, literally cut it into pieces, castrating verbs, suffocating adjectives, murdering nouns, throwing articles, prepositions, conjunctions overboard, jettisoning adverbs."
She continued,"So, questioning the assumed transparency of language to reveal its hidden agendas. Thus, 'the poetry in Zong transforms the dessicated legal report into a cacophony of voices, wails, cries, moans and shout'". The sample pages of Zong! sitting on our chairs proved this description accurate; the poems were formatted as pages on legal documents in which a majority of words and letters had been whited out, leaving a new set of words with a new meaning."
This precise and unorthodox construction of the poems in Zong! could clearly not be translated to a spoken form. Rather, Philip chose to bring the text to life, to evoke the emotion behind the book and to proclaim its relevance. Anderson foreshadowed this in her introduction. "Black Lives Matter, including those lost in 1781, this book insists," she said.
M. NourbeSe Philip entered moments later in all white, including a white veil. She walked down to the stage ringing a bell and shaking a set of strung-together dried seed pods, reciting names. Some of these names were African names, possibly the names of those who lost their lives on board the Zong, but other names were more recognizable: Sandra, Trayvon, Mike, Eric. These names refer to Sandra Bland, Trayvon Martin, Michael Brown, and Eric Garner, all black individuals who have made the news recently for their violent deaths, widely noted as unjust. She transitioned smoothly from the recitation of these names to her poetry.
Her reading of her poetry was lively. Philip would snap or dance along with her words, at one
point stomping in rhythm with her verse and including a considerable amount of repetition. For example, an early component of her reading was a chant of "defend the dead." However, she frequently introduced variations into later repetitions, or repetitions which would gradually transition into a new verse. She punctuated her verse with outbursts of tone and movement. At times her reading brought Phillip to her knees. At other times, it brought her book of poems up, above her head, as a shield.
Philip ended her reading by asking the audience to simultaneously read the different pre-distributed excerpts of her poetry, creating what she termed "a joyful noise." This began slowly, first with faculty members reading, then brave students trickling in before the entire auditorium was reading various excerpts of Zong! in various volumes at various paces.
The reading was met with hearty applause. This reading was the culmination of a two-day residency at the college for Philip, which she reported enjoying quite a bit. "This is an amazingly beautiful campus. You students are blessed," she said, also reporting that she found Swarthmore "very nourishing."