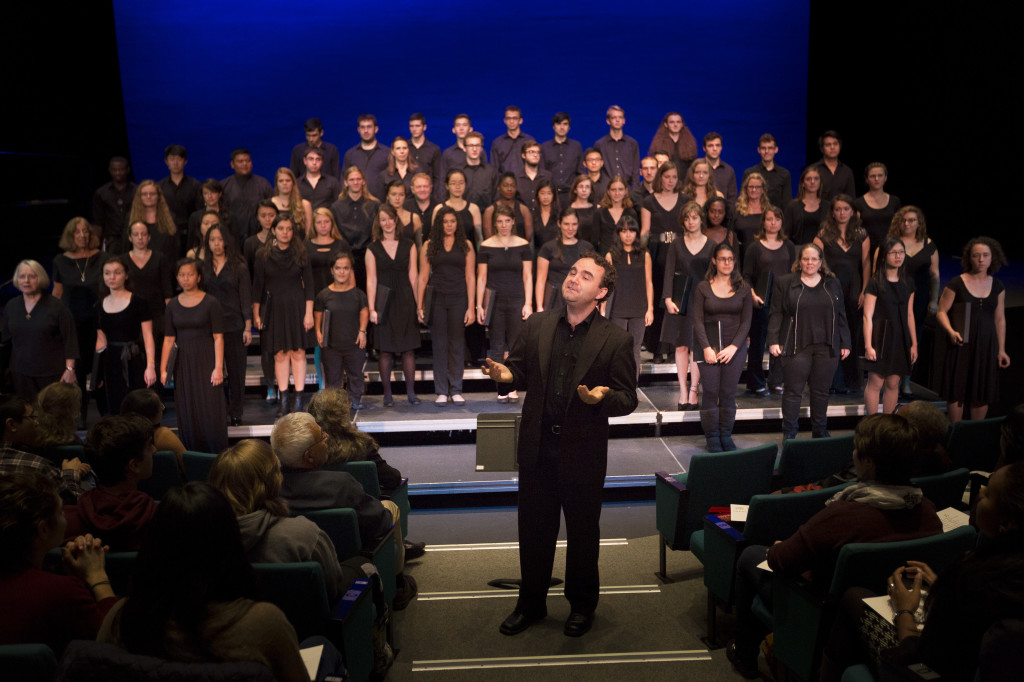 Last weekend, the campus celebrated the inauguration of our 15th president, Valerie Smith. This included a certain amount of pomp and ceremony, met with enthusiastic fanfare. Smith was welcomed by a wide variety of musical acts, many of which were comprised of Swarthmore students or alumni. Smith reported being impressed with the breadth of musical styles and talents displayed by the students, asserting that the inaugural celebration was an excellent display of the creative capabilities of Swarthmore students.
President Smith's inauguration was preceded by a performing arts celebration the night before. This event included performances by the Alumni Gospel Choir, Audrey Pernell '04 and Andrés Zará, the college's Chamber, Chorus, and Jazz Ensembles, and Taiko. The night was capped off by a performance by the Trio Ivoire, including Cornell Visiting Professor Hans Lüdemann.
The inauguration ceremony itself included two musical acts. The procession was accompanied by Gamelan Semara Santi, described by the inauguration program as "a classical Indonesian percussion orchestra that specializes in traditional music and dance from Bali."
Regarding the selection of Gamelan Semara Santi to play during the procession and recession, Faye Ma '19, a member of the group, explained, "Gamelan itself is for rituals or ceremonies so it was a very appropriate choice." The rotating piece they played, in fact, is traditionally used for royal ceremonies.
Ma believes that the ceremony garnered positive exposure for the group. She explained, "Gamelan is not well known or popular on campus, so it was a great chance for other people to learn about us." Additionally, Ma noted the significance of the Gamelan group on campus. "Cultural diversity is well represented on campus, but the musical aspects of those cultures are not as well represented," Ma said.
The installation ceremony also had two musical interludes, both performances by the Chester Children's choir, directed by Professor John Alston. The first song, "Ubi Caritas," is a traditional Latin hymn, while the second song, "Oh, Freedom" was performed accompanied by a keyboard and drums.
Tiye Pulley '19, who was in the audience at the installation ceremony said, "I really enjoyed the Children's Chorus, especially the second song. I thought it was really lively, not typical choral fare. It was nice because it gave the concert a celebratory atmosphere — good vibes." Additionally, "Oh, Freedom"' originates from the Civil Rights Era. The song tied together the themes of race touched upon by many of the speakers.
After the installation ceremony, the college hosted a Campus Celebration on Parrish Beach, with food and performances by all of the college's a cappella groups and two dance groups. One notable highlight of the evening occurred during Grapevine's performance, when the all-female a cappella group sang "Valerie" by Amy Winehouse to President Smith, who was brought on stage. Pulley, also present at this event, said "'Valerie' was a nice touch, but I was expecting Valerie Smith to sing. That was a disappointment. I'm still expecting Valerie Smith to sing."
Shana Herman '19, the soloist for that song explained, "At the last second they told me we'd be performing Valerie first and that I'd be singing it with Valerie Smith. It was very fun, very nice, she even tried singing at one point. I got a hug from her after, so it was really nice."
The evening also included a cappella performances by Mixed Company, Chaverim, Offbeat, and Sixteen Feet. Between these were interspersed slam poems performed by members of Our Art Spoken in Soul (OASiS), the college's slam poetry group, and dance performances by Rhythm N Motion, Terpsichore, and the African Drum and Dance ensemble led by Isaac Akrong. Herman echoed Smith's statements and appreciation of the variety of artistic acts. She said, "The music of the inauguration was very representative of the broad range of music and arts we have here. This range was really shown by the contrast between the slam poems, a cappella, and African tribal dance. It was beautiful."