Administrative turnover climbs to new heights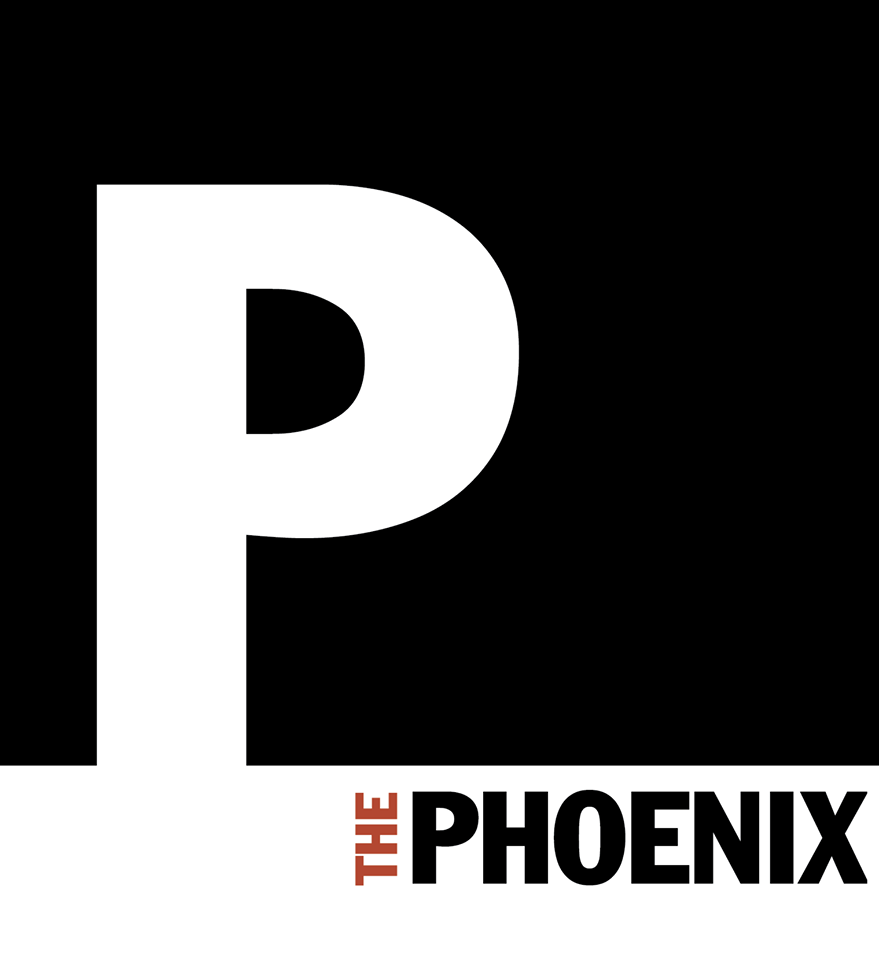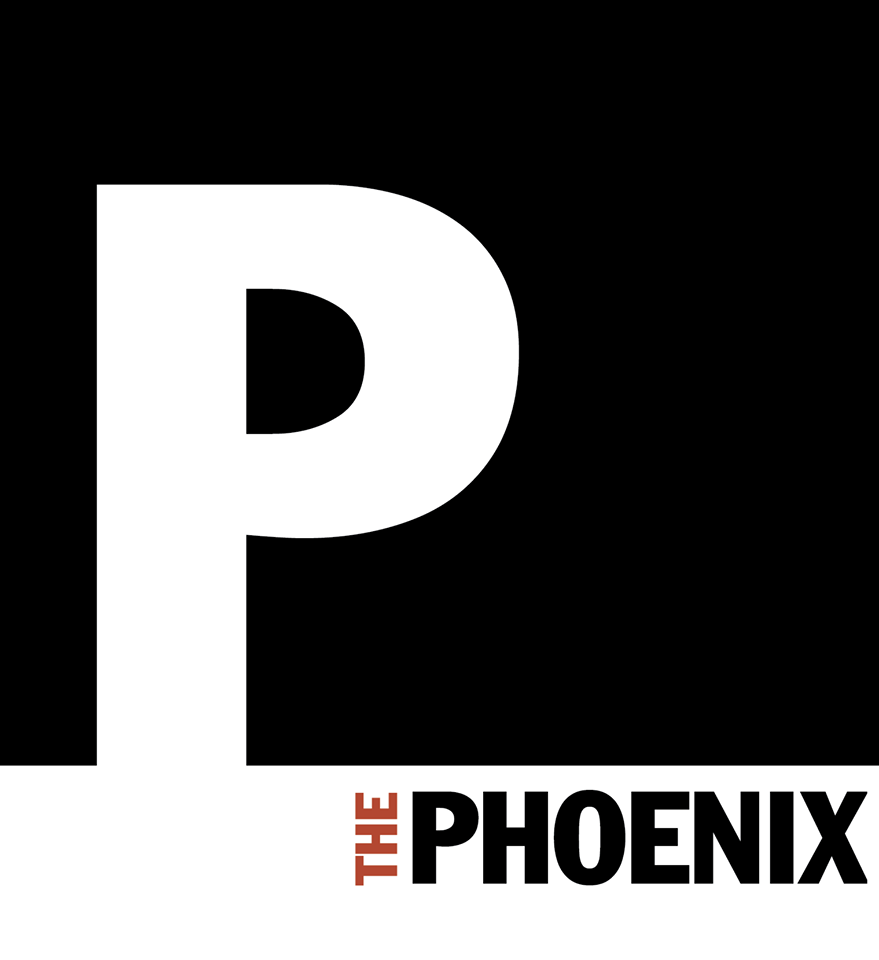 The beginning of Valerie Smith's presidency on July 1st has been the college's central hiring highlight of 2015. Her arrival, however, is just one piece of the remarkable amount of administrative turnover the college has experienced in the last academic year. Deans, vice presidents, chairs, directors, coordinators – the list of positions that have been vacated, and (not in all cases) filled, is extensive. Throughout 2014 and especially 2015, the campus has been subjected to a vast array of search committees, candidate Q&A's, student surveys, and finally new introductions, giving students and administrators alike a feeling of a completely fresh slate as the school year commences.
This summer alone, the administrative ranks have been very active — no fewer than eight high-level positions have changed since students packed their bags for home. These titles are: President; Chair of the Board of Managers; Vice President for College and Community Relations; Associate Dean for Diversity, Inclusion, and Community Development; Director of Health and Wellness Services; Director of the Intercultural Center; Director of Multicultural Recruitment; and Director of Sustainability.
Most recent on the roster of departed campus figures is Amer Ahmed, Director of the Intercultural Center and Dean of the Sophomore Class. Ahmed, who is leaving to join his wife in the state of Massachusetts, began his Swarthmore tenure in July 2014, replacing Darryl Smaw, who served as Associate Dean of Multicultural Affairs from 2002 to 2011. Coming out of retirement to become the 2013-14 interim Director, Smaw followed Alina Wong, who was hired prior to the 2012-13 academic year but left within a year for a position at Barnard.
In all, since the January 2012 departure of Rafael Zapata, a ten-year veteran, the Intercultural Center has shuffled through three leaders in three years.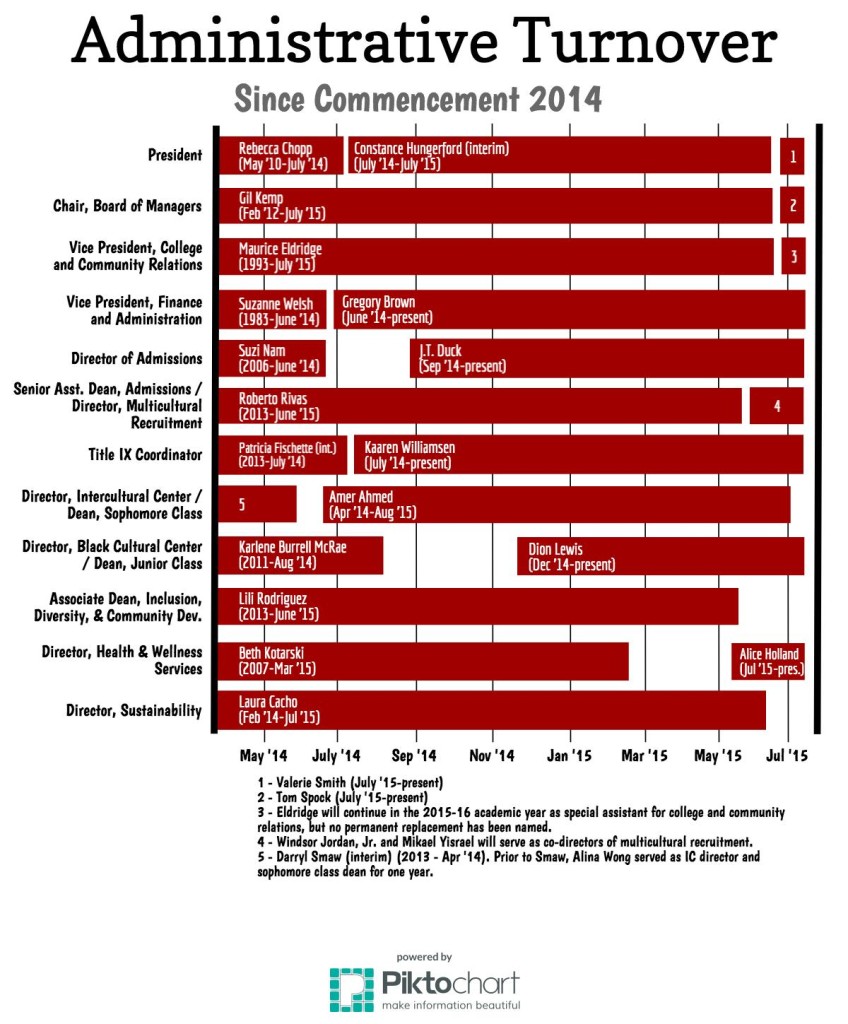 Dean of Students Liz Braun sees the constant replacement at the center as part of a broad national shift in employment length and job turnover.
"I do think that higher education is starting to see part of what has become a national trend of staff in a variety of industries moving more frequently between organizations, and this is particularly true for the millennial generation who have shown a propensity to move and change jobs more frequently than prior generations," Braun said.
Despite the frequent adjustments, Braun believes the college does a solid job balancing administrators with both long and short tenures.
"When you look across the Dean of Students division, and in fact this also applies to Swarthmore as a whole, we have a nice mix of staff who have been at the college for a longer period of time and newer staff who have arrived in the last several years," she said.
For the foreseeable future, the nameplate on the IC revolving door will say "interim" once again, as Dion Lewis, head of the Black Cultural Center and Dean of the Junior Class, will step in. Lewis himself is a relatively new face on campus as well: his term began this past December, and in his first full year at Swarthmore he will now have additional IC duties.
One position that has not seen a publicly announced replacement is the previously listed Dean of Community Development. The long-winded title had for two years belonged to Liliana Rodriguez, a well-known campus leader who, among many things, worked to integrate various departments and also tightened campus alcohol policies. Her visibility and popularity made her an effective agent of change and improvement on campus in her sixteen months.
Since Rodriguez's official departure in June, Dean Braun has yet to announce details of an interim dean or of the replacement search that is expected to begin early this fall.
A common theme for several of these administrative changes, like those of Ahmed and Rodriguez, is the short tenures of the departing employees. Director of Sustainability Laura Cacho began in February 2014 and left fewer than eighteen months later. Roberto Rivas, Director of Multicultural Recruitment in the admissions department (and Rodriguez's husband), also was hired in 2013.
Cacho's opening is particularly notable because of the dramatically public role environmental sustainability and activism have adopted since she came to Swarthmore. While not directly involved in the Mountain Justice negotiations and sit-in, she contributed heavily to the visibility of building a "greener" campus. She was a lead organizer of the two-day Sustainability Charrette that featured lectures and brainstorming sessions in February; headed the new Green Initiatives fund; built up the Green Advisors student program; brought ZipCar to campus; expanded bicycling infrastructure; and spearheaded efforts to have new construction projects meet high standards of energy efficiency and sustainability.
Until a new director is found, the school has hired Melissa Tier '14 to coordinate sustainability efforts for the coming months.
In one notable instance, the college is losing — although not for good — an administrator with several decades of impressive service. For the first time since 1993, Maurice Eldridge '61 will not be serving as Vice President of College and Community Relations. His accomplishments and successful projects as a Swattie — one of the college's first African American students — are numerous, including helping found the Chester Children's Chorus, and his indelible tenure has been honored in the past by dedicating the Science Center Commons in his honor.
As he transitions into retirement, he will continue spending this school year as a special assistant for college and community relations. nevertheless, after he leaves, this role will be added to the list of positions that the college will need to fill before the start of the 2016-2017 academic year.