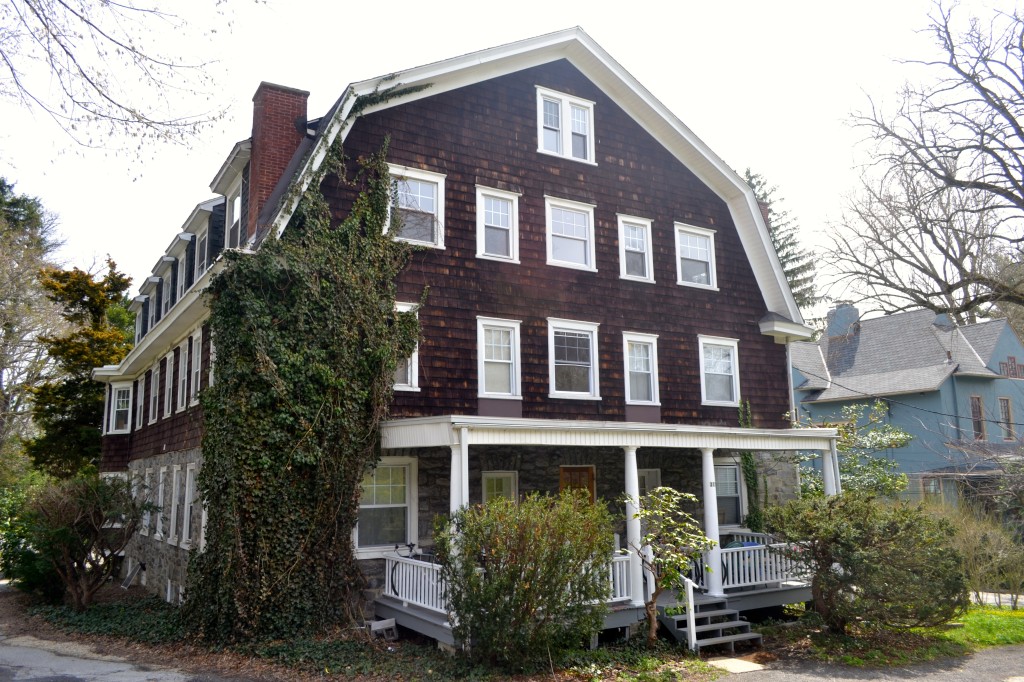 Students who live off campus can save thousands of dollars in living expenses each year by avoiding the college's room and board fees. Though only a handful of students choose to live off campus — according to the college's website, around 94 percent of students live in the dorms, meaning that there are just under a hundred students living off campus — the advantages of off-campus life are not merely financial. Students also cite several other possible advantages of off-campus life, such as the ability to choose how often and with whom one socializes, along with an increased sense of independence, freedom, and maturity.
Many students who choose to live off campus do so for financial reasons. At just under $14,000, room and board at the college for this academic year often costs a great deal more than the various, if limited, off-campus options.
The cheapest option by far is the Barn, located on North Chester Road, a few minutes' walk from the main campus. Each of the Barn's six four-bedroom apartments, which vary from recently renovated to a state of slight disrepair, cost a little over $1,000 a month to rent. Thus, a student living with three apartment mates would pay $2,250 for nine months' worth of rent. Even with a monthly utilities charge of around $20 — less in warmer months — Barn residents save almost $5,000 off the roughly $7,200 room cost at the college.
Savings for rent in other off-campus options are not quite as large as for those living in the Barn, but they are still significant. The Elm apartments above Hobbs Coffee, for instance, run around $550 per month per person and $50 per month per person for utilities, meaning a student living there for nine months would pay $2,000 less than a student living on campus. Savings from living in Greylock Apartments, which are air-conditioned, are similarly close to the $2000 figure, while students living in Swarthmore Apartments, also air-conditioned, save somewhere between $1,000 and $3,700 for the year.
The college's handling of financial aid and off-campus living depends on a student's financial aid award. Living off campus while on financial aid can be difficult according to Lekey Leidecker '16, who lives in the Barn. She did say, however, that certain people in the Financial Aid Office, such as Associate Director Kristin Moore, were tremendously helpful and worked to ease the process for her and other students. Unless a student's room and board are covered by their financial aid award, living off campus tends to save students money.
Besides saving on rent, another large financial advantage of off-campus living is the choice to opt out of the college's meal plan. Students who live on campus are required to purchase one of the college's meal plans, which differ in the number of meals and points per week but cost the same — about $6,800 — per year.
Paying for individual meals at Sharples is far cheaper than the meal plan: paying for 21 meals per week, for instance, costs just under $3,200 for an entire academic year. The discrepancy between this cost and the price of the meal plan exists because students on the meal plan contribute to the operating costs of Sharples such as electricity, service, and maintenance, said Dining Services Director Linda McDougall in a Phoenix article from the spring of 2013.
Students who choose to cook for themselves or eat outside of Sharples meanwhile — or who take advantages of friends' unused swipes — may save even more.
The advantages of living off campus go beyond saving money, however. Christen Boas Hayes '16, who lives with three other students in an apartment in the Ville, feels that off-campus life creates a welcome distance for her from an environment that can sometimes feel claustrophobic.
Boas Hayes enjoyed her first year of dorm life in Wharton, but found that life in Willets during her sophomore year was not ideal.
"Mostly I just felt kind of suffocated," Boas Hayes said. "I felt like I had no privacy." Though Boas Hayes liked the people on her hall her sophomore year, she disliked the constant passage of students through the first floor of Willets.
"I couldn't keep my door open, things like that," Boas Hayes said. "Here, I get to choose who I see, which I like more, and I can host my own parties and see only the people I want to see."
Though students who choose to live off-campus forgo not only the costs of room and board but also the advantages and support of dorm life — such as a built-in hall community and an RA — Boas Hayes does not feel as though she's missing out on much as a junior. She believes the benefits of on-campus life are crucial, however, for first-years.
"I felt like when I was first establishing a friend group my sophomore year, that was essential," Boas-Hayes said. "Most of my friends now are people I knew when I was a freshman, and some of my best friends now were on my hall as a freshman."
As a sophomore, though, Boas-Hayes did not feel as though her friend group expanded based on her dorm.
"It actually made it harder to have friends over — I had this tiny little room," she said. Now that Boas-Hayes has her own apartment with a living room, she finds it much easier to host social events.
Adan Leon '17, who lives in the Barn, echoed Boas-Hayes' sentiments about the social advantages of living off campus.
"It provides me with a separation between school and home," Leon said. Though he did not dislike living in the dorms — he lived in David Kemp as a first-year — Leon says he prefers the privacy of the Barn.
"I like having my own space," he said.
Like Boas-Hayes, Leon appreciates being able to decide with whom and how often he socializes.
"I like having people I want to have around me, around me," he said. Additionally, he feels that campus is easily accessible. "If I want to be on campus, it's a two-minute walk. I can be as isolated as I want or as social as I want."
Leon feels that a casual community exists in the Barn as well.
"You can hang out in each other's apartments — it's very casual, it's somewhat familial, and no one really seems to care," he said.
He also appreciates that his fellow residents in the Barn do not seem to mind loud music or late-night guests. "On campus that wouldn't happen — you couldn't blast music or have guests over at 3 a.m.," he said. "You can have people over, and you're not bothering people on your hall, which is really nice."
Leon added that he appreciates feeling more like an adult, due to activities like taking care of his apartment and cooking for himself, than he did when living on campus.
Living off campus, however, may limit one's participation in community life or visibility on campus, Boas-Hayes noted. One of the only features of campus life that Boas-Hayes misses is studying in on-campus locations where one tends to encounter other students, such as Parrish Parlors.
"I wouldn't walk all the way up campus just to study, but I do miss seeing the random walk-throughs," Boas-Hayes said. "I feel like living off campus makes me less visible to people I would like to be friendly with on campus — I like to see people in between classes, but other than that I don't really see them at all."
Boas-Hayes recalled being a first-year and realizing that she was very unfamiliar with upperclassmen who lived off-campus. "It makes me a little uncomfortable that I'm now one of those people," she said.
Overall, though, for those who save thousands of dollars each year and appreciate some space from the rest of the student body, off-campus life feels worth it.
"There are just a lot more positives living off campus than living on campus," Leon concluded.