McKibben leads rally for divestment, sits in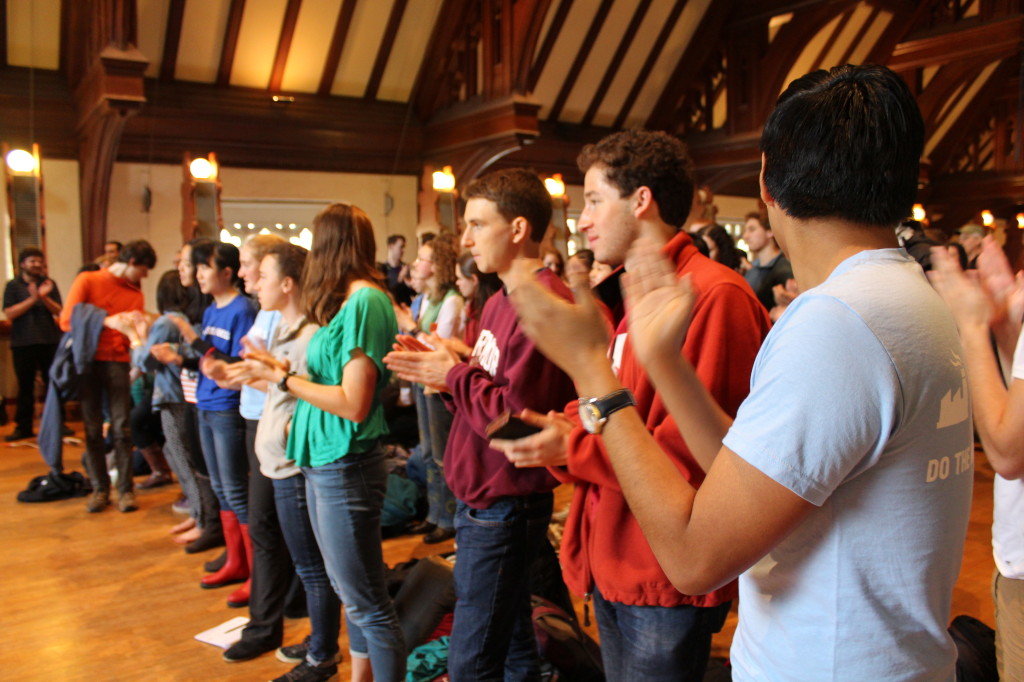 Last Thursday, Bill McKibben, founder of the nationally recognized environmental group 350.org, spoke at a Swarthmore Mountain Justice rally for divestment in Upper Tarble. Over 200 people attended the rally, including students, alumni, faculty, and even supporters from the Philadelphia area. The talk was followed by a sit-in training session conducted by two activists from the Earth Quaker Action Team, one of whom is a Swarthmore alum.
These events took place as Mountain Justice's widely publicized sit-in in the college's Finance and Investment Office began its second week. The escalation of the movement has led to national and even international recognition. The sit-in was covered on its first day by UK newspaper The Guardian; the McKibben talk was covered by several major media outlets, most notably NPR.
The training session after the talk was led by Matthew Armstead '08 and Ryan Leitner, both members of EQAT, an environmental nonviolent action group. Armstead, based in Philadelphia, works as a core trainer for the social action training group Training for Change, and has contributed to a variety of different movements, including the Occupy Wall Street and Occupy National protests. Leitner is a recent Bryn Mawr graduate who has been involved in EQAT and Tri-Co environmental initiatives for several years.
McKibben, who wrote what is considered the first popular book on climate change in the United States, spoke of the importance of Swarthmore being a leader in the divestment movement, hoping to spur other universities and organizations to follow suit.
"If Swarthmore divests, it will be a powerful signal to important communities that fossil fuel is filthy and old, and the time to shift has finally come," McKibben wrote in an email.
Students who attended McKibben's talk felt it was an invaluable experience to have the sit-in be recognized and validated by "one of the most esteemed environmentalists in the U.S.," as May Dong '18 put it.
"The fact that Bill McKibben felt that our campaign and the college's decision was important enough to visit and directly support shows our campaign's success on the national and global scale, and reinforces the historic nature of the opportunity before the Board," said Annie Zhao '18.
McKibben's argument that the college needs to reaffirm its status as a national leader in social justice resonated with many attendees.
"He warned that the college would lose its reputation by failing to respond to the urgency of this crisis," Stephen O'Hanlon '17 said. "He [said] that divestment is the most powerful tool Swarthmore has to call for a just and stable future. Swarthmore needs to take this opportunity to be on the right side of history."
For McKibben, the intelligence, charisma, and dedication of the college's students makes Swarthmore an ideal source of inspiration for the national push for divestment. He highlighted this point in his speech and in an op-ed he penned for last week's Phoenix, and was just as enamored after his visit.
"I thought they were the perfect combination of earnest and good-humored, persistent but not pious," he noted. "I was impressed at [the group's] size, spirit, and seriousness. Clearly the Swarthmore community — students, faculty, and alumni — have decided this is a priority issue and they want action."
Leitner agreed with McKibben's review of the students.
"I was so grateful to be working with such an engaged group of students and community members," they said via e-mail.
One point that McKibben emphasized was the background of investment banking that many members of the Board of Managers Investment Committee share. He partially blames the Wall Street mentality for clouding the judgment of Board members. The initiatives by prominent organizations such as the Rockefeller Brothers Fund and the Unitarian ministry to divest are proof, he argues, of irrational judgment by the college's leadership.
"Places that paid attention to their students a few years ago and divested have bigger endowments as a result, can offer more scholarships, can fund more important work," McKibben said, referring to schools such as Stanford University, Pitzer College, and Hampshire College, all of which have divested from fossil fuels. "If Swarthmore had had the good sense to listen to its students when they raised this issue five years ago, then Swarthmore would be in an even richer spot than it is in now."
McKibben thinks that there is no way for the Board to avoid eventually choosing divestment, after all of the efforts and media attention the issue has received. "I can't imagine the Swarthmore Board won't finally do the right thing," he said in his talk. "When Swarthmore decides to divest, as it inevitably will, the significance will echo far and wide."
The action training was geared towards how to make the sit-in sustainable for an extended period of time. Armstead and Leitner also focused on strategies for continuing Mountain Justice's efforts after the sit-in concludes, although it does not currently have a set end point. The trainers re-emphasized techniques that have worked in previous instances of environmental justice sit-ins and in Mountain Justice's own efforts.
Leitner, like McKibben, is a strong believer in Swarthmore's status as a role model for social change.
"The fact that fossil fuel divestment is being met with such resistance from institutions such as Swarthmore, that have been recognized as socially responsible, means that the students conducting the sit-in are indeed working to shift power," they said.
The gravity of the situation, in Leitner's view, is undeniable.
"Divestment is a crucial part of moving towards justice for all," they said. "This sit-in will be an important part of the history of Swarthmore and our country coming to terms with climate injustice."
The effects of the sit-in are already being seen outside of campus. At least two schools, Bowdoin College and the University of Mary Washington, have begun sit-ins for divestment. The group Bowdoin Climate Action directly credits Swarthmore's group as inspiration, especially with the refrain "we have no plans to leave," for taking action in their own community.
Divestment events are gaining prominence across the nation. Syracuse University announced on Tuesday that it would divest from fossil fuel investments. In Paris, the city council made public this week its support for divestment, pending mayoral approval.