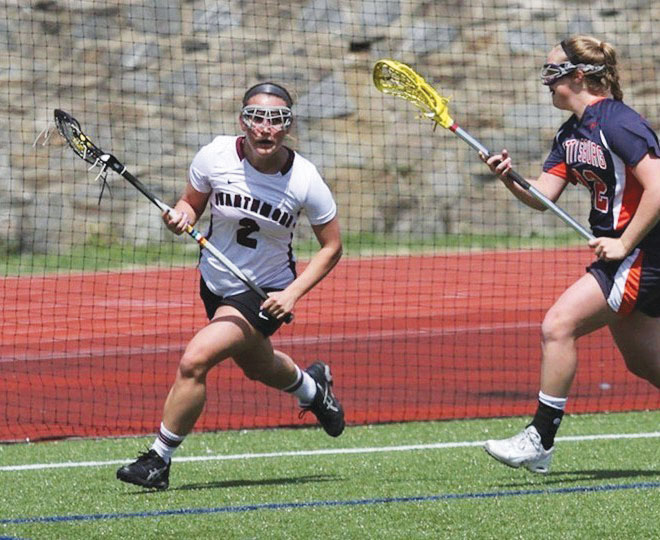 For the spring sports that have just started their regular seasons, the opener is always a crucial game. Luckily, Swarthmore's women's lacrosse team defeated Cabrini College in its home opener 19-12. The game did not come easily, but the team battled its way back from an early second-half deficit. Shivani Chinnappan '18 noted the team's well-kept composure, saying, "We did a great job of staying calm, creating space, and staying composed." Elyse Tierney '15 had a memorable game with a career-high seven goals.
The upperclassmen knew this game was vital. Last year the team did not play up to its expectations and fell to Cabrini College. Although the freshmen did not have last year's experience to build upon, they were well-informed that this year's game was going to be very different.
The preparation was more intense and the urge to defeat Cabrini was greater than ever. The team ran drills to prepare for Cabrini's specific style of play and held the final week of its offseason practices outside in sub-freezing temperatures. Christine Hui '17 commented, "It was difficult, but of course worth the hard work."
In their solid opening day win, the team noticed signs of great things to come. Chinnappan and Emily Sokol '18 made note of the team's communication and cohesiveness, which allowed for them to make a comeback.
Team dynamics can change heavily due to the loss of graduating seniors and incoming freshmen. A freshman class that gets along well, plays well together on the field, and integrates seamlessly with the rest of the team is something coaches look for when recruiting. The lacrosse team's freshman class sees their chemistry as a major success and has integrated well with the rest of the team. Hui commented, "The freshmen are an important part of the team this year." Chinnappan also commented, "Just because we are freshmen does not mean that we have to wait and watch. We all want to help support upperclassmen in games and in practice." The freshman class immediately got along well and spend time together regularly outside of lacrosse events.
"Because we were able to get along as a class so well from the beginning, we could easily merge with the rest of the team," said Emily Sokol '18.
"Skills make a good team. Chemistry makes a great team," she added.
The team holds off-field events for the purpose of developing stronger chemistry and team dynamics. During the offseason they had a team sleepover and organized an awareness challenge called "Yards for Yeardley".
The challenge was created in response to a former women's lacrosse player at the University of Virginia who was killed by domestic violence. The team's goal was to bring awareness to the community about the horrors of domestic violence and to challenge themselves to complete a task. The team pledged to run 1 million yards in the month of February. This equates to about 570 miles,  a considerable amount to run in one month. Nathalie Perry-Freer '15 led the challenge and said, "The One Love foundation was created in honor of Yeardley Reynolds Love, a member of the University of Virginia women's lacrosse team who was murdered by her boyfriend in 2010 just before her graduation. The foundation is working to end relationship violence, placing a special emphasis on educating college-aged men and women about the problem of relationship abuse."
The team didn't just completed the challenge — they completed it in one week. Running for a cause makes conditioning feel a lot less like conditioning, noted Bella Levine '18. "Other than getting in shape, it was nice knowing we were doing it for a reason."
Yards for Yeardley proved to be a huge success this year, and a few players posted information about the cause and challenge on Facebook.
The next step is for the team to make their spring trip to Clearwater, Fla., where they will train and play a couple of games against other Division III schools. The team will play Lynchburg College on Wednesday, March 10, and will play the University of Rochester the next day. The spring trip is less of a time to see results and more a chance to experiment and see where different players fit in the lineup, as well as to build team chemistry.
Each day starts with rigorous training in the morning and ending with a more relaxed period to hang out and enjoy the warm Florida weather. Hui said, "The spring trip is mostly for training and team bonding."
Some players go to the beach and some spend time at the hotel, but everyone has the chance to relax from the Swarthmore rigor to take a breath and enjoy work-free afternoons.
A traditional activity is for a group of players staying in the same room to make dinner for the rest of the team. Traditions like these make spring trips unique experiences. Hui noted, "Those traditions are central in creating team bonding experiences."
The lacrosse team looks forward to the rest of its season and has high hopes this year. Levine said, "It will be cool to see how we play against tougher opponents in our conference like Gettysburg and Dickinson." The coaches and senior captains have already set a good tone for the rest of the year by preparing well for a difficult game against Cabrini. The team's next game will be this Saturday against Drew University here at Swarthmore.