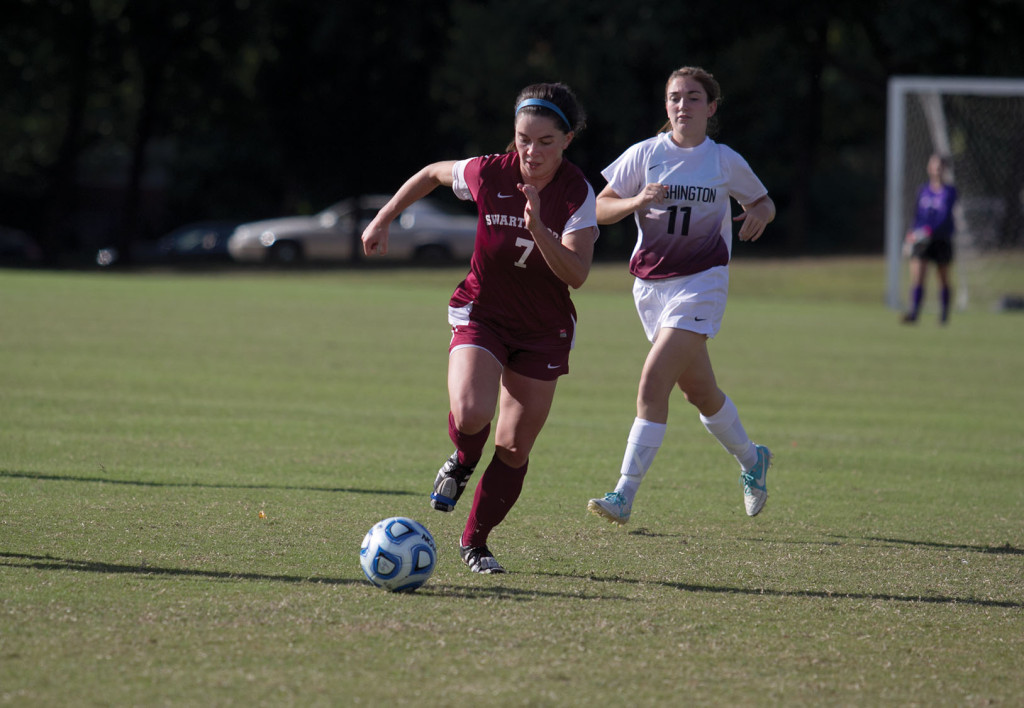 Loved by her coaches, admired by her teammates, and feared by her opponents. These words best sum up Emma Sindelar '15 and her impact on the Swarthmore women's soccer program.
One look at Sindelar's bio and it's pretty clear why she is considered one of the best players in the Centennial Conference.  She holds all three major offensive records, including goals (34), assists (19), and points (87). In her four years she has appeared in 73 games, 68 of which she started. She has also amassed 9 game winning goals.
If the numbers aren't striking enough, her list of accolades certainly are. Sindelar was named the NSCAA Mid-Atlantic All-Region Third Team her freshman year, was named to the ECAC South Region Second Team last season, and has currently been named All-Centennial Conference First Team for three years running.
"I'm glad we don't have to face her on another team because she is impossible to stop when she is "on," and if you slow her down from scoring goals she is going to find someone else and get them the ball so they can score!" says Coach Anckaitis about Sindelar.
Just as impressive though, and in true Swarthmorean fashion, she has maintained a high level of academic excellence. She was listed twice on the Centennial Conference Fall Academic Honor Roll and was named to both the Capital One All-District First Team and Philadelphia Inquirer Academic All-Area Team last season.
As Hannah Lichtenstein '17 puts it, "Emma has achieved the balance we all hope for as a student-athletes."
All numbers and accolades aside, however, it's what people can't quantify that makes Sindelar such a great athlete and has helped her become so successful.
Soccer has been in her life almost since she can remember. Her father played soccer — and still does — when she was growing up, so it was only natural that she give the sport a shot. Starting out when she was just four, she fell in love with the game and never looked back. Knowing she wanted to play soccer in college at a small liberal arts college on the East Coast, she decided that Swarthmore was a perfect fit for her.
Although it would seem Sindelar has been scoring goals all her life, this wasn't always the case.
"Most people don't realize that she wasn't a goal-scoring forward when she got here.  She played in the center back for her high school team and some in the midfield for her club program," Coach Anckaitis explains. It was only when "she arrived at Swat that I asked her to play a role that we needed and one that she wasn't initially comfortable with as 'the goal scorer.'"
Sindelar took the challenge in hand and ran with it. She worked hard, earned a starting spot her freshman year and has since become one of the best forwards in the College's history.
What makes her such a big on-field threat is her speed. Mele Johnson '17 elaborates, "Emma has incredible speed and footskills. She'll beat any defender on a breakaway and finish with finesse. On the dribble, her quick feet and moves allow her to beat defenders one on one."
With speed comes opportunity. Sindelar can beat the defensive back line in breakaway opportunities or push deep into the corners before playing the ball into the middle of the field for others to finish.
"She's one of our fastest forwards. When Emma is on the field, we can play long balls in, and we can count on Emma to beat her defender in a foot race and get to the ball. A lot of Emma's goals have been due to her advantage in terms of speed," explains Melissa Trofa '16.
But don't think for a second that Sindelar lets the success get to her head. When asked about her accomplishments, and more specifically her records, she said, "It is exciting and I am proud of them, but I try not to make it a thing. At the end of the day I know it's really not that big of a deal…it's numbers on paper."
It's because of this balance that Sindelar is admired and revered by her coaches and teammates. She puts just as much work into her team as she does the game itself. Her teammates consider her a mentor and someone they can go to for anything.
Trofa perhaps says it best: "On the field, she really wants to win and I love that about her. Off the field, she's an amazing person to talk to and has been a really great friend to me and the rest of the team."
In Sindelar's eyes, the team probably means more to her than she does to the team. She's developed her closest and deepest friendships on the team, and she views them as extended family.
"In and out of season I am always with these girls. It's like we have our own little community or we are a unit. We are more than friends; we are a family," explained Sindelar.
Sindelar embodies the true student-athlete. She has set school records, been recognized as one of the best players in the Conference and has still maintained a level of academic excellence. She has also influenced her teammates in many regards and serves as a role model for the team.