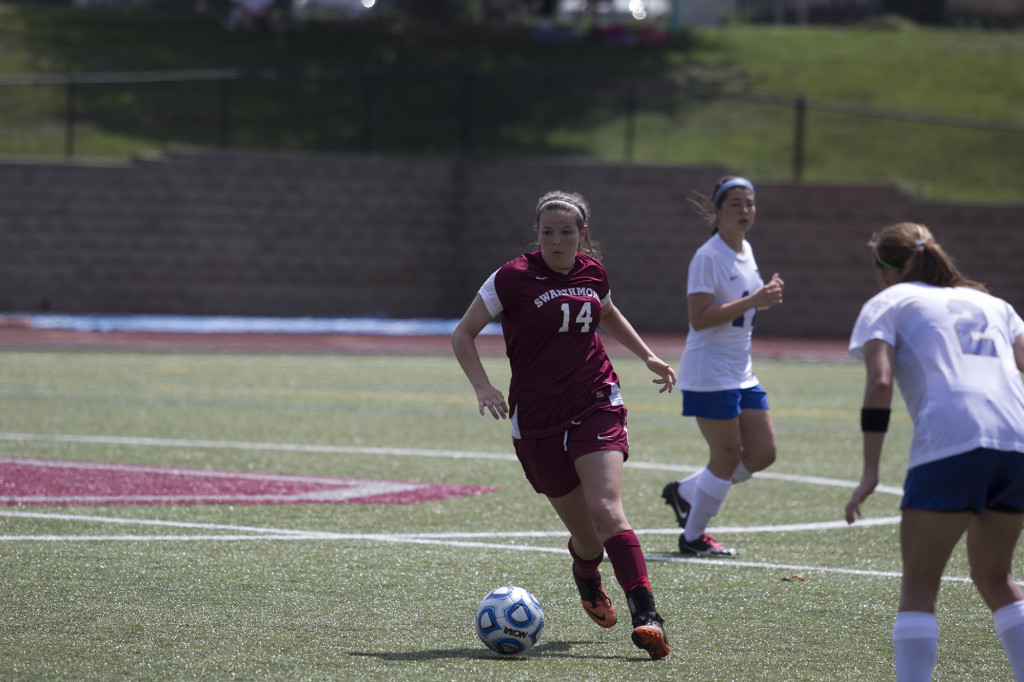 Volleyball continues to roll
Swarthmore's volleyball team continued to dominate Centennial Conference opposition this week, defeating Dickinson College and Washington College. The Garnet has yet to lose a set in its three conference matches, outscoring the Red Devils, Shorewomen and the Franklin & Marshall Diplomats by a combined total of 225-145.
Saturday's win marked a milestone for Madison Heppe '16. The libero became just the ninth player in Garnet history to record 1,000 digs. Heppe described her satisfaction with reaching the milestone, saying, "getting the 1,000 dig record was a goal I wanted to achieve before I graduated so it feels pretty good getting it now as a junior." She made sure to spread the credit, adding, "my awesome teammates make it all possible."
The freshman class continued to lead the Garnet front line. In particular, Sarah Wallace '18 continued to shine, recording eight kills in the Dickinson match. Wallace has a team leading 168 kills, with her 3.50 kills per game average good for third in the conference.
Swarthmore's next matches will take place on Saturday, with the team hosting both Johns Hopkins University and Neumann University. The Hopkins match begins at 12 p.m. at Tarble Pavilion. On Wednesday, the Garnet will travel to Gettysburg in what is shaping up to be a battle of underated teams.
Women's soccer set for tonight vs. Johns Hopkins
Defense has carried the women's soccer team throughout the season, but on Saturday, #25 Dickinson finally broke through Swarthmore's stout back line. The Red Devils' second half goal was enough to defeat Swarthmore 1-0, handing the team its second loss of the season. The Garnet fell to 2-1-0 in Centennial Conference play.
Dickinson's goal was the first allowed by keeper Reba Magier '16 in over four hours of game time, dating back to a September 13th loss to Rowan. Magier recorded five saves in the losing effort. Emma Sindelar '15 launched two shots on goal but came up short in her attempt to break the school's all-time scoring record.
Magier credited much of her scoreless streak to her defense for limiting opposing shot opportunities, saying, "I haven't had many shots on me lately because my defense is doing so well and keeping it out. Unfortunately, Dickinson was able to get a lucky chance on goal, but overall we still have been dominating all the games we have played."
Tonight represents perhaps the biggest game of the young season for Swarthmore, as the Garnet play host to 8th ranked Johns Hopkins University. Swarthmore currently sits in a tie for fifth in the conference. The Blue Jays, meanwhile, are tied with Dickinson for first in the conference and will represent the most challenging competition the Garnet has faced this year. Kickoff is set for 7 p.m. at Clothier Field.
Men's soccer falls to J.H.
After an undefeated early season, Swarthmore men's soccer has struggled through a gauntlet of an early season schedule. Two of Swarthmore's three opponents were nationally ranked, with the team dropping a 2-0 decision to #6 Franklin & Marshall and suffering a 2-1 defeat at the hands of #21 Muhlenberg.
On Saturday, Swarthmore suffered a particularly difficult defeat at the hands of Johns Hopkins, falling 3-2 in overtime. Things looked promising at the start for Swarthmore, as a first half goal by Marc Geschwind '18 was followed in the 58th minute, when David Geschwind '16 found the back of the net.
Unfortunately, the advantage did not hold as the Blue Jays answered with two quick strikes to force overtime, before winning on a 93rd minute golden goal.
Swarthmore will look to turn its season around beginning tomorrow night, when the team hosts Ursinus in a match that will begin at 7 p.m. at Clothier Field. Facing Ursinus should represent an opportunity for the Garnet to build confidence, as the Bears are winless thus far in conference play.
Golf opens season at Muhlenberg Invitational
The men's golf team traveled to Muhlenberg in the team's first tournament of the season. Andrew Pak '16 led the way for the Garnet, shooting an 80 to tie for 41st place. Also competing were Drew Langan '17 and Yousaf Razvi '18 who shot an 82 and an 84, respectively.
Meanwhile, on the women's side, Amanda Beebe '15 placed 11th in the Stevenson Invitational in Hempstead, Maryland.
The Garnet next compete this weekend in the McDaniel Invitational, which tees off Saturday at 9 a.m.
Men's tennis travels for ITA
While the spring is the traditional season for tennis, the men's team traveled to Fredricksburg, Virginia this past week to compete in the ITA Southeast Regional Tournament.
Four Garnet players earned victories led by Thomas Vernier '17 and Harrison Lands '15, who each reached the semifinals of their draws. Ari Cepelewicz '18 and Mark Fallati '18 were both successful in their first collegiate competition. Cepelewicz won his first singles match before emerging victorious in his first doubles match with Fallati.
While Vernier conceded that "the team didn't do quite as well as it was expecting," he remained confident about the spring season. "We really think we have our best chance of winning the conference in the last four years," the sophomore added.
Swarthmore heads into the off-season for the next several months before it resumes play in the spring, with hopes of continuing its legacy of winning seasons.