Volleyball team amps up for promising season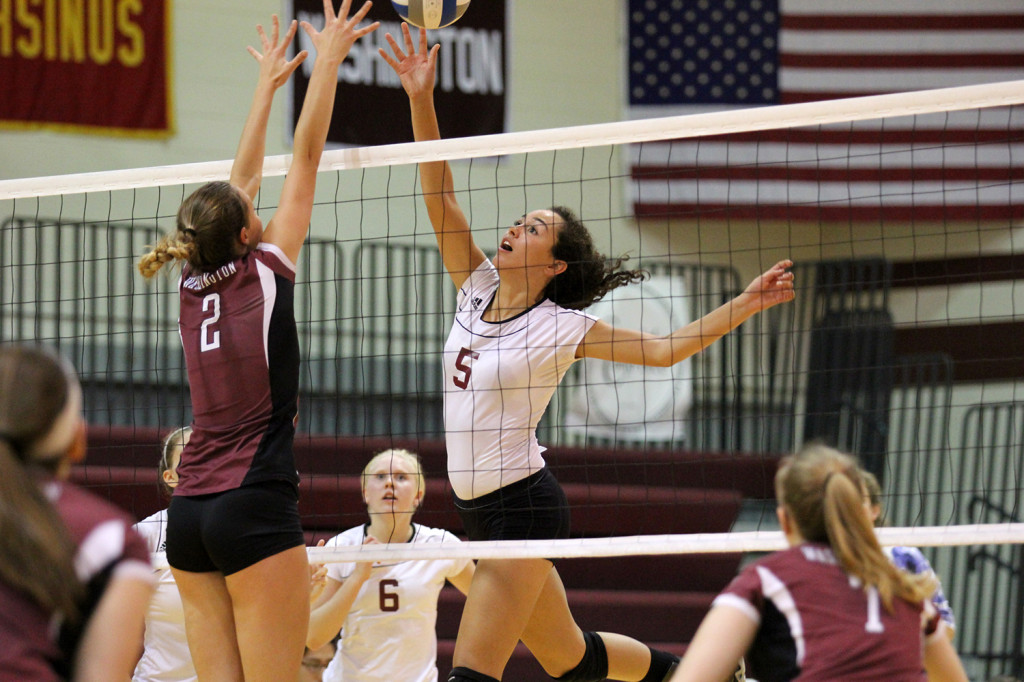 With the start of fall season upon us, women's volleyball is as excited as any team to get back on the court. With a strong freshman class, a clean bill of health and strong team chemistry, this team is excited to see what they can accomplish.
After failing to make the Centennial Conference playoffs last season, the returners for Head Coach Harleigh Chwastyk's team are focused in shape and hungry to win.
As setter Samantha DuBois '16 explains, "Everyone on the team came in physically prepared and had a focused yet positive attitude."
The team worked hard in the off season, sometimes practicing twice a day to get to where they felt they needed to be. Practices were up-tempo and high-energy.
While their attitudes and hard work during practice are admirable, perhaps more impressive is the team's mental preparation heading into this season. Throughout their fall sessions, the team sat down together to get on the same page.
The volleyball team laid out clear goals and standards for this season. Along with their usual practice routines, Chwastyk set aside time for classroom sessions. In these sessions the team decided on what they believed to be reasonable goals for the season, ensuring there would be no miscommunication regarding what the team was trying to accomplish.
Along with their hard work and mental preparation, the team made sure to make the most of their weeks here at Swarthmore by using their free time to bond with teammates and become a more cohesive unit.
"Our team loves team bonding and just being together. We are all really good friends. During the two weeks of preseason we would do activities together like making posters for our locker room, choosing songs for our warm-up CD, and just hanging out," Madison Heppe '16 says.
The team was even able to get away to a beach house for a few nights.
All preparation aside, the women's volleyball team put their skills to the test in their first tournament, played on August 29 and 30. In their first two matches, the Garnet only dropped a single set, with contributions coming from throughout their lineup. Heppe, Sara Wallace '18 and Olivia Leventhal '18 led the defense while DuBois and Malia Scott '18 proved pivotal on the offensive side.
Coming off their two wins on Friday, the women dropped both their matches on Saturday. However, the team continued to play well and took Salisbury, a regionally ranked team, five sets before eventually falling.
Coach Chwastyk was well pleased with her team's performance, saying, "This opening weekend competition was very good. There were two teams that made their conference tournaments and another that had made NCAAs."
While there are issues the team will continue to work on, coming out of the weekend with two victories was a big accomplishment.
"Overall, I think the team played very well and showed that we have a lot of talent and potential. We have a lot of options both offensively and defensively and with more practice and time everything will come together on the court," said DuBois.
While it is still very early in their season, the volleyball team has a lot to be excited about. Their mental and physical preparation seems to be paying off given the level of play they showed during their first tournament.
Additionally, the team is healthy. This is a big departure from the status of last year's team, which saw a slew of injuries, including one that ended a season. With a full roster, the team is better able to manage personnel on game days and also have harder, more competitive practices.
"We are able to have full six-on-six practices at a very high tempo, about twice that of an actual match. Being able to practice with twelve people on the court allows us to go over more game-like scenarios," Chwastyk explained.
Another added element to the team's success this year is the strong freshman class. Not only have they provided much-needed numbers to the roster, but they are already making big contributions on the court. Each of the five freshmen saw playing time in the team's first tournament, and Wallace was even named to the All-Tournament team.
What makes this freshman class special though is not just their level of talent. What distinguishes them is their high level of volleyball IQ. This aspect of their game is the one thing that has most impressed Chwastyk thus far.
It will be fun to see just how well this team can do this year. Ranked in the preseason as seventh in the conference, the team will look to shatter these expectations. It's not an easy road, but the team understands it has to take it one day at a time.