Reflecting on 100 days of creativity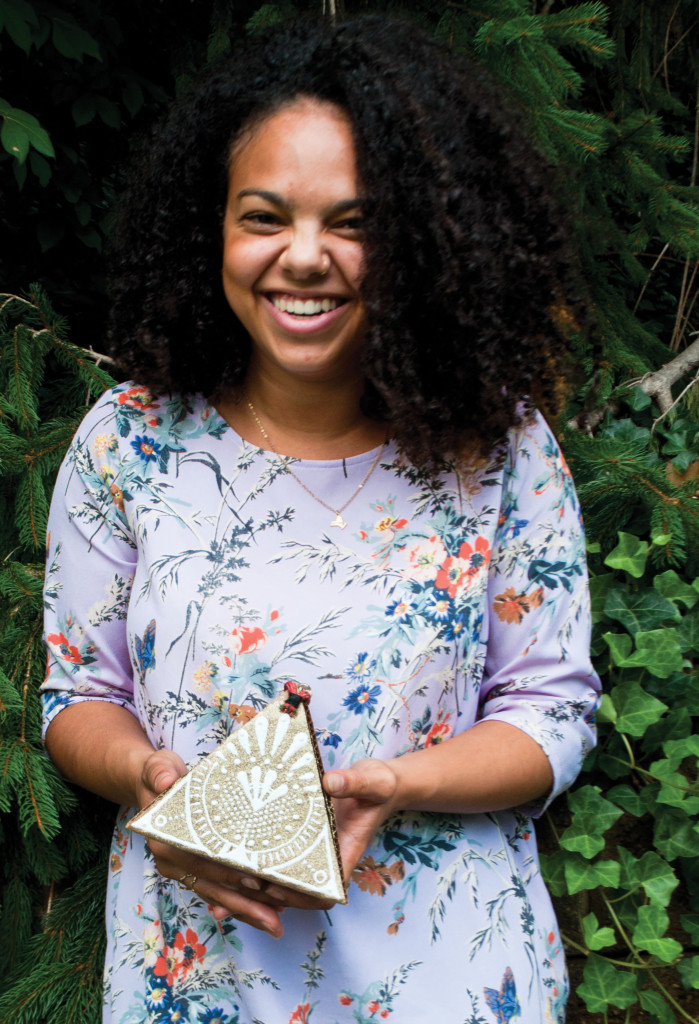 Sometimes creativity comes in small spurts. Other times, it takes dedication and a lot of time — 100 days, to be exact. Emma Kates-Shaw '16 discovered her strengths making an amazing range of art in pursuit of 100 creative days, displaying the bounds of imagination and expanding her abilities as a creator.
One hundred-day projects, most notably #100happydays and #100daysofgratitude, have recently flooded social media sites like Facebook and Twitter. The phenomenon, sparked by Ukrainian-born Dmitry Golubnichy, has expanded a personal project into a world-wide invitation at 100happydays.com, with the anchors of the Today show and many netizens of Twitter joining its ranks.
Kates-Shaw found the hashtag trending on her own accounts and decided to jump in. She said via e-mail, "I was taking a semester off, came to visit Swat and had a really great time making a huge cardboard star with my friend Isaac, and it kind of just came to me." This spontaneity would spark a summer's worth of creativity. "I wanted to challenge myself to be creative for a hundred days," she stated. "I started the hashtag that night, and kept going every day since!"
Her inspiration often stemmed from the creative sides of the Internet. She cites online stores and websites like Etsy, which pushed her to recreate objects she saw with her own style. She said, "I would look for items that were interesting and unique, and then use the idea as a jumpstart to whatever I made that day … I'd see something and think, 'I can make that.' And then I would."  On busier days, the people around her put in suggestions for her art, creating uniquely collaborative pieces.  She explained, "I would ask, 'What should I make?,' listen to everyone's suggestions and then do something I couldn't have thought up on my own."
While some artists focus on one medium or theme, Kates-Shaw delved into the depths of different styles and materials, from her traditional drawing to new things such as sticker-making. Although her formal art training started in college, the adventure granted her the freedom to let her inborn inventive drive run wild. "I kind of allowed myself to be pulled into whatever it was I felt like doing or learning how to do," she said. "I explored so much because of this project, every medium from paper-making to macramé to song recording."
Despite the daunting timespan of 100 days, she never doubted that she was going to finish. It provided a means to express the agitation of living at home and refocus on her passions. "There was one day when I made a road sign out of cardboard, like the ones that are green with white writing," she explained. "Where the name of a town usually is, I just put the word "somewhere". That project was definitely the most upfront in terms of my frustrations with living at home. But the act of making things in itself was really where those frustrations got worked out. It centered me, and calmed me down. It made me focus on pursuing the things I love, the most important of which is creating." The liberation provided by doing art also fueled her courage in pursuing a creative career. "It's easy to doubt yourself as an artist, and very easy to dismiss making things as a hobby rather than a serious career path. But this project definitely served counter to those tendencies. I feel really excited about where my creativity will take me in the future!"
However, the project consumed a lot of time and space. Kates-Shaw said, "The hardest thing about this project was the effect it had on everything else in my life. While working three jobs, I sometimes lost sleep because of my desire to finish a project that night … My room got incredibly crowded with all of the new art objects taking up space each day, so I had to start giving things away."
With the completion of the project, the push to be resourceful artistically inspired the establish artist to pursue the freedom to experiment. Kates-Shaw's training mostly focused in sketching human figures and life drawing, but this opportunity allowed for fruition in illustration and design-based projects. "It was really exciting to experiment with different ways of drawing," she said, "whether it was writing out a phrase or making a zine." From her explorations, she discovered marketable art, which she now sells on Etsy. The ability to create actually became easier at the end. "My creativity kicked into high gear by the end, and it was almost impossible to not make a few things a day. Right after the project ended was when I really got to making things for my Etsy shop. I was making probably three to four items for the shop every day."
Perhaps the most rewarding part of doing the project was the community support. Kates-Shaw was happily surprised that people were checking up on her progress and following her work. "Sometimes it felt like I was chronicling my restlessness with living at home and the projects were all over the place, so all of the encouragement I received was really surprising and wonderful," she said.
Although her 100 days are up, she plans to keep creating all kinds of things all the time. With newfound confidence, she plans to explore new mediums and to take on bigger projects. She said, "I have some big, crazy ideas and I definitely want to find ways of carrying them out. But I'm not going to give away any details."
You can find Kates-Shaw's pieces on sale at https://www.etsy.com/shop/MakerByNature.