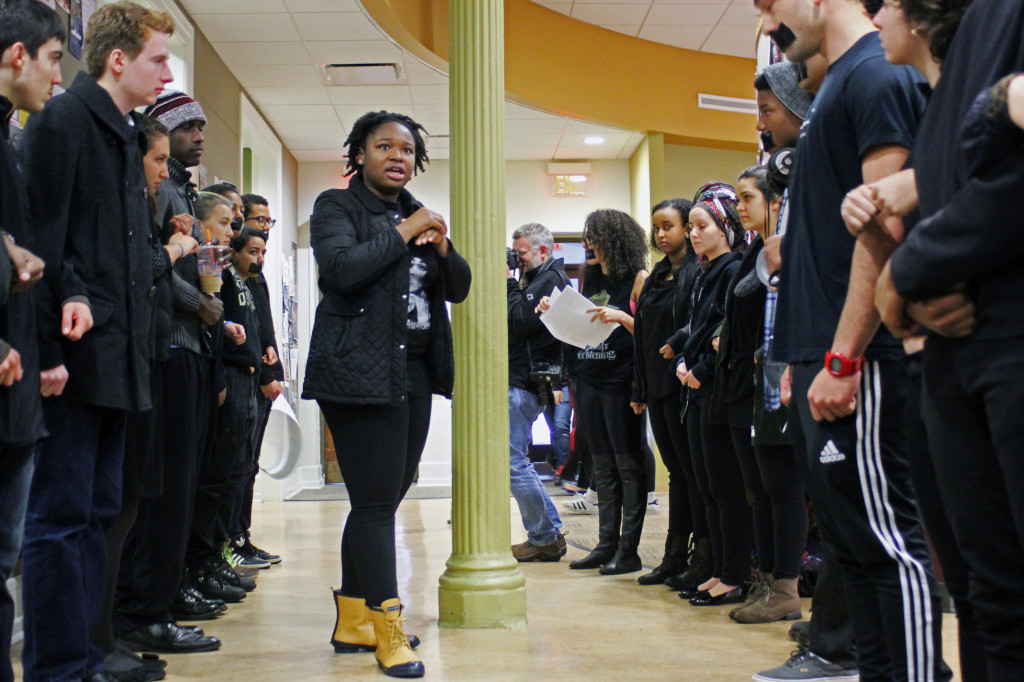 Last Thursday, from 11:00 a.m to 1:15 p.m, students gathered on the first floor of Parrish Hall, lining the hallway from north to south, to stand in solidarity with students of color at the University of Missouri, who have been the subjects of violent threats in recent days. The demonstration, which was organized by the Swarthmore African American Student Society, was in direct response to a call to action issued by the Missouri student group, Concerned Student 1950, asking that black students and their allies come together nationwide to hold on-campus demonstrations, and acknowledging the systemic racism that exists within American colleges and universities.
"I think what was different about this was that this was in response to a direct need and a direct ask from the people who were most affected by this at Mizzou," said A'Dorian Murray Thomas '16 co-president of SASS. "I think when the idea was brought up to mobilize around this, there was a lot of widespread buy-in because we knew we weren't doing this for us, we were doing this for the movement, and we were doing this in response to what people specifically called for."
The call to action, which was written by Ravyn Brooks '17, a junior at Missouri State University, asked the leaders of black student organizations around the country to coordinate "organized" and "focused" demonstrations to take place on November 12th. While these demonstrations could take any form, and could include institution-specific demands, Brooks and members of Concerned Student 1950 explained that the key focus should be to show solidarity amongst the black collegiate community in support of students of color at Mizzou.
"We're doing our part," said Al Brooks '16, former co-president of SASS. "We're answering the call."
As students dressed in all black linked arms in Parrish's central hallway, SASS co-president Tyrone Clay '18 spoke to the crowd, describing the recent events that have taken place on Mizzou's campus, particularly violent threats made against students of color over Yik Yak and other forms of social media in light of the resignation of President Tim Wolfe on Tuesday. Clay emphasized the culture of fear that has silenced the black community on Mizzou's campus, especially in recent days, and explained that SASS's demonstration was to acknowledge that while these students' voices may have been suppressed by their university's administration, they are still being recognized on other campuses.
"The focus was really on bringing support and awareness to what's going on there," said SASS vice president, Taylor Clark '16. "It was about being present and to demonstrate that we hear you. Not everyone's hearing you right now, so we hear you."
As a symbol of their solidarity, many students of color wore tape over their mouths to draw attention to the ways in which black students' demands for an administrative response to hate speech and other racial aggressions on Mizzou's campus have been ignored by President Wolfe. But while this demonstration of "power in silence" was organized largely as a direct response to recent events at Mizzou, it was also an opportunity for students of color to express the ways in which they often feel silenced at the college.
"The extreme experiences of the students at Mizzou also in some way reflect the everyday experiences that black students have on this campus," said Louis Laine '16, former outreach coordinator for SASS. "For me specifically, having the tape across people's mouths reflects people being silenced, people being in the classroom and not feeling like you can even raise your hand to ask for help or you can't go to office hours and do the everyday things that other people feel that they have a right to, but to us it feels like a burden…We have to acknowledge the ways in which students everyday are still struggling."
Clark agreed.
"Swarthmore is not exempt even though I feel like we like to think that it is," she explained. "We like to think that we're this liberal bubble that's just so far from the barbaric nature of the south, but we don't talk about these daily microaggressions…I think we have to pressure Swarthmore to look in the mirror a bit and say although it's not as extreme, it's still a pertinent issue, a daily struggle."
According to Clark, one of the more successful elements of the demonstration was the selection of images shedding light on some of the incidents of vandalism at the college within the past few years, reminding students that racial tensions remain prevalent on campus. While one poster described the racial epithet found spraypainted on a log in the Crum last summer, another recounted repeated instances of urination on the Intercultural Center during the spring of 2013. As demonstrators stood in silence, passersby stopped to read this signage and consider its content.
"We wanted, first, to make people feel uncomfortable, and second, to have our actions speak louder than words," Clark explained. "I think having these visuals, having people read, and having people see people is way more powerful than yelling into a mic or using those type of fear tactics. I think it's way more powerful…to walk down a corridor with people looking at you, and you're reading all these things, and it's just more of a feeling."
Both Clark and Murray-Thomas explained that these tactics of demonstration were by no means new to Swarthmore. The protests during the Spring of 2013 in which demonstrators linked arms outside of Sharples to call for an administrative response to racial discrimination and hate speech on campus, as well as the activism of black students involved in Black Liberation 1969, served as the inspirations for the demonstration.
"In response to…abuses of the administration in the 1960s, black students did sit-ins, and they protested, and they took what seemed like drastic steps to defend their humanity and to defend that black lives matter," Murray-Thomas said. "Sometimes it takes social indecency to get things done. That's why I see a lot of parallels between what's happened here and what's happening here."
Tying together past and present, one of the most powerful moments of the demonstration occurred when Brooks listed the myriad reforms that had been demanded by black student activists in 1969, but more than forty years later still have yet to be realized at the college. Brooks spoke of the need for the admission of more black students so as to fairly represent the demographic composition of the U.S., the admission of more low income students, and the provision of the necessary services and support systems to empower these students to graduate. He also added other demands that SASS has developed more recently such as a mandatory diversity training program for students, faculty, and staff, as well as the establishment of a Black Studies Department and diversity course requirement.
"There are still students who graduate from this school who do not affirm that black lives matter and who are going to go out and say offensive things and represent this school in a way that is just unbecoming of a Swarthmore graduate or really anybody," Brooks explained. "When we allow people to be siloed off in their own communities and say 'All that activism is not for me. I'm going to stick to my guns and my identity and do what it takes to maintain the status quo that benefits me and my own lifestyle,' it can be very offensive and problematic for black students."
Despite the work to be done, Brooks and the other members of SASS commended the administration and many members of the Deans' Office for showing their support by attending the demonstration.
"All of this is not to cut Swat short for all that it does do or all that it can do," Brooks said. "Today the Bias Response Policy came out…which is something that we are very grateful that the Deans have put in place…because that's something we've been working on for four years. But there is more that it could do."
Liz Braun, Dean of Students at the college, was one of the administrators who attended this morning's demonstration, agreed that there was more work to be done. She explained that she appreciated the ways in which students tied together the critical issues that the college has faced both past and present and hoped to see more conversations around these issues in the future.
"I was deeply moved and inspired by the leadership from the students from SASS today in asking us all to stand with them in solidarity with the students at University of Missouri," Braun explained. "I support and deeply respect their desire to both show solidarity and continue to raise the visibility of our own history and ongoing struggles as a College.
Looking to the future, all of the demonstration's organizers agreed that they hoped this type of awareness-raising activism could continue to inspire discourse on these topics.
"Now we have this thought of what's next, but I don't want to us to just do this but not change anything because we're all seniors except for Tyrone," Murray-Thomas said. "We were talking about this last night that we don't want to come back to Swarthmore 10 to 15 years from now and it's just the same. It's a great place but there is just so much left to be done and we just feel pressured and motivated by this call to action and this conversation that we started, and our hope is that it ends with some sort of fruitful changes."
Updated on November 18