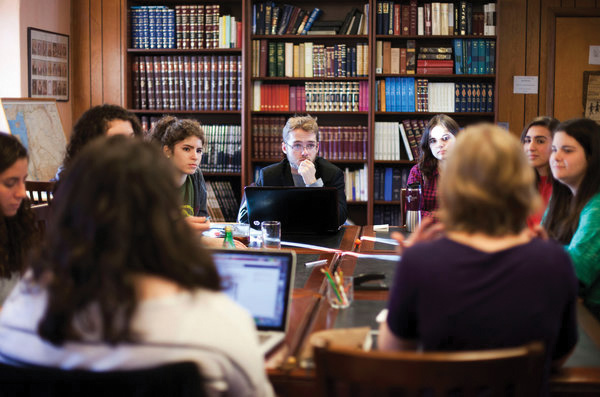 The student group formerly known as Swarthmore Hillel announced via a press release on Sunday night that it had changed its name to "Kehilah" ("community" in Hebrew). The Jewish organization's board approved the name after it emerged as the winner from an online ballot sent out over the weekend. The online voting form opened Friday and Jewish students at the college were invited via email and Facebook to vote. The poll closed Sunday at 7 p.m., after being pushed back from its original Saturday deadline due to a tie between "Kehilah" and "Ruach." "Ruach" means "spirit" in Hebrew, and it was the name that the Jewish community had used before affiliating with Hillel. Ultimately, "Kehilah " beat out "Ruach" in the second round of voting on Sunday.
Swarthmore's Jewish group decided to change its name and disassociate from Hillel International after receiving an email from Hillel International threatening legal action if the college group did not alter their plans for an upcoming panel with four Jewish activists and veterans of the American Civil Rights Movement. The Jewish group decided after an open discussion Monday to continue with the planned event. To prevent legal repercussions, they decided to also drop "Hillel" from their name. It is not clear whether Hillel International still intends to pursue legal action. Hillel International could not be reached for comment for this article.
Online discussion forums such as Facebook, Twitter, and the college newspapers were active in the wake of the decision, with some defending the Jewish group and condemning Hillel International's legal threat, while others pushed for the group to become more inclusive and less politically charged after their period of transition.
The event series that Hillel International referred to in its email, "Social Justice Then and Now: Lessons from the Civil Rights Movement," was held on Tuesday March 24 and Wednesday March 25 in Bond Hall. The four speakers, who are Jewish but have expressed sympathy and support for Palestinians, were labeled by Hillel International in their email to Kehilah as "promoting an anti-Israel agenda" which violated Hillel's Standards of Partnership and was grounds for Hillel "to seek to protect its guidelines, name and reputation."
In Kehilah's press statement announcing the name change, Sarah Revesz '17, the group's president, expressed pride in the community's participation in the decision. "I can't tell you how happy I am to be writing with the new name of Swarthmore's Jewish community — a name that together, we all chose for ourselves," she said.
By changing its name to "Kehilah," the Jewish student group hopes to enjoy continued freedom in selecting speakers and organizing events that would otherwise be restricted under Hillel International's guidelines. Having the voting process be open to the entire Jewish community was meant to reconnect the Jewish organization with students who have felt isolated from the group. The meaning of the Hebrew name is in some ways a reflection of this desire to expand the group's attraction to the entire Jewish student population on campus.