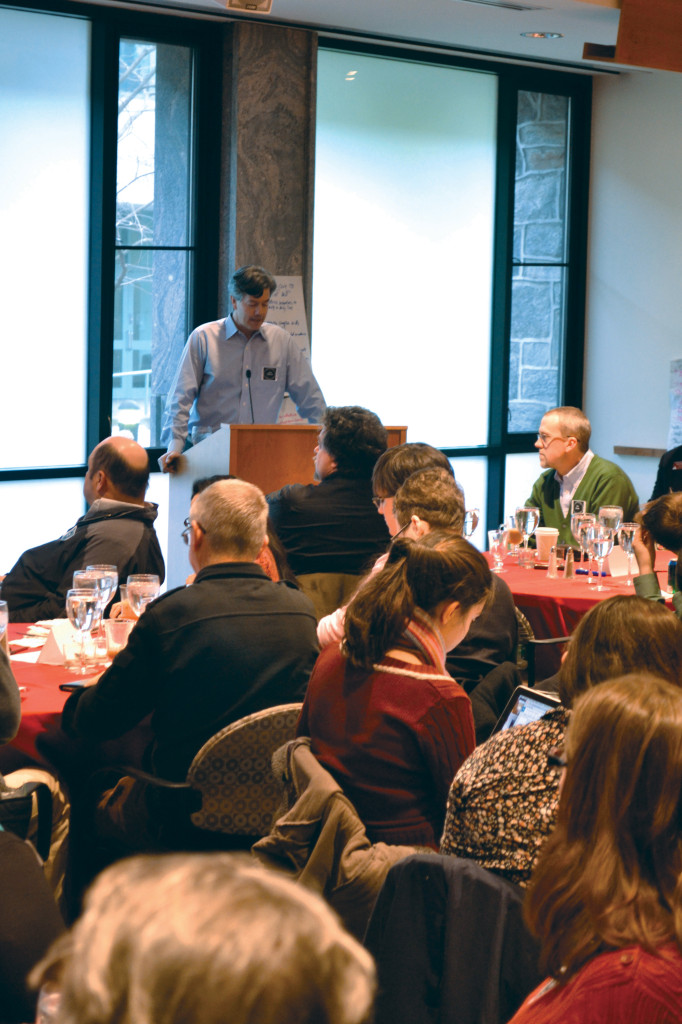 Last week, the college hosted a two-day "sustainability charrette" in Scheuer Room. The event brought students, faculty members, and administrators, as well as representatives from the borough and North Philadelphia to brainstorm concepts of sustainability on campus.
The schedule alternated between talks from outside sustainability experts and facilitated discussions aimed at building communication and creating real options for the college to work on sustainability. The aim of the event, as described by Director of Sustainability Laura Cacho in a campus-wide email, was to "bring forth our best ideas for a sustainable future at the College."
"I was really taken with the idea of [a charrette]," said Professor of History Timothy Burke, who attended the event. "[charrettes] are best known in architecture for taking some pretty constrained initial ideas and going to a final design phase. In this case we started with such abstractions, and also frankly with people coming with some very different places." However, Burke said, the charrette "didn't get to [anything] really concrete that everybody in the room felt committed to."
But, for Burke, this lack of definitive results was not necessarily a negative, as the charrette provided a space for thoughtful discussion.
"I think many of the students, but even some of the faculty who are strong activists, look at things like this here with some suspicion. There's a sort of constant idea that Swarthmore likes to talk a lot but never does anything," said Burke. "I get worried about that [idea] because I think that that kind of take on things can very quickly become a sort of anti-intellectualism; a sort of hostility to the idea of being thoughtful or having to deal with multiple points of view. I think if you went into it with that suspicion, you wouldn't have necessarily been hugely comforted. But then again it wasn't advertised as 'two days at the end of which we will have made very concrete decisions.'"
For Professor of Sociology Lee Smithey, the charrette balanced concrete solutions and opening new conversations.
"It was somewhere in between," he said. "We were talking about actionable options, like divestment or generating solar power on campus. Those are things that can be done. And at the same time, I think there's going to have to be an ongoing and ever-expanding conversation and awareness on campus… I think there can and should be other opportunities for us to talk more widely and build support across campus for sustainability."
Professor of Religion Mark Wallace thought that the discussions held at the charrette were useful even without specific policy outcomes.
"It was a dynamic, intergenerational, free exchange of ideas. Many of us there don't agree on lots of issues about sustainability, about divestment, about the curriculum. But it was really a fun, contentious, charged, intellectually charged, ethically complicated environment," he said.
While there weren't any official decisions made at the charrette, it produced and examined a wide range of ideas. According to Wallace, Burke, and Smithey, these ideas included the possibility of a zero-waste campus, the divestment option, and the need for a sustainability program to consider social justice. In addition, each of them noted that the charrette created ideas that would expand the role of sustainability in the college's curriculum and mission.
According to Burke, one of the more promising and well-received ideas was that of a Sustainability Center or a Sustainability Program on campus. Although he recognizes the criticism that Swarthmore often creates a new center when facing an issue, Burke liked the idea of the Sustainability Center. In particular, Burke noted a potential class called "Redesigning Swarthmore" that was proposed by Professor of English Betsy Bolton. In Burke's words, this would be "[a class] authorized to do design work with the campus itself."
Wallace sees a cohesive, broadly-defined sustainability program as a vital part of the college's future.
"100 years ago, the crisis in the liberal arts provoked President [Frank] Aydelotte to come up with the Honors Program. I think the crisis in 2015 is to articulate a new sustainability program at the college. It should have the same weight, the same resources, the same prestige that the Honors Program has," said Wallace.
Unsurprisingly, one of the ideas that emerged when discussing bringing sustainability into the college's mission was divestment. Burke noted that "the outside speakers really were urging us with some intensity to [divest]."
"The outside speakers made clear that no restrictions were put upon them. Three out of six of them talked in full-throated assertive terms about why we ought to divest," Burke continued. "And certainly none of them were against divestment in any sense."
Although Burke is a self-described divestment skeptic, he particularly liked the endowment strategy proposed by John Fullerton, a former managing director at J.P. Morgan, who founded the investment justice organization called the Capital Institute.
"His talk laid out a logic that I found really appealing. You should divest, but more importantly you should be taking your endowment and positively investing it. Not thinking about investment screens, not thinking about 'we don't invest in this,' but instead a good 21st-century endowment maybe ought to be directly invested," said Burke.
Wallace was also impressed by Fullerton's presentation. He thought that Fullerton's speech indicated the importance and sincerity of the charrette.
"He's like a [Goldman] Sachs, J.P. Morgan, Wall Street guy who just basically said I can't believe the college hasn't moved its endowment into sustainable, green investments," Wallace said. "I thought it was very risky and visionary for the college to bring in someone like that when the college itself has decided for now not to divest. I really liked that. It was like a Quaker meeting. Fair-minded people can disagree about charged issues."
Sophia Zaia '18, a member of Mountain Justice, was similarly moved by the outside speakers' treatment of divestment. Zaia had the opportunity to attend a talk by sustainable development advocate Hunter Lovins, who also brought up divestment. According to Zaia, Lovins "gave a very clear statement about how Swarthmore needs to divest, [saying], 'We are watching you. You are on notice.'" For Zaia, it was very encouraging that the charrette included discussion of divestment, even as it brought up other issues of sustainability.
"We need [on-campus sustainability initiatives], but we also need divestment. We need action on every level possible because the issue is really that urgent," said Zaia.
Overall, Burke thought that the charrette — and even the outside speakers themselves — highlighted the possibility of sustainable developments on campus without the participation of the whole institution or the whole student body.
Wallace and Smithey disagreed with this position, both advocating for a continued expansion of support and involvement in issues of sustainability at the college. For Smithey, the charrette clarified the potential and need for this continued growth.
"I think in order for us to rise to the challenge that faces us — the really serious climate challenge that faces us — and to optimize the benefit of the sustainability programs that we adopt, it is probably going to require all hands on deck. At a very fundamental level, our behavior as individuals is really important," Smithey said. "The charrette did feel like the beginning of a new phase for us, and that I think is really encouraging."
For Wallace, the model of what the sustainability movement could be at Swarthmore resembles the student action in Spring 2013.
"[The student actions] welled up from the grassroots, and became for that spring a highly fractious and divisive — but I think very productive — mass movement. Students, faculty, staff and others were involved and I would like sustainability to be the same."
While Wallace expressed uncertainty as to what the plans of the new president will be, he emphasized the significance of the charrette's timing and content.
"The acting president and the Chair of the Board of Managers were there the whole two days. I think that was hugely significant, and I don't think a new president would be able to step back," said Wallace. "If the acting president and the head of the board are there, [it means] 'this is where we are now.'"