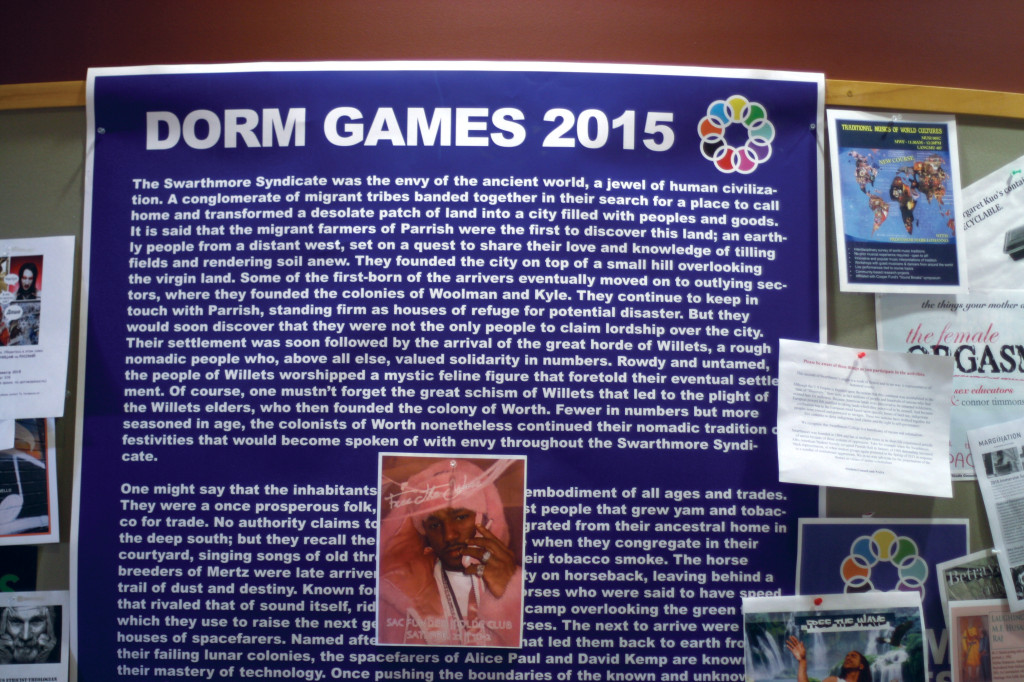 Student Government Organization Presidents Jason Heo '15 and Sun Park '16 sent an e-mail to the student body last week responding to concerns raised by the Native American Student Association. The group objected to a poster created by SGO depicting a fictional history of college dorms, part of the ongoing Dorm Games event being run by SGO. The e-mail apologized for representing colonization as dignified, and even favorable, and recognized the many ways in which colonization has been an exceptionally negative aspect of the history of the United States.
The goal of the poster was to build a backstory for the Dorm Games, a new project that pits dorms or groups of dorms against each other in an Olympic-style format. The backstory was designed to be similar to the concept of the ancient Olympic Games, which were created as a peaceful competition between Greek city-states that were often at war with each other. The Games will conclude after three months and include events such as a Dorm Survivor challenge and a three-hour photo scavenger hunt that took place this past Sunday night.
The poster itself consists of a made-up account of how Swarthmore was settled by "a conglomerate of migrant tribes" to "transform a desolate patch of land into a city filled with peoples and goods." The story begins with the settling of the tribe of Parrish (the college's original building); members of other tribes — representing the other dorms — create adjunct "colonies." Each "tribe" is described with commonly known characteristics for each of the dorms. For example, Willets is described as "rowdy and untamed;" Worth is said to have been created by the "Willets elders" who were "fewer in numbers but more seasoned in age."
The poster calls for participants to fight for victory in order to obtain the "glory" of being an "empire." NASA's concern is that there is an intention to conquer opposing tribes, and that building an empire comprised of independent tribes — just as European countries did during the Age of Exploration — is the definition of success.
"Colonialism is everywhere," said NASA President Daniel Orr '16. "We encounter it in all of our experiences, in the texts we read, movies we watch, conversations we have. There's hardly a day that goes by without being exposed to something that reinforces colonization."
NASA sent an e-mail to SGO on February 8, soon after the poster was placed in Shane Lounge, describing the perceived insensitiveness and misrepresentation. The two sides quickly came to an agreement: SGO would write and send an explanatory e-mail to the community, and NASA would place a disclaimer next to the poster, which still hangs in Shane, explaining the organization's objections.
Orr took care to note that the creation of the poster was not an egregious mistake, or even particularly offensive.
"When we wrote to [SGO]," he said, "it wasn't out of frustration or offense, but because it is necessary to disrupt colonial discourses, most importantly when they are uttered on the institutional level." He added, "We had tried in our original e-mail to make it clear that an apology wasn't necessary."
The Native American student group has taken a more visible role on campus during this school year. After its original involvement in being one of the founding groups of the Intercultural Center in 1992, NASA saw poor membership, but was re-chartered in its current form for the 2013-2014 school year. Since then, the group has made several noticeable moves, including bringing recognition of Native Heritage Month to the college for the first time last semester, and helping to create a student-run political science course on U.S. federal Indian policy.
Orr and NASA as a group do not believe that this incident has cast a shadow on the Dorm Games or on SGO, but has been a way to open up dialogue about colonialism and where it has taken root within everyday life at Swarthmore.
"What was good from all this," he said, "was that there was a chance to bring attention to this pervasive discourse which we all are liable to fall into."