New class of Lang Scholars announced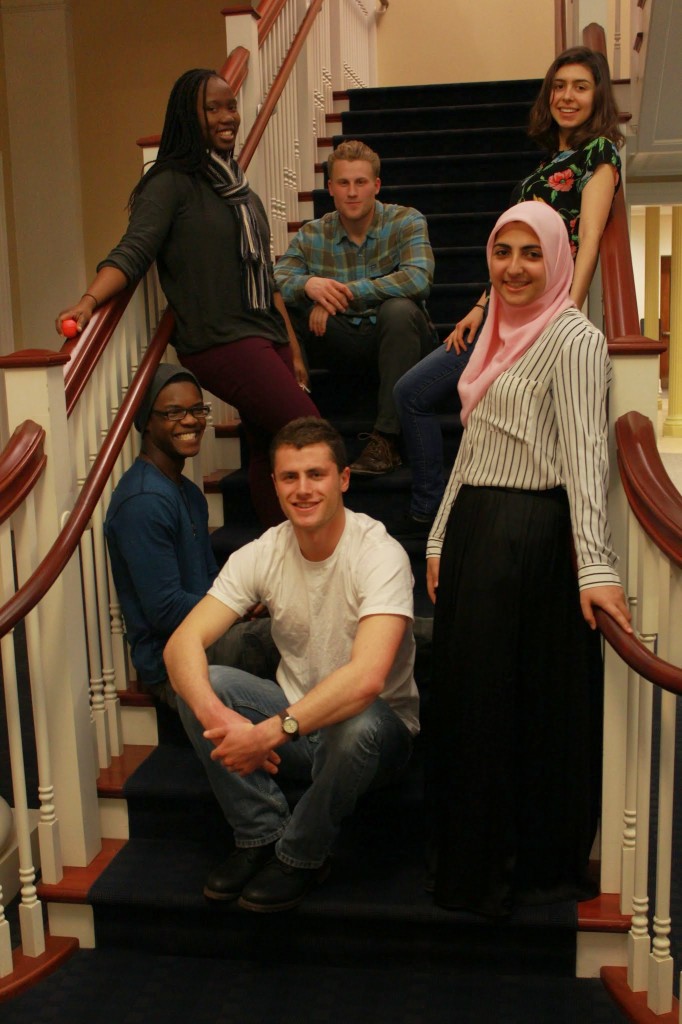 The Lang Center for Civic and Social Responsibility recently announced the six new recipients of the Eugene Lang Opportunity Scholarship. Each year, the scholarship provides funding and support to six students of the sophomore class to design and carry out a project that will affect social change in any part of the world.  This year's recipients,  Sedinam Worlanyo, Raven Bennett, Tyler Alexander, Fatima Boozarjomehri, Bolutife Fakoya, and Chase Fuller, will carry out projects in locations ranging from Haiti to Ghana to rural Iran.
Worlanyo aims to provide entrepreneurial and digital literacy skills to students in the rural village of Odoben in Ghana. Worlanyo became acquainted with the village because her grandmother was the first female Member of Parliament for that district.
"I spent a lot of my time with my grandmother. My main inspiration for my project stemmed from getting to know the people there, having family there, and having several connections to Odoben," said Worlanyo.
She intends to empower students by equipping them with the necessary "real-world skills" to kick-start businesses, thus mitigating and perhaps even reversing the prominent rural-urban migration of district members.
"Like you and me, these students learn about math and sciences," said Worlanyo. "[But they] lack basic entrepreneurial skills that can put such knowledge to use."
She hopes that students will eventually use the entrepreneurial skills they acquire to "enhance their independence and critical thinking skills."
Worlanyo expressed her gratitude for this opportunity, and emphasized that her passion for social innovation will not end after this project. She sees herself working with technology to achieve social good around educational issues.
Another of this year's Lang Scholars, Bennett will promote rape prevention through consent education for high school students in Santa Monica, Calif. Bennett explained that education on rape prevention only comes in at the college level, when beliefs about sex have already formed.
"We have this culture in which many believe they are entitled to bodies and entitled to sex," Bennett said. "Allowing this systemic problem to be perpetuated through the lack of early education is socially irresponsible."
"Teaching high schoolers about sex is taboo," Bennett said. "There is this fear that if you teach about sex it will make students have sex. Truth is, they are already having sex, they just don't have the skills to ask for consent."
Bennett will work with experts during an internship over this summer to develop a general curriculum that will be put online, and a focus group curriculum that will be applied to a specific high school or community center.
Alexander, on the other hand, will strive to design a system that teaches CPR to Haitian hospitals and communities.
"Currently, no organization like the American Health Association or the Red Cross exists where Haitians can receive uniform and standard CPR training," Alexander said. "Hopefully hospitals will have candidates for instructors who can carry trainings for others when I'm not there to train them. I don't want to be the one improving the health care system because that's not sustainable. I want to help a country improve the healthcare system."
Alexander was inspired to take on the project after his visit to Haiti over winter break of his freshman year. Alexander is an emergency medical technician as well as a CPR instructor, which were skills he used when volunteering at a Haitian hospital.
"I realized there were so many awesome things going on down there but also some areas that can use improvement, which weren't the product so much of the Haitian health care system, but more a product of resource distribution," Alexander said.
Alexander then started working with the Lang Center to brainstorm ideas to improve Haiti's healthcare system.
"There are a lot of areas which can use improvement. CPR is one of them," Alexander said. "Something basic like CPR, which takes a few hours … to learn, and which can save a life, is something that Haiti itself wants. So it's something I have the support to implement."
Boozarjomehri plans to promote English literacy and cultural understanding in the rural village of Vavan, Iran, where the closest English school is more than 25 kilometers away.
Boozarjomehri taught an English-learning program in Vavan during the summer of 2014, which was very successful. The average comprehension score on the diagnostic exam was under 50 percent, while the average comprehension score after the program was 87 percent. In the long run, Boozarjomehri hopes to replicate and extend this program to seven additional villages in the area.
Fakoya's project is also aimed at improving rural education. However, he will work in a secondary school in Abuja, Nigeria. Fakoya hopes to bridge the divide between science education and the surrounding community by enriching the school's current science curricula. He hopes that students will be able to discover that the scientific principles they learn in school can be applied to effect positive change on their community.
Finally, Fuller plans to develop a financial empowerment program for recent immigrants in Latino communities in Philadelphia. The impetus for his project is the asymmetrical distribution of financial information among different populations. There are extensive bodies of research thoroughly detailing safe personal finance habits, but such research is often out of reach of recent immigrants. Fuller hopes that his project will gain traction and nuance such that it will eventually affect recently immigrated communities outside of Philadelphia as well.
The Lang Scholars of 2017 are evidently unique, but are also united by their embodiment of the Lang Opportunity Scholar's creed of grassroots social entrepreneurship and scholarship service.