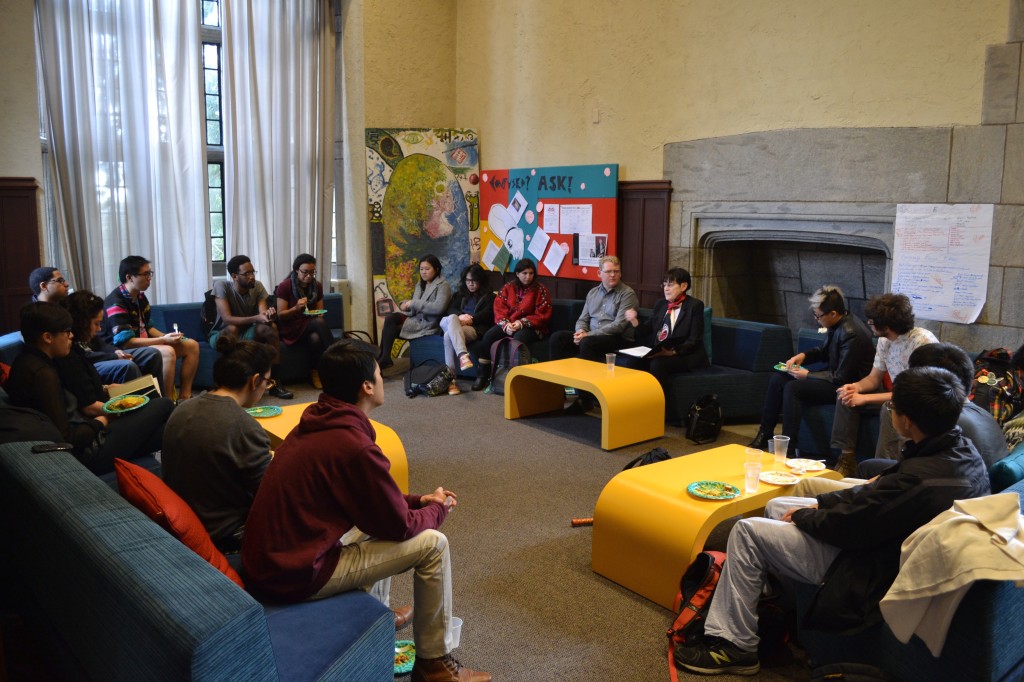 November is Native American Heritage Month and this year, for the first time in college history, it was officially celebrated on campus. The students involved in the college's Native American Student Association hope that this will raise awareness about Native American presence in the college and the problems Native American students continue to face.
Six major events were prepared in hopes of raising awareness of what the organizers felt was ignorance on campus about Native Americans. Events included a lecture by Co-Director for the Two Spirit Society of Denver Crisosto Apache on being an indigenous queer, a talk by famous storyteller and activist Ed Edmo and a panel discussion with administrators about Native representation in higher education. NASA President Daniel Orr '16 thought the panel was especially ambitious in scope, but was pleased at its reception nonetheless.
"We were really pushing that [panel] because clearly that was the idea behind the entire month was to bring up this idea that natives aren't represented here at Swarthmore in so many aspects — in not only student populations, but the faculty, the staff, the curriculum itself, and our opportunities here," Orr said. Although the panel couldn't address the full breadth of topics, Orr appreciated the genuine dialogue that the audience created with their questions.
Other events included a lecture by Bryn Mawr professor Ignacio Gallup-Diaz on the underlying complexities associated with the original Thanksgiving event, a film screening and a lunch with author and activist Roxanne Dunbar-Ortiz. Orr expects more events like food nights and movie nights in the spring will continue to promote NASA's visibility on campus.
With only a handful of students who identify themselves as Native Americans, NASA has historically struggled to find participants to sustain its existence. Despite its status as one of the identity groups that helped found the Intercultural Center in 1992, NASA has been dissolved and re-chartered as a student group several times. Brent Stanfield '14 was the founder of the current NASA, which was chartered last year.
"One of the biggest issues as a Native American group is just staying around in terms of having numbers to keep the group going," Stanfield said. "That's the personal history of NASA… every couple of years it would die out, and then it would get restarted."
The idea of revitalizing the group came during a friendly dinner between Orr and other Native American students in the spring of 2013. Stanfield found that Native American students often lacked voice and agency because they didn't have the necessary organized platform through which to sound their concerns.
"Swarthmore is always talking about its diversity and about how it's always making space for people of different backgrounds … [but] I didn't see anything addressing Native American people," Stanfield said.  "It's difficult for needs of individuals and voices of individual people to be recognized  by administration … because it's the issue of numbers. Having an actual organization that can be the stage and the figurehead for Native American students on campus that can address their needs. That was really important."
Stanfield hopes that NASA will continue to build strong relationships with the administration and push for action that would increase the number of Native students on campus. They acknowledged that this process of instigating change was difficult, especially when most of the work would need to be done by NASA members themselves.
"At Swarthmore there's this idea that students can do anything; that sort of everything happens here because of the students … There's too much burden on them with such a small population," Stanfield said.
Orr echoed a similar sentiment. He believes that the problem is compounded by the fact that there are no Native American faculty or staff members to whom to look for support.
"The burden to push for change is left on those students. There's also this question like 'Why is it by this year, these things aren't already being talked about? Why [it] is that we are the one who need to push this forward now in this day and age?" said Orr. "There's no Native American faculty or administrator. Let's say you want some authority figure to validate what you're feeling. It's not necessarily that other people won't understand. It's more like you have to go to them and you have to explain why these things are affecting you this way."
Orr recalled a time when a Native American prospective student visited Swarthmore and was put off by the small Native student community and inadequate support for Native identity. Julia Wakeford '18, a member of NASA, believes that Native Americans should seek places where their perspectives are appreciated and needs are addressed.
"It's not necessarily helping them. They have experienced the mainstream conversations. [They] have the obscure ideas to bring to the conversation. It's not always fit for all minorities to come to a larger place that isn't accepting of their ideas because they're not going to get anything," she said.
In addition to administrative changes, members of NASA are hoping that there will be changes made in the curriculum, including the creation of a Native American ethnic studies program, as well as classes in all relevant departments that would acknowledge the Native American perspective and culture. Wakeford believes that spreading knowledge about the problems that Native Americans face today to those on campus is a way to influence the future by reaching tomorrow's leaders at Swarthmore.
"When there are so many movers and shakers on Swarthmore's campus — the people that will go for it and be senators or work in non-profit organizations, I think it's beneficial for them to realize that native people have a lot of struggles and a lot of also beautiful things to add to the world," Wakeford said.
For Wakeford, NASA is not just a means of improving her current lot, but also about advancing the future of Native Americans — both in Swarthmore and out.
"All of our ancestors and our parents and our family members made us who we are," Wakeford said. "We have the same obligations to our future generations, to help them along, to make sure that our children have cultural awareness, are able to keep with their culture but also don't have to have the same struggles that we've had."