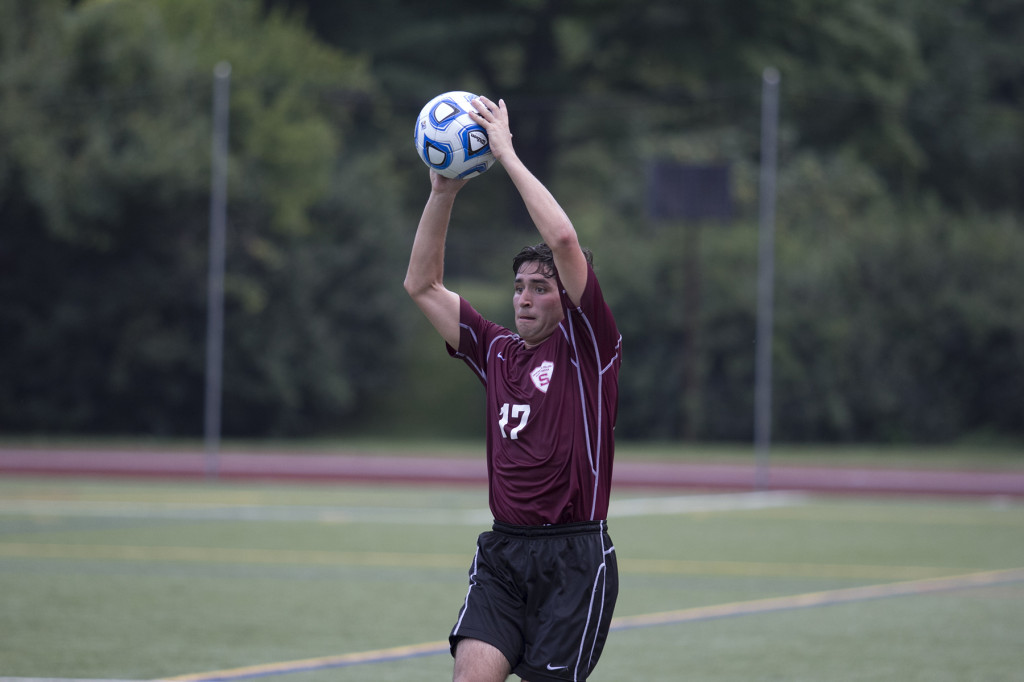 A four year record of 57-20-6, one Centennial Conference Championship, and two ECAC Championships. These are three accomplishments of the senior members of the Swarthmore College men's soccer team before their 2014 graduation. Six of those nine players started every game of their junior and senior seasons, and each member played a large role in the team's success at some time in his career.
Now, the 2014 season has come and the team has a completely new appearance and identity. "It's like starting over," said Head Coach Eric Wagner, who has maintained one of the most successful teams at Swarthmore since arriving in 2002. "We have started over from the beginning in terms of rebuilding the culture and rebuilding the expectations," Wagner continued.
Wagner has had to take a step back to 2002 to adapt to the team's current situation. Thinking over all of his years of coaching at Swarthmore, he reflected that, "the only time that I've done as much teaching so quickly and so continuously was the first two years I was here when we were literally remaking the program starting from scratch." Yet, Wagner believes the combination of a much higher talent level and the program's expectations lend the team to success. In 2002, Wagner was trying to take over a program and start from scratch. Now, he has a successful background as a coach and a highly talented freshman class to mold. "I brought this class in with huge expectations," Wagner said. "We worked really hard and hit the jackpot with a lot of these guys and we're really excited about it."
Wagner has brought in a massive freshmen class of 14 players, many of whom have stepped up in the wake of injuries of key returners. After a "disastrous" pre-season in which over half the team, including 11 freshmen, failed the team's fitness test, Wagner believes his team has reached a turning point. "Several freshman have stepped up and played really well to the point where I am feeling much more confident now that this class is really going to be a major contributing class," Wagner said.
Freshman Tommy Sheehan has already been thrust into the role of fullback. When asked about his first experiences here, he said, "At first, it was intimidating because these guys were more experienced and most of them were bigger than me. But I learned from my past to go in head-first and not be afraid to run at them and earn a spot." For Sheehan, the team's youth is a big advantage. In addition to being close off the field, Sheehan believes that, "The future is going to be bright because we know each other's strengths and weaknesses already. I think we're going to be pretty good as the years go on."
Leading the talented underclassmen is a small, yet extremely experienced group of upperclassmen. Michael Superdock, team captain and 4-year starter, helps lead the seasoned back line of the Garnet. The twin duo of Geoff and Mike Stewart runs the attack of the Garnet. The two seniors have a combined 24 goals and 15 assists over their four years on the team. However, as seniors, the players have new roles to play. Mike Stewart says, "It's been a lot of fun having a team with so many freshmen who are new to everything about Swarthmore and about the team. Still, we have to find our identity. We have to prove our identity to ourselves and everybody around us."
While Coach Wagner and the Garnet players have voiced their goals of winning the conference championship and more, they all also echoed the need for team identity. Wagner brought up the fact that none of the players returning this year were directly involved with the coaching staff last year. Last year's senior class was not only deep in talent, but in charisma and leadership as well. "The new guys have to learn to be leaders," said Wagner. "So the plan is to continue building little by little and hopefully by the time we get into the meat of the conference schedule, we'll be far enough down the road that our talent, our fitness, our athleticism and just the overall will and mentality of this team will take over and hopefully continue to get us results."
In order to get those results, large holes from last year's nucleus of starters have to be filled. Tyler Zon, a junior goalkeeper, must try to replace All-American Peter Maxted. Zon explained, "It's tough when an All-American is in front of you. So you train hard every day and get what you can." Zon understands his role goes deeper than keeping the ball out of his net, saying, "this year, it's really about being able to be a leader right from the back. I think it helps too that both of our captains are center backs. Between us three, there's pretty strong leadership from the back." His leadership has yielded spectacular results so far as the Garnet have only allowed two goals in five games. The men's team has also had 34 shots on goal in this timespan, while their opponents have only had 14.
Though there are only five juniors on the team —Zon, David Geschwind, Wyatt McCall, Alec McClean and Devon Baughen—they each play a large role in the team's success. The upperclassmen understand that they have an opportunity to directly lead the underclassmen and the team towards future wins.
"I think we realize that us being together is a special thing and we know how good we are," says Zon. He keeps a steady focus on both the present and future adding, "the main thing we are focusing on is winning the next game, even though we have ambitions to win the conference championship and the national championship." After starting the season 5-0, the team is realizing just how special it can be.