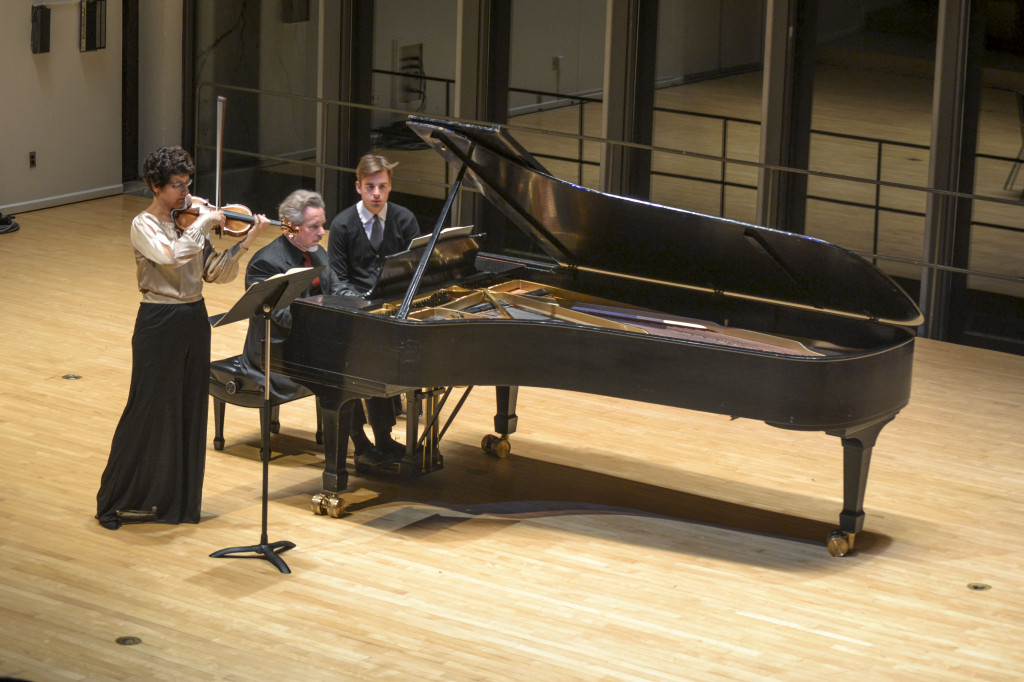 "Extremely impressive," said Asher Wolf '18, describing violinist Barbara Govatos and pianist Marcantonio Barone's recent performance of Brahms' Complete Sonatas for Violin and Piano. The three sonatas were composed between 1878 and 1888. Though not among Brahms' best known works, the event drew a large audience. However, Wolf reported that few in the crowd were students. Part of the draw for some may have been violinist Barbara Govatos' impressive pedigree. She studied under acclaimed Armenian violinist Ivan Galamian, chair of the violin department at Juilliard for 35 years before passing away in 1981.
Govatos' distinctions do not stop there, however; she is the recent recipient of the C. Hartman Kuhn award for her years of service to the Philadelphia Orchestra. She currently holds the Wilson H. and Barbara B. Taylor Chair of the first violin section of the Philadelphia Orchestra, which she has played with since 1982. Additionally, she advises Astral Artists, a group supporting gifted musicians who are just emerging as well as presenting them through performances in community centers and other Philadelphia venues.
She and Barone are an accomplished duo. They received the Samuel Sanders Collaborative Artists award for their recording of the Beethoven sonatas for violin and piano. Barone is the head of the piano department at the Bryn Mawr Conservatory of Music and teaches at Swarthmore. Besides teaching classes in piano, keyboard musicianship and chamber music at the college, he also performs with several local chamber groups, such as the Lenape Chamber Ensemble, 1807 and Friends, and the Craftsbury Chamber Players. He is an accomplished soloist in his own right, having given recitals at the Metropolitan Museum in New York, the National Gallery in Washington, D.C., Wigmore Hall in London, and the Great Hall of the St. Petersburg Filarmoniya. More recently he traveled three continents with the premier Philadelphia ensemble Orchestra 2001, performing George Crumb's après garde collection of musical work "American Songbook".
The duo's synergy was apparent and the two artists functioned and flowed together as a single unit. They demonstrated the ability to stay unified in a stylistically complicated Romantic, never dividing even as their interpretations of the piece included great swells and falls of emotion and volume.
"Their emotional interpretations of the pieces were perfectly aligned," added Wolf.
The first sonata, comprised of three movements, was written between 1878 and 1879, just after Brahms had finished his famous Violin Concerto.
"It is a sunny, radiant work that has a relaxed character throughout," writes Kelly Dean Hansen, who holds a doctorate in musicology from University of Colorado.
The second and third sonatas the were written nearly a decade later, between 1886 and 1888. Hansen's notes on these pieces mention describe well how it is "amiable" and "warm," and "almost pastoral in character." This forms a perfect contrast to the last sonata which, while remaining careful and economical, has a very sharp and dramatic sound.
Unfortunately, few students attend events like this one, but they remain considerable attractions for residents of the Borough of Swarthmore. Regardless, the departments of music and dance are unperturbed in their mission of bringing exceptional musicians to campus. Acclaimed Taiwanese-American violinist Cho-Lian Lin will be giving a talk this Sunday, February 8, at 7:30 p.m. in the Lang Concert Hall before presenting new music from Asian composers. And later this month violinist Harumi Rhodes and pianist Thomas Sauer are giving a recital of more works for piano and violin, including, again, Brahms' 2nd Violin Sonata, in addition to pieces from Messiaen, Janaček, and Schumann.
The trend will hopefully continue, and more students will hopefully find their way to the concert hall to see some of the extraordinary performances being offered by the music department.